Five-star Trayce Jackson-Davis is 'wide open' heading into summer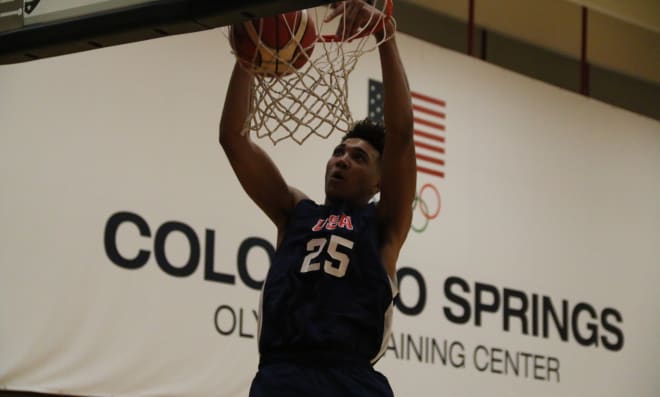 COLORADO SPRINGS, Colo. – Interest in Trayce Jackson-Davis and his recruitment remains at an all-time high. The state of Indiana's top 2019 prospect is far from a college decision but discussed several heavy suitors and his timetable over the weekend at the Under-18 USA Basketball trials.
"It has been a great experience being here, competing against the best and to be one of the 33 here, it is just a great to be among the best," he said. "The spring has gone well so far. Playing alongside Keion Brooks, I think we are one of the more dangerous duos that you see on the EYBL, and we are about to head into high school ball, get better and then hopefully win Peach Jam."
Indiana, Michigan State, UCLA, Iowa, Purdue, Ohio State, Georgia and Memphis are among the heavy contingent in strong pursuit, he told Rivals.com.
IN HIS OWN WORDS
Indiana: "It is a great school. Coach (Archie) Miller is bringing in the top talent so that is really good of him for him to recruit the state and they have make me a priority and I appreciate that."
Purdue: "Big man university, as they say, they really tell me that they get their big men the ball. They just want for me to come in and get me the ball and they feel like I am someone that can really help them out."
Michigan State,: "Coach (Tom) Izzo is a Hall of Fame coach and to play for someone like that would be really, really cool. They get top talent and he knows that I want to get to the NBA one day, so he wants to get me to that level and increase my play."
UCLA: "Their main pitch is that they like my length and how I can play up and down which would fit their style of play since that is what they do. The exposure out there is great and coach (Steve) Alford told me that pretty much every NBA team has a scout out there. The campus seems really cool, even though I haven't been out there, but I have seen some pictures so I am probably going to take one of my official visits there."
Iowa: "They just sell their family base and I really like that. They already got one commit and he is really good in Patrick (McCaffery). They tell me that I could do some big things there and by us going there, we could bring even more talent with us, which is a really big thing."
Ohio State: "Alonzo Gaffney, he is really good. He isn't the same position as me so that really helps; he is more of a three, so I think that I could gel and play well with him, kind of like how I do with Keion Brooks. Coach (Chris) Holtmann took his squad from not supposed to having a great year to having one of the best so you can tell he can coach. They have some great players and will have some more talent in the future."
Georgia: "They are a new one. Coach (Tom) Crean, just the way that he recruits, he tells me how I could do big things and how he helped get O.G. Anunoby, Thomas Bryant, and all of those dudes, how they came there and developed and went to the league. That is the big picture for me; how to get to the next level."
Memphis: "Coach Mike Miller is my main recruiter. To be around Hall of Fame players, that is really cool. They know what they are talking about and they know how to win. It would be cool to play for a Hall of Fame player that knows what he is doing and how to get to the next level."
WHAT'S NEXT?
Jackson-Davis will remain in Colorado Springs for the next few days as he attempts to make the final cuts for the United States under-18 team, which will begin competition play in Canada beginning on July 10.
While many believed that a commitment was near, Jackson-Davis refuted such talk.
"My recruitment is still wide open. A lot of rumors have been made and even about me reclassifying even though the coaches didn't even have a scholarship open, but they are just rumors and my recruitment is wide open. I am going to wait until July and if any new schools come up and maybe I will put them into consideration going into August," he said. "I will probably cut my list in August to five or seven schools."
From there, expect for a handful of visits to be scheduled and taken.
"I will probably take my visits during the football season just because of the atmosphere and to see how crazy the fans are. If it isn't then, it will probably be during their midnight madness events in the fall," he said. "I have three right now I want to visit with Indiana, Michigan State and UCLA for sure. I don't have any dates set yet but I am probably going to take the Indiana one during Hoosier Hysteria."
A commitment could remain on the backburner.
"I don't know when I could do it," he said. "I was probably going to sign before basketball season, but now since all of these schools have taken the time with me, there isn't any time table now."
RIVALS' REACTION
One of the very best frontline prospects in America, Jackson-Davis has emerged as a national level prospect thanks to his recent growth spurt, continued development and versatility in the frontcourt.
Much of the talk has surrounded Indiana, but as Jackson-Davis stated, he is wide open with his college recruitment. Practically the entire Big Ten has already prioritized Jackson-Davis and with others including Memphis, UCLA, Purdue and Kansas remaining in the picture, it will be no easy task for him to reach a decision