Five-star soph Andrew Nembhard's recruitment is in the early stage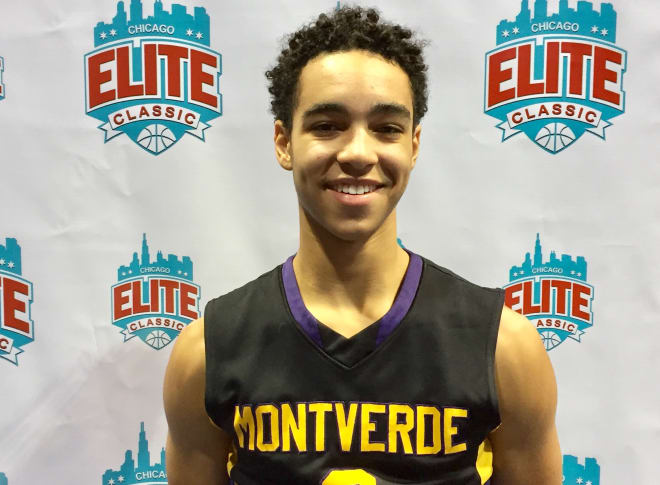 CHICAGO -- A native of Canada, five-star sophomore point guard Andrew Nembhard is making waves in American high school ball because of his pass first style and feel for the game.
Pushing 6-foot-3, Nembhard is ranked No. 17 overall in the class of 2019 and he's loving the situation he's in at Montverde (Fla.) Academy where he gets to play alongside several other big time players.

"I think that it's amazing to be able to be out here learning to play when I've got a lot of good players around me," said Nembhard. "I think it's gone real well. I feel comfortable because I'm confident and my teammates respect me."
Most notably, Nembhard plays alongside fellow sophomore, good friend and long time teammate R.J. Barrett who ranks No. 2 nationally.

"We've been playing since we were in the 7th grade so it really helps," said Nembhard. "We have great chemistry because he likes to score and I like to pass so it works out."
Not surprisingly, big time programs are starting to hit up Nembhard. He mentioned Stanford, Florida, Michigan, Virginia and Oklahoma among those who have been involved but he's just starting to feel things out."

"I've been staring to pay attention to the recruiting process a little bit," said Nembhard. "My dad handles it mostly but we talk about who is talking to me and who is giving the most interest and who is being consistent.
"I'm not ready to make a decision or anything like that."
During the late summer, Nembhard was able to make a couple of short unofficial visits and he's hoping to fit more in.

"I've taken two unofficial visits," said Nembhard. "I took one to Michigan and that was a great experience and another to Florida which was a great experience. I went to Michigan on my way down to Montverde, in mid August. That's when I went to both of them.
"The season is kind of in the way right now, but any chance I get I'd like to take some more unofficials.
With his recruitment under control and a plan in place, Nembhard is looking forward to focusing on his game. He feels great about the way he gets others involved and now he's looking to make himself more of an offensive threat.

"I'm working on my scoring," said Nembhard. "I'm working on catch and shoot threes, my pull-up jumper and basically everything to do with scoring."