Five-star Sexton recaps visits, looks ahead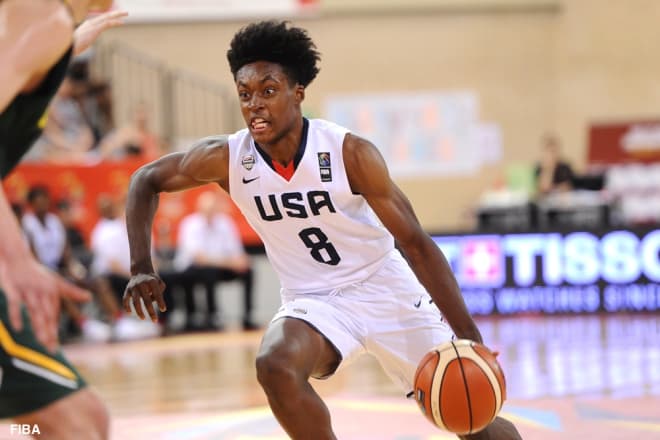 Collin Sexton's rise from unranked at this time last year to now being the No. 7 overall player in the 2017 Rivals150 is nothing short of incredible. With his senior year of high school underway, his recruitment is beginning to take shape to some extent.
Last month, he put out a top 10 that included Alabama, Arizona, Florida, Georgia Tech, Iowa State, Kansas, NC State, North Carolina, Oklahoma State and Villanova. He's taken official visits to Alabama and NC State already and will be headed to Oklahoma State and Kansas this month as well. He's also spent time on Georgia Tech's campus recently.
IN HIS OWN WORDS
We caught up with Sexton on Wednesday afternoon to find out where his recruitment stands.
NC State: "The visit went pretty well there. I didn't get to talk to any of the players there since it was Labor Day weekend, but it was a pretty cool visit. The coaches were just telling me how I would fit in and showed me the new stuff they have going on at NC State."
Alabama: "It went pretty well. We went to the football game and that was the first time I had been to a big football game like that. It was crazy. It was the first game of the season, so everybody was pumped. It was nuts."
Oklahoma State: "I've been there already before the USA Basketball stuff. I talked to their point guard Jawun Evans who should be going to the draft after this season. He was at the Nike Skills and he should be going pro, so that's appealing."
Kansas: "I'm going on the 30th for their Midnight Madness. I just know the coach is great. He's put a lot of people in the NBA and he's won a lot of games, so I put them on the list of schools I'll be taking visits to."
Georgia Tech: "Josh Pastner was on me at Memphis and then he's been on me hard at Georgia Tech. He's trying to change the program because they haven't been anywhere in a long, long time. He's just trying to change the program and get some players in there. He's trying to get some of us local guys to stay home because we're close to Georgia Tech."
"North Carolina was on me, but they have Jalek Felton so that would be a waste. Villanova was too, but I'm not sure if Jalen Brunson will go to the NBA after this season or next season. Arizona got a point guard, so they didn't waste my time. Florida and Iowa State, I'm not sure what I'm going to do with them or where I'm going to take that last official visit."
WHAT'S NEXT?
Sexton's next official visit will be this weekend to Oklahoma State. At the end of the month, he will be headed to Kansas. He'll have one official visit left after those two visits and hasn't decided where he'll use it. He's also not sure if he'll be signing during the early signing period or waiting until after the season to make a decision.
RIVALS' REACTION
Sexton's recruitment has been tough to read of late. Early on, Alabama certainly had all the momentum as they were the first high-major program to get serious with him. Since Sexton shot up the rankings in the past year, his recruitment has blown up to the highest level and now it's hard to tell where he'll end up. Alabama is still in there deep and it's safe to assume the schools that have official visits scheduled, NC State, Oklahoma State, and Kansas, along with Georgia Tech are the main five. Beyond that, it's tough to read. Don't rule out Georgia Tech as the darkhorse here. Josh Pastner is putting in serious work and he certainly has Sexton's attention.