Five-star P.J. Washington returns home for Thanskgiving Hoopfest
WASHINGTON A DIFFERENT TYPE OF FIVE-STAR FOR KENTUCKY
When P.J. Washington enrolls at Kentucky, he will arrive somewhat unlike many of the five-star prospects that Wildcats fans are so used to seeing.
Yes, he will have the talent to make an instant impact. However, he also looks like a guy who will be in college for at least a few years, and that should be a good thing because Washington is the type of leader and winner that teammates will rally around.
A native of Dallas who has been at Findlay Prep outside of Las Vegas for the past few years, Washington wouldn't let his team lose in a tough overtime contest against a game Austin (Texas) Westlake squad. He scored 27 points and grabbed at least 15 rebounds, but the other things he did really stood out.
Washington competed on every possession, he communicated with teammates and maybe most importantly he refused to be out-toughed. He's a unique matchup as a combo forward who rebounds at a high rate and plays from inside out. He did have some turnovers when trying to force passes but overall looked to be much more comfortable as a facilitator in the past.
Like most freshman who play for John Calipari, much is going to be expected of Washington, and he will be ready to deliver and is a piece that Coach Cal should be able to count on sticking around for a little longer.


JAHMAR YOUNG EMERGES
One of the best parts about our annual trip to Dallas is getting out of the gym and hitting some off the radar spots. On Friday, that was the Oak Cliff Faith Academy to check out 2018 power forward Jahmar Young.
The trip proved to be a worthwhile one as Young made the hour delay before tipoff (to wait on the other team to show up) worth the wait.
Standing 6-foot-8, Young is a long and slender big man who runs the floor like a sprinter. He is quick off his feet around the rim, has good hands and shows soft touch. The bouncy athlete lacks strength right now, but he showed plenty of fight while jostling for position.
According to Young, Texas A&M, Oklahoma State, TCU, UT San Antonio and Tulsa have all been in to see him and he should be expecting more once word of his upside starts to leak out.

MORE FRIDAY NOTES FROM DALLAS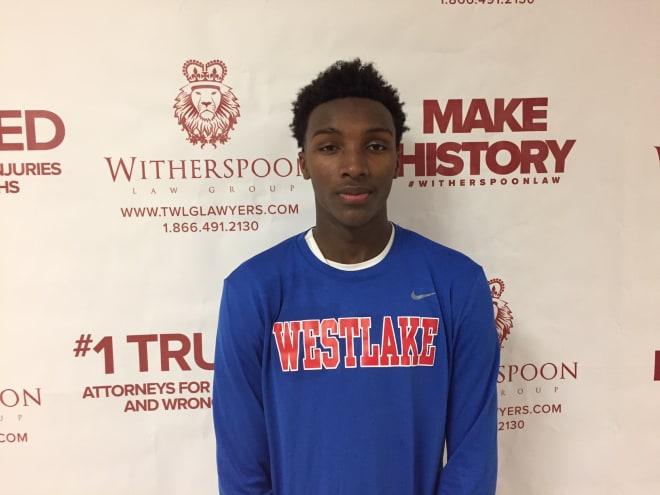 Austin (Texas) Westlake wasn't able to knock off Findlay Prep, but it wasn't because of lack of effort from talented juniors Keonte Kennedy and Brock Cunningham. A long and wiry shooting guard with some athleticism, Kennedy went wild from deep. He drained nine threes and brought Westlake back into the game time and time again. Rice, Sam Houston State and North Texas have offered and Missouri is expected in to see him soon.
As for Cunningham, he's awfully fun to watch. A skilled and clever forward who is probably around 6-foot-6, Cunningham is a winning player and one of the toughest dudes around. He wields a funky release on his jumper but is dangerous with it and he is a great passer who plays a biy of a Draymond Green-esque role for his team. He's a unique player who is going to be a crucial evaluation in Big 12 country. Oklahoma State has offered and had two assistants watching, and Cunningham has reported offers from Oklahoma, Houston, Missouri, San Diego and Tulane.

Another Cunningham making waves was 2020 wing Cade Cunningham. Highly skilled and already blessed with 6-foot-6 size, Cunningham was very impressive when we started our day at Arlington (Texas) Bowie. He drained deep threes, he rebounded, he made savvy off (left) handed passes in transition and showed big upside. Oklahoma State had an assistant on hand and has offered Cunningham who went for 36 in his introduction to Rivals.com. Three-star junior teammate Kyler Edwards (whom OSU has also offered) is an athletic and physical 6-foot-5 wing who got off to a quick start but was derailed a bit by foul trouble.

Dallas (Texas) Lincoln got a tough win over a young but very talented Garland (Texas) South Garland team thanks to the work of three-star senior wing Kortrijk Miles and junior point guard Kennedy Milton. Milton was never rattled and controlled the game late; he has good size at about 6-foot-1 and 175 pounds. A coach can trust him and he'll be on D1 radars soon. Miles is a tough 6-foot-5 wing who saved his best for late. After a slow start he caught a momentum changing alley-oop and made some crucial free throws. He's elected to wait until the spring and listed offers from Houston (on hand watching), UT-Arlington, Lamar, Sam Houston State and Texas Rio Grande Valley where he took an official visit. He should pick up much more interest this winter.

Finally, we'll end on another freshman to keep an eye on in point guard Rondel Walker of Oklahoma City (Okla.) Putnam City West. Walker is pencil thin, but he has big game and didn't look at all afraid playing in a major event in front of a big crowd. He handles very well, is a clever scorer off the dribble and has some leadership qualities. Walker looks like he has a lot of growing left to do and projects the vibe of a young Spencer Dinwiddie.