Five-star opens things up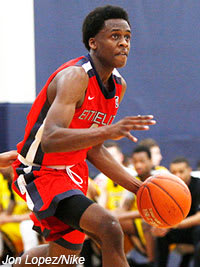 Monday night, the 6-foot-4 shooting guard from Orlando (Fla.) Oak Ridge confirmed to Rivals.com that he has re-opened his recruiting process.
"Louisville was the only school that I really got to get a good look at," Blakeney told Rivals.com. "I wanted to get a good look at all of the other schools before making a decision. I think I made a quick, emotional decision."
"Louisville is definitely still in it," said Blakeney. "They respected it and they said that they wish me the best of luck and hope that they still have a chance with me."
Steve Reece, Blakeney's Each One Teach One Elite AAU Coach, said Blakeney's decision was came quickly.
"This just happened," Reece said. "We haven't been talking about this for a while or anything. He hasn't talked to any schools yet. He hasn't talked to any schools since he committed. So we don't know which schools will get back involved or not.
"He loves Louisville, he just wants to be 100 percent sure. He wants to have something to compare Louisville to, to make sure he makes the best decision for him."
The next step for the explosive scorer is to set up more visits and this time he is going to be more calculated and take more time with making a decision.
"I think I'm going to go on all of my other visits and focus on the right things," said Blakeney. "I want to pay attention to all of the pros and cons of each school."