Five-Star Liddell dishes on recruitment, Duke and Kentucky interest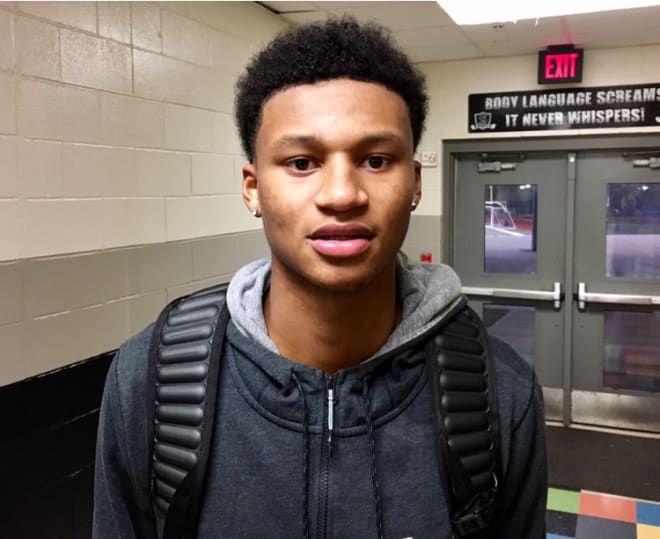 CIBOLO, Tex. – Five-star small forward Gerald Liddell is easy to spot when you walk into the gym. The 2018 top 10 recruit is a long six-foot-eight and the fastest player in transition. Because of his size, Liddell is playing more of a forward for his high school team, but knows he'll be moving to the wing at the next level.

"A lot of the college coaches want me at the three because I can move pretty quickly off the dribble," Liddell said. "Right now though, I'll play anywhere if it helps my team win."
Rivals.com was on hand for his game Tuesday night where he put up 29 points and 12 rebounds in a 76-64 win against Judson High School.
Liddell still has plenty of time but says his recruitment has started to pick up. Creighton, UCLA and Arizona have been in the most recent out of state contact with Duke, Kentucky and Notre Dame showing interest. The two in-state schools that have been consistent in his recruitment are Texas and Baylor. He currently holds 16 offers from a wide mix of schools.
TEXAS: "They were one of my first offers and have definitely made me a priority. I have a good relationship with coach (Shaka) Smart and they're definitely wanting me to stay at home and play there. I was there for their Midnight Madness this year and the atmosphere was nice."
BAYLOR: "I've been on Baylor's campus the most out of any school. I have a great relationship with the whole coaching staff up there so I'm pretty comfortable with the program. I'm going to try to get to a game sometime this year."
UCLA: "They're a fast-paced team and I obviously like to run the ball so I feel like I could fit into their offense well. I'm going to try to get out to UCLA at some point this spring."
CREIGHTON: "The Creighton coaches have been talking to me a lot and have been down here a couple times. They're a top 10 team right now and they really want to get me to come out there and see the campus, so I'm going to try and get out there at some point."
ARIZONA: "Arizona is my most recent offer and they were down here recently. I've been on the campus before and it was really nice. I like coach (Sean) Miller and the style of offense they play over there."
DUKE AND KENTUCKY INTEREST: "I mean, it's Duke and Kentucky. Everyone knows what they're about. I'm just going to wait and see what happens and then I'll decide if either program fits me at all."
NOTRE DAME INTEREST: "Coach (Ryan) Humphrey has been talking to me a lot recently and has been down to see my this season. I'm just working on building a relationship with the rest of the coaching staff there. That's really important to me.
After his high school season, Liddell will return to the UA Association circuit playing with his team, Hard Work. He plans on getting to a few more schools in the spring but hasn't scheduled any visits yet.
Liddell still needs to add some weight to frame and it's something he's working on every day in the weight room. As far as recruiting goes, it's too early right now to name a leader. Expect more high major offers to roll in once his AAU season starts and these coaches can get out and see him play in person. Liddell is taking the recruiting process slowly and says he doesn't plan on cutting a list until after the summer.