Five-star Kahlil Whitney is '100 percent' solid to Kentucky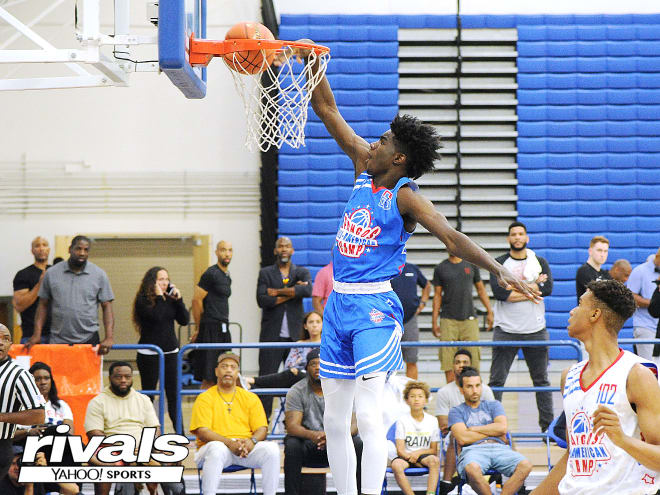 WHEELING, W.V. -- Kentucky has faced adversity in the early going of the college season and while the Wildcats have begun to turn things around of late, questions remain about the team's guard play, if there is another alpha on its roster beyond Keldon Johnson and its ability to defend the 3-point shot. While his enrollment will not occur until the fall, Kahlil Whitney should help address those issues. The question now is whether Lexington will actually be his stop for college ball.
A five-star small forward prospect and one of the most respected two-way players in America, Whitney committed to Kentucky over the summer. The primary hold-up now is his decision to not sign during the earlier period this fall. Unlike in football, a committed prospect opting against signing likely reflects uncertainty about their future. That's not the situation here, according to Whitney.
"I am 100 percent Kentucky," Whitney said. "The whole thing for why I didn't sign in the fall is because I had scheduled to sign in Chicago in front of my grammar school and everyone would come out so I couldn't do that because I was not home."
Whitney is the entire package on the perimeter. At the Cancer Research Classic over the weekend, Whitney was phenomenal, displaying a much-improved jumper that he calmly and confidently hit while remaining an explosive scorer at the basket. He finished with 24 points, six rebounds and four assists.

Kentucky's likely loss of Johnson, its emotional leader, this spring will be a role that Whitney could fill next year.
"I feel like playing with better players, Naz Reid, he was really good on this team last year," he said. "Looking up to him, and I have big shoes to fill so coming out here, I always dreamed of being a big leader on the team with getting guys going and getting everything put on my shoulders."
While there's been talk about whether John Calipari has lost his touch on the recruiting trail, it should not go unnoticed just how vital Whitney will and should be for the Wildcats next season. He continues to round out his skill set while remaining a major weapon on both ends of the floor.