Five-star Josh Green commits to Arizona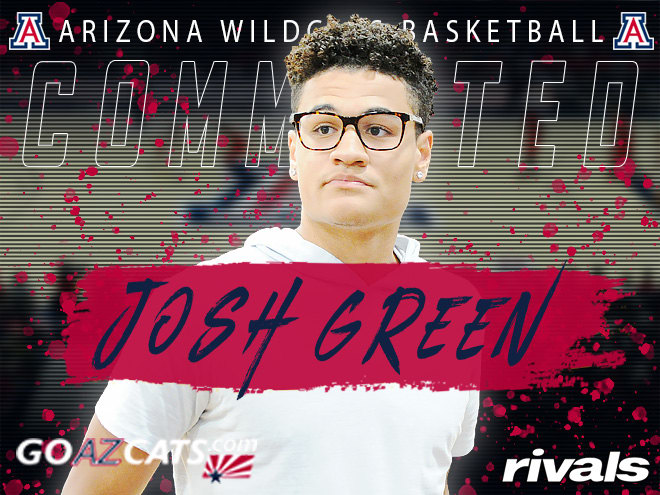 Arizona made another impressive addition to its nationally recognized 2019 recruiting class in the form of five-star guard Josh Green on Thursday. The top-15 prospect selected the Wildcats over UNC as he gives them a tremendous two-way threat and one of the most explosive athletes nationally.
"I feel like I have the best relationship with them," Green said. "They have made me their No. 1 priority for the past three years and that means something.
"Not only have they built a great relationship with me but also an amazing relationship with my family and that is important to be able to trust them to see what they are saying and doing. It is the best move for me."

Originally down to a final six of USC, Kansas, Villanova, UNC, UNLV, and Arizona, Green's connections with the program are not difficult to find. Two years ago, he played at Hillcrest Prep within the state's borders and shared the floor with former Wildcats' star DeAndre Ayton. While from Australia, his family currently resides in Phoenix. Lastly, Green will reconnect with Nico Mannion, a five-star guard that recently committed to the program, as the two were backcourt teammates for the past two summers with the West Coast Elite travel program.
However, Green's decision was one that was guided more towards what was right for him and where he saw Arizona as the best spot to reaching the next level.

"At the end of the day, my decision was what was best for me," he said. "Location wasn't really big because I literally moved from Australia to Phoenix and then to IMG, so that didn't play much of a role.
"With me and Nico, we have always been close but I wanted to make sure that we did what was best for each other. It just ended up being that we picked the same school and that was what was best for us as players and with our development. It is going to help each of us out, though, being the one and 2-guards is very beneficial with coming in as freshmen and being ready to go."
Where Green thrives is out in transition. He is one of the top open floor producers in America but is a more than efficient contributor within the half-court, too. Sporting a 6-foot-10 wingspan, Green can play multiple positions at either end of the floor. He displays an underrated feel for the game and has improved his shooting in recent months where it is not difficult to see Green being used at any of the three positions in the backcourt beginning next year.
A top-shelf athlete with a college-ready frame and a complete stat sheet filler, Green was one of the faces of the Under Armour circuit this summer. He posted per-game averages of 20.3 points (57 FG percent), 4.8 rebounds, 2.5 assists and 2.1 steals.
Green becomes Arizona's third commitment in the 2019 class and its second in the five-star variety. He joins Mannion in creating one of the most dynamic backcourts in college ball next fall and will be aided by the interior presence of three-star center Christian Koloko, one of the better upside frontcourt prospects in the 2019 class.
The Wildcats will host top-60 wing Terry Armstrong this weekend for an official visit as the early signing period could be another statement by Sean Miller and his staff as the future remains bright at the Pac-12 program.