Five-star Jeremiah Robinson-Earl planning visits after summer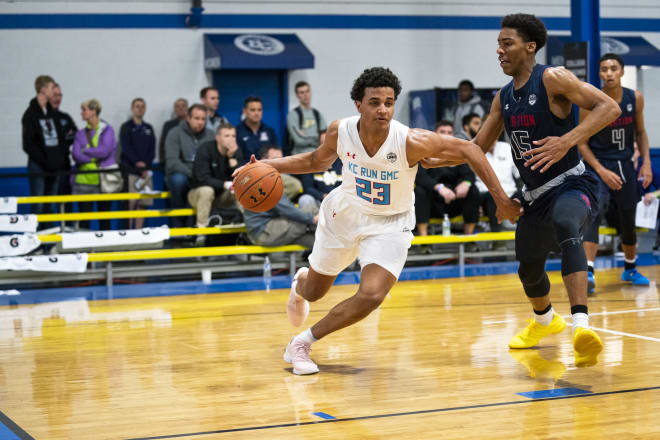 COLORADO SPRINGS, Colo. – Jeremiah Robinson-Earl has become accustomed to the spotlight. The five-star junior recently made the roster for the United States under-18 roster, he remains determined on playing out his college recruitment.
Cementing his standing as one of the nation's best, Robinson-Earl discussed what it has been like competing against the elite in Colorado Springs this past week.
"It has been insane," he said. "Going against some of the best players in the country, some of them older, some in college, it has just been crazy going against some of the best of the best, along with learning from some of the best coaches out here."
Kansas, North Carolina, Arizona, UCLA, Wake Forest, Notre Dame, Iowa, Kansas State, Oklahoma and Virginia are among those involved although Robinson-Earl has yet to name any favorites.

IN HIS OWN WORDS
Robinson-Earl broke down what he likes about some of the schools that are involved.

Kansas: "Obviously, it is one of the best schools in the country, right down the road. This experience has been good with just seeing what coach (Bill) Self has been like in action instead of just seeing him being nice just to be nice, but rather out here coaching us to get better.
"There is no pressure to go there, though, my options are always open and when coaches ask about if KU is where I am going to go, I just tell them that I open to anybody and if you're willing to recruit me, I am open to you."
North Carolina: "One of the best coaches and my dad played for coach (Roy) Williams. It is cool having an offer from one of the coaches that my dad played for. It was a really good offer because he really takes his time and picks and chooses his players. He doesn't just go an offer a kid just to offer but he has offered just six or seven in my class so it is an honor to get an offer from him, one of the best coaches out there."
UCLA: "It is in a great location. The coaches are great there and I have a good relationship with coach (Tyus) Edney; I talk to him all the time. He is a really cool dude and it just a really great atmosphere out there. With the West Coast and the Pac-12, it is great because they have NBA scouts in and out all of the time because it is kind of like an NBA hub, it being out in L.A."
Arizona: "I think that coach (Sean) Miller, he is a great coach. When I went down there for a visit, he showed me the players in my position that have been successful in the NBA, what they do is very successful with what I can bring to the table, which is a versatile four in being able to spread it out. They do a thing called the Phoenix Push where you get the rebound and just push it and everybody just fills the lanes so it really fits well with how I want to play."
Virginia: "Number one, he (Tony Bennett) is all about faith. He is very big on faith and so am I so we have a connection there. I talk to coach (Brad) Soderberg as well, he is very faithful, too, and we just have a really good relationship. He is a good person and he cares more about you as a person than just as a basketball player and he really wants to get the best out of you."
WHAT'S NEXT?
Robinson-Earl will compete in the 218 FIBA America Under-18 Championships next week in Toronto. Upon returning home, he will complete his senior travel season with the KC Run GMC 17-under squad.
While he remains a priority for the nation's best, he won't make any cuts until after the summer and a commitment is not expected for some time.
"I would say probably during the fall I will start taking official visits," he said. "After that, maybe make a decision in the winter or early next year."
RIVALS' REACTION
Robinson-Earl has become known for his tremendously polished 17-foot and in skillset that has made him a premier frontcourt prospect nationally. One of the few bigs that can have a half-court offense run through, his hands, footwork, feel and energy each can be categorized as elite.
Making the under-18 USA Basketball roster, Robinson-Earl continues to better his pedigree as he sits as a strong five-star prospect entering his senior summer. Kansas has been considered by many to be the team to beat, but Robinson-Earl has never said that himself and has stressed that he is open.