Five-star Jeremiah Robinson-Earl down to five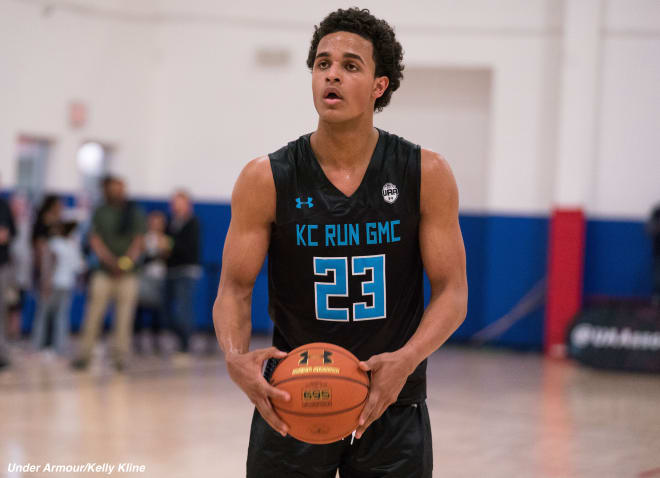 Five-star forward Jeremiah Robinson-Earl, one of the most sought-after players in the country, is down to five schools he is considering.
A 6-foot-9 power forward from Kansas who is playing his senior season at Bradenton (Fla.) IMG, Robinson-Earl told Rivals.com that he's down to a final group of Arizona, Kansas, North Carolina, Notre Dame and Villanova.
MORE: Seven freshman with big shoes to fill | Most mysterious 2019 recruitments

"Five is a good number because I'm better off having more options than If I went down to two or three. I didn't want to start visits and not feel like I had enough good options. I wanted to do it before high school started so I didn't get killed with coaches texting and calling all the time and trying to manage like 15 or 16 schools."

IN HIS OWN WORDS
Robinson-Earl broke discussed some of what he likes about each of his finalists.

Arizona: "When I went down on the visit, it was a great campus and a great location. The Pac-12 always has pro teams in each city so you are going to have NBA scouts at each game and practice though if you are good enough they will find you anywhere. I like them because they showed me what they can do specifically with my position. They do a thing called Phoenix push where the bigs can get the ball and push ahead for the guards."

Kansas: "Obviously its the home town, it's close and family is there. Coach (Bill) Self can do a lot of stuff that can utilize my position. Even though they have had some guys like Frank Mason and Devonte Graham who have been some of the best guards in the country they still have plenty of threes and fours who they get ready for the next level and use. They can develop guys for the league whether you are a freshman one and done or a four year guy."

North Carolina: "Roy Williams is one of the most legendary coaches so to play for him would be amazing. He coached my dad and he's coached a lot of great players at the three, four and five. He's had great guards, but he's had a lot of great bigs and they are important to him. Also the tradition, it's North Carolina there's not a whole lot you need to say about it."

Notre Dame: "I really like their coaching staff. Coach (Mike) Brey is a great coach and a great person. Coach (Ryan) Humphrey, I have a great relationship with him and have really gotten to know them more as person. The University is a great school and they are really connected for after basketball, so when that's done you can find a job and stuff."

Villanova: "One of the reasons is the past three years they've won two national championships so they are obviously doing something good up there. I think they like to do a lot of five out or small ball so they will use their bigger guys as a threat on the court. I watched when they played in the Final Four they were able to use their five man and make matchups and spread the floor."
RIVALS' REACTION, WHAT'S NEXT?
There aren't very many surprises on Robinson-Earl's final list. Maybe Villanova because it is the only campus of his last five that he hasn't been to unofficially. However, he was able to see the Wildcats in person at the Final Four, so he's been able to familiarize himself with them.
Kansas has been prominent in his recruitment for some time and Self coached Robinson-Earl on USA Basketball's 18U team in June. North Carolina has been steadily turning things up and has a connection through his father, while Arizona scored with their unofficial visit while Notre Dame's Brey also had the opportunity to coach Robinson-Earl some at the USA Basketball tryouts.
Currently, Robinson-Earl is in the process of finalizing visit dates with his finalists. He's looking to head into the visit process as open as possible. He hopes to finish visits before the end of October and though he's a good bet to sign early and take all five of his visits, he's not set an exact timeteable or ruled out committing after a few visits if the feeling is right.

"I haven't really thought when specifically I want to commit," said Robinson-Earl. "I know it's not going to be next year but I don't have a set time. It's just when I get that gut feeling that it's right."