Five-star Jalen Suggs makes return from football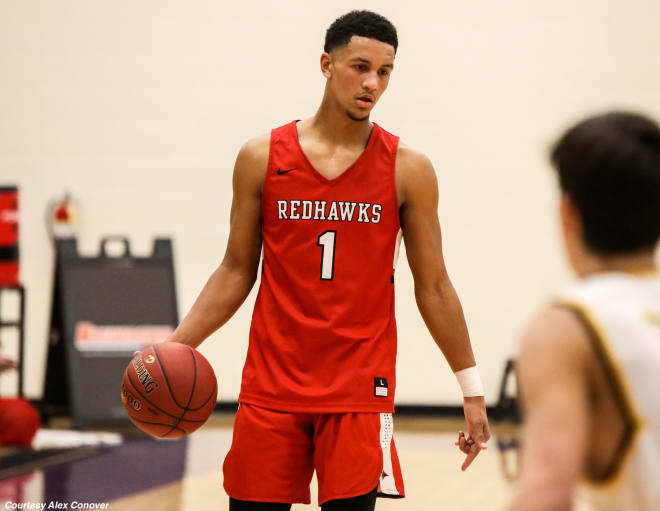 ST. PAUL, Minn. -- The best two-sport athlete in the class of 2020, five-star point guard/four-star quarterback Jalen Suggs, made his return to the basketball court over the weekend at the Big 12 Classic.
Fresh off of winning a state championship with Minneapolis (MInn.) MInnehaha Academy on the football field, the 6-foot-4 floor general said he hadn't yet made a decision on whether to focus on basketball or continue playing two sports.
"It was amazing going out on top with a state championship," Suggs told Rivals.com. "That's the first time that it has been done in our school's history, so there was nothing better than to do that with my brothers and to have them and myself get that experience. It was fun, but now we are on to basketball.
"I'm not sure yet on focusing on one. I know there has been speculation on it but I still myself haven't come to a conclusion yet"
On the floor, Suggs didn't look to have missed a beat in a 30-point performance.
"I didn't get to go to any of the scrimmages so it was my first game and it was a real test to see how my body was and how my skills are holding up," said Suggs. "I think I played pretty well, there were a couple of turnovers I could have back, but it was a learning experience and I think as a team we played well."
MORE: Big 12 Classic

Suggs has offers from Baylor, Creighton, Florida, Georgia Tech, Iowa, Iowa State, Kansas, Minnesota, UCLA, West Virginia and more. He mentioned that Iowa's basketball staff hit a few of his football games and that he'd also seen Notre Dame and Iowa State's basketball coaches come by for football.
Next, he'll be lining up official and unofficial visits and if things go well he'll be a busy individual.
"There's nothing locked in but I know there are a lot of schools that I want to go see and I want to try and make it down for some games or practices on weekends to see what it's like down there," said Suggs. "I plan on taking five official visits from December to February, I want to get them all done. Arizona, Marquette, Florida, West Virginia, Iowa, Iowa State, Georgetown and Kansas are some I'm thinking of.
"I'm going to try to get to as many of them as I can. I might take one or two unofficials along with my five officials. I'm just going to out and catch the vibes, see the coaching staffs in person and see the campus and try to have a good time."
Suggs hasn't yet put a timetable on making a decision about where to play basketball. He'll have to decide on what to do with football -- where he's being recruited just as hard as he is for basketball -- before he can lock in and focus.
"I know that one day I'll most likely have to come down to making a decision whether it's basketball or football," said Suggs." Right now, I'm not sure yet but somewhere in the near future I think I'll know."