Five-star guard Josh Green cuts list to six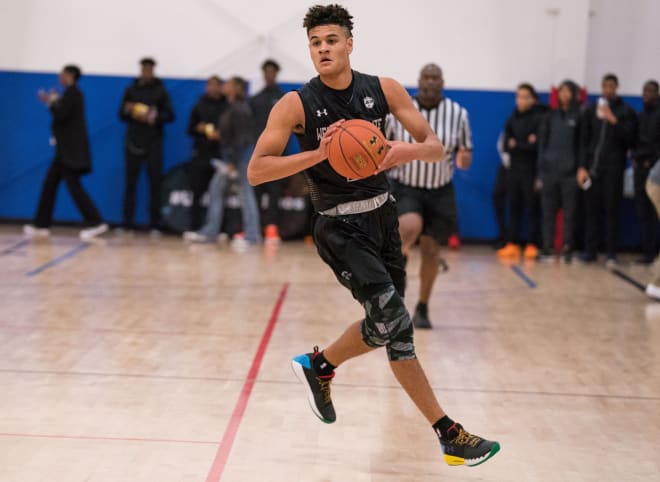 Josh Green, a five-star guard in the 2019 class, has decided to take another step towards his college decision. The top-10 prospect has cut his list to a group of six, erasing a handful of name brand programs that had previously prioritized the athletic guard.
Athletic, tough, versatile and full of upside, Green is ready to take a closer look into his recruitment. Prioritized nationally by some of the nation's best, Green told Rivals.com that he is down to a final list of six which includes Arizona, USC, Villanova, Kansas, UNC and UNLV.
IN HIS OWN WORDS
Arizona: "They have a great program and staff over there. They have been with me since the start. They really develop their players and have been very successful every year in the Pac 12 Conference."
Kansas: "They have had a ton of good guards come through there and go on to achieve great things. That is a school with a great basketball history."
UNC: "Growing up, it was my dream school. It is very cool to be able to say that I could have the chance to play there and for Roy Williams. It is a program with an amazing basketball history that is great at developing its players but also winning a lot of games."
UNLV: "It is a chance to get out onto the floor with my brother, Jay (Green), again. It would mean a lot to me since he has helped me so much in my development. I would love for us to win a Mountain West title and help make the program an even better one than it already is."
USC: "Their program is already really strong and I know that I could come out of there an even better player. Plus, they have already gotten the best recruiting class in 2019 and enter the season as one of the best."
Villanova: "It is just a great school. They have a great coaching staff that is very good at developing its players and helping them get to the next level. They have an extremely successful history, especially within the last few years, seeing that they have won two national titles."
WHAT'S NEXT & RIVALS' REACTION
Ascending the Rivals150 over the past two years, Green first made his name alongside DeAndre Ayton at Hillcrest Prep during his sophomore year. From there, the Australian turned heads with the West Coast Elite program before settling into IMG Academy last fall. He was one of the top standouts at the Basketball Without Borders event held during NBA All-Star Weekend, before impressing again in April at the Nike Hoop Summit.
This summer, Green averaged 20.3 points, 4.8 rebounds, 2.5 assists and 2.1 steals per game on the Under Armour travel circuit. While not known for his shooting, Green's work ethic and constant evolution has patched up such a prior deficiency as he knocked in 38 percent of his perimeter attempts and 57 percent of all of his field goal tries.
Standing at 6-foot-5 and with a 6-foot-10 wingspan, Green has the chance to play all three perimeter positions in college and beyond. There is no timetable for his commitment as official visits and in-home visits are still in the works.