Five-star guard Boogie Fland scores 31, talks potential official visits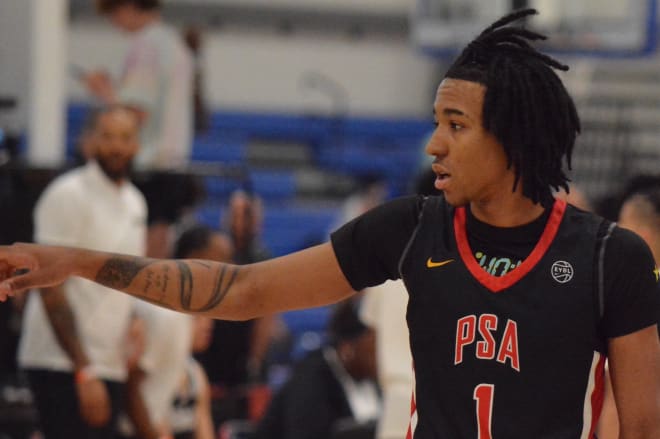 MESA, Ariz. - Five-star guard Boogie Fland had a productive weekend at the Nike EYBL's second live period session in Phoenix, and his trip to the desert was headlined by a 31-point, eight-rebound effort against Houston Hoops on Sunday. Fland also carved out some time this weekend to speak with Rivals about an upcoming Alabama visit and the state of his recruitment as a whole.
IN HIS OWN WORDS
ON THE CROWD OF COACHES WATCHING HIM PLAY AT EYBL
"I don't really pay attention to that, but you do notice some people. Like, I saw ... Juwan Howard. I saw Nate Oats and I saw Jon Schyer. I saw Michigan State, too."
ON HIS UPCOMING ALABAMA VISIT
"We're planning it, but I don't have the date right now. I will soon. I saw all the things they did this year, and I want to go check it out.
ON ALABAMA
"They're an up-and-coming program. You saw what they did this year. Then, they have Brandon Miller coming out in the draft. They took Noah Clowney, who wasn't on any mock drafts before the season, and developed him and now he's going to be in the NBA. It's all up and coming."
ON OTHER POTENTIAL OFFICIAL VISITS
"I'm going to try to take a visit to Kentucky, for sure. I have a few others in mind, too. I want to take a Michigan visit – go check them out."
ON KENTUCKY'S MESSAGE TO HIM
"That question is so vague because, like, everybody tells you the same thing, you know? They will tell you they want you. They all tell you they want you to come visit so they can show you this or that."
ON HOW COACHES CAN STAND OUT FROM A SEA OF SIMILAR PITCHES
A lot of these coaches will promise you anything. If a coach keeps it real, it stands out. If they tell you that you have to work for things and work for playing time. When they tell kids they are going to come in and play so many minutes and all these promises, then kids will decommit or you'll see them in the portal. Like, c'mon. Tell me the truth. Tell me I have to come in there and work, because I already know I have to earn my stripes. There's dudes already there, so a spot isn't going to be given to you. Any coach that tells you something is going to be given to you, something is off.
ON HIS COMMITMENT TIMETABLE
"I am just going to feel it out. I don't want to make one too soon or too late. When I feel it's right, I'll know."
*****
RIVALS REACTION: