{{ timeAgo('2022-07-26 18:41:23 -0500') }}
basketball
Edit
Five-star F Omaha Biliew chooses Iowa State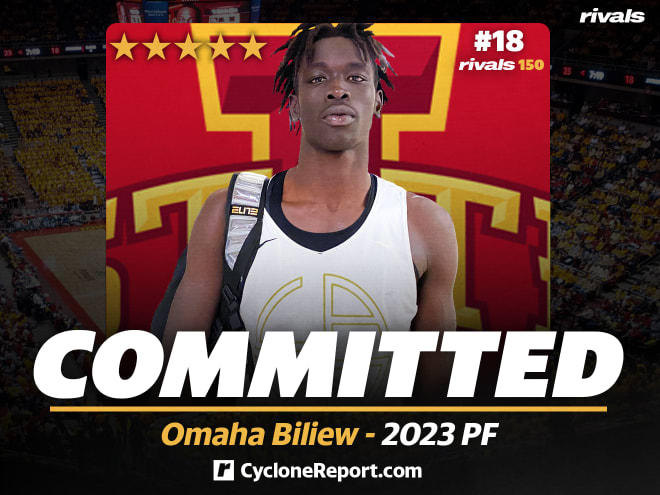 Iowa State added a second top-30 prospect to its 2023 class on Tuesday, when five-star forward Omaha Biliew announced his commitment to the Cyclones. Biliew. is the first five-star to choose Iowa State since it landed Lindell Wigginton in 2017 and represents a massive recruiting victory for second-year head coach T. J. Otzelberger.
Below, Rivals.com has a closer look at what the Cyclones are getting and what Biliew's choice means for the program.
WHAT IOWA STATE IS GETTING: Biliew's physical attributes are what pop off the page. He's all of 6-foot-8 and moves incredibly well both laterally and vertically, a combination that grants him endless versatility at both ends of the floor. He guards multiple positions and is as battle tested as players come, having played his AAU ball for Peach Jam champions MoKan Elite and high school hoops for Link Academy, which navigated a major national schedule a year ago. Biliew was a bit inconsistent as a junior at Link and didn't always impact games in the way he'd like, but he seems to be rounding into form as he approaches his senior season. He made his mark at NBA Top100 camp last month, where he gave former No. 1 overall prospect GG Jackson all he could handle in a head-to-head matchup before helping lead his grassroots team to a Peach Jam championship. He has been attacking the rim with consistency as of late, which is promising for a prospect whose offensive game has been inconsistent at times. The most encouraging thing about Biliew is how he impacts games on the glass and the defensive end even when he isn't scoring at an ideal clip.
WHAT IT MEANS FOR THE CYCLONES: It's amazing what a Sweet 16 run can do. The momentum T. J. Otzelberger built in his first season in Ames is palpable. In fact, things seem to be snowballing. The 18th-ranked prospect in the 2023 class, Biliew is the headliner of a class that also includes top-30 prospect Milan Momcilovic, a power forward that would serve as the crown jewel of many high-major recruiting hauls. The start to which new coaches get off often dictates how things will go, as recovering from a bad first year is difficult to say the least given the way success and failure tend to compound in college hoops. Otzelberger has avoided such a thing and has seemingly re-established Ames as a place for top prospects to compete at a high level. Biliew is a talented player, sure, but the foundation of the 2023 class feels like the type of thing that sets a tone for years to come. Top-100 prospect Jelani Hamilton, a wing with elite length, rounds out the Cyclones' haul thus far.