Five-star Emmitt Williams talks about upcoming visits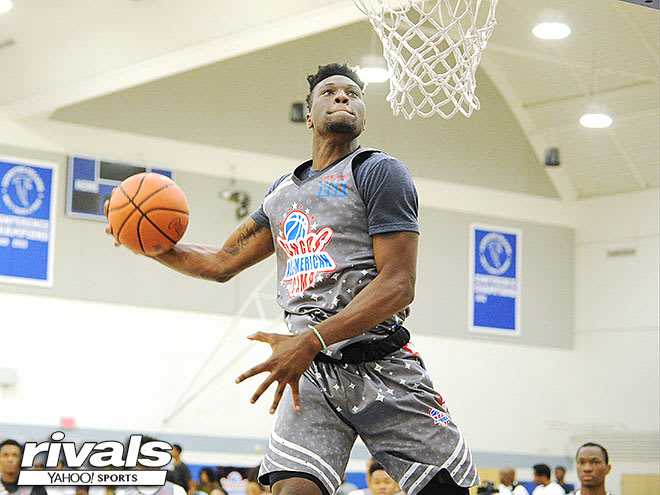 Little is known about the recruitment of Emmitt Williams outside of the fact that he is down to a final list of seven. Oregon, Duke, Kansas, LSU, Florida, USC and Miami remain involved as Williams is now beginning to take a deeper dive into his recruitment as he prepares for his first official visit.
A five-star power forward and one of the most productive players in high school basketball, Williams was a dominant force on the Nike EYBL circuit this summer. The headliner for the Each 1 Teach 1 program, the five-star senior averaged more than 17 points, 11 rebounds and close to two blocks per contest.
Not one to seek the spotlight off the floor, Williams was able to address where he sits with his recruitment.
"Everything is going great so far. I just appreciate all the coaches coming in and taking the time out of their day to come in and see me play and work out in the gym," he said. "Right now, I am just letting it all roll. I have my first official visit on (Friday), getting ready to go to Oregon."
Williams gave further insight on the Pac-12 program.
"I like them a lot; that is why I have them in my top seven. I am going to see how it goes whenever I go out there next weekend. Hopefully it goes great," he said.
"They said that they would use me as a stretch-4, which is how I want to play. They said I played similar to Jordan Bell. That is why I am out here working on my ball-handling and my dribbling, and guarding the 1 through 5. The better my defense is, the better I can get."
While talk has centered around the Ducks as the likely landing spot for Williams, a commitment this weekend isn't likely.
"I don't know where else I want to visit yet, to tell you the truth. I pray about it every time to let God guide me but I do know that I am taking all five of my visits," he said. "I am going to get that feeling whenever I know that it is my next home."
Outside of the Oregon visit, expect for a few others to be set in the coming weeks. After the trip to Eugene, Williams will compete in the United States Under-18 Training Camp in Colorado Springs, and further visits could take place shortly thereafter.