Five-star big man Bacot cuts list to 10 ahead of visit to Duke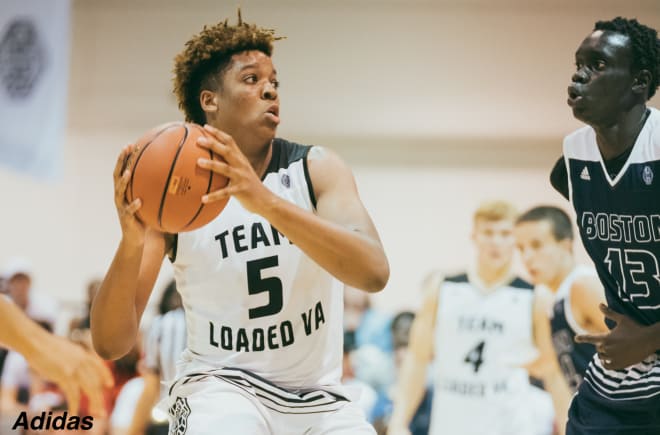 One of the most polished big men in America, Armando Bacot, has taken the next step toward making a college decision. A member of the 2019 class and an elite frontcourt prospect, Bacot has narrowed his college list to a group of 10 with plans to visit a blueblood program this weekend.
A 6-foot-9 center with phenomenal hands, Bacot has become known for his premier rebounding abilities, back-to-the-basket skill set and tremendous feel for the game as a high-post passer.
Bacot says his final 10 are Duke, UNC, Kansas, Virginia Tech, Virginia, VCU, Villanova, Oklahoma State, UCLA and Georgetown.
"I thought those were the 10 that I could most see myself actually going to and I didn't want to set other schools up and waste their time," he said. "I definitely think those 10 put me in the best spot to possibly get to the next level but also are the best fit for me."
While 10 have made the initial cut, a group of six has begun to separate themselves from the pack. "Duke, UNC, Oklahoma State, Virginia, Virginia Tech and VCU have all maybe prioritized me a little more than the others," he said.
IN HIS OWN WORDS
Bacot, who heads to Duke on Friday for its Countdown to Craziness, broke down the six programs making a push.
Duke: "The tradition there, and they have one of the greatest coaches of all time. They have a high-caliber system and if I were to go there they would want me to produce early, which is a plus. I know their history of getting guys to the NBA is great."
UNC: "I went there for a visit whenever they played Louisville in football. Coach (Roy) Williams told me that no other head coach is going to come in and see me more than he will. Also, I feel like they have a plan for me. I was their first big man that they offered in the 2019 class, which showed that I am a huge priority for them. Coach Hubert Davis is always checking in on me to see how I am doing outside of basketball."
Oklahoma State: "They are definitely a school that is interested in me. They came down to see me three of four times during the fall live periods. Coach (Dave) Kontaxis reaches out to me all the time. He is just a good dude and they want me to come and have the ball in my hands."
VCU: "Coach (Mike) Rhoades, I was one of the first players that he offered once he got there, and their fan base loves me. I live 10 minutes from VCU, so I am constantly riding past there and I know how much Richmond loves VCU, so I know how humongous it would be if I were to go there."
Virginia: "I was the second player in my class that they offered. Coach (Tony) Bennett and Coach (Jason) Williford have been on me hard. They were the first school to ever really recruit me, so they have been there from the start."
Virginia Tech: "The stuff that they have been doing is huge, and just getting Landers Nolley is a big step towards getting top-100 guys. Their staff, Coach Buzz Williams, I see him all the time and he is just a real inspiration with his tweets and his stuff like that. He has knowledge that could really help me off the court, too. Coach (Christian) Webster always keeps it 100 with me and I can tell that they really like and want me."
WHAT'S NEXT
Bacon visited Virginia Tech, Georgetown and UNC this fall and may try to set something up for Oklahoma State after his Duke visit.
"Honestly, there is no telling what I might do," he said. "I don't want to set a date because maybe just one day I feel like I might want to commit," he said "As far as cutting my list, it will probably happen around the fall time, whenever I am setting up my official visits, or maybe even during the summer period."
RIVALS REACTION
A member of the talented Team Loaded travel program, Bacot is more of a throwback in the post. He has garnered comparisons to past five-star big men Jahlil Okafor and Wendell Carter, thanks to his polished low post skill set and an uncanny rebounding ability.
Selecting a school from the nation's elite will be difficult, as it looks like a commitment will occur around this time next year for Bacot. All 10 have a chance with the five-star junior, though, as he had stated, it does look as if Duke, UNC, Virginia, Virginia Tech, VCU and Oklahoma State stand above the rest.