Five-star big Jalen Smith lining up first official visit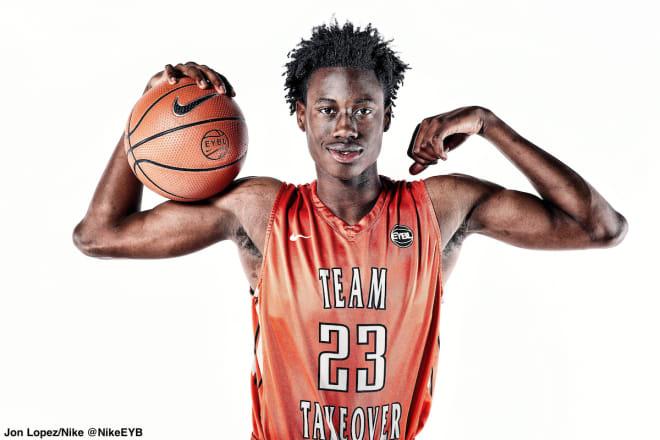 EMERSON, Ga. -- Five-star big man Jalen Smith is coming off a monster junior season and looking forward to extending his momentum. He's also locked in on his first official visit and has a few schools he's hoping to hear a little more from.

It's not like the 6-foot-9 junior at Baltimore (Md.) Mount St. Joseph was an unknown heading into the 2016-17 season. He was highly ranked and has offers from Villanova, Maryland, Virginia, Arizona, Miami, Wake Forest, Stanford, Syracuse, Florida and many others.
However, nobody pegged him to win Catholic League, Metro and State Player of the Year honors.

"My junior year was a bit of a shocker to me and everybody else," Smith told Rivals.com. "I don't think people expected me to do as well as I did. I was grateful for it and grateful that I got to play with the seniors that were on my team.
"I think everybody thought going into the season that (five-star point guard) Immanuel Quickley was going to win everything."

Recently, Smith was on campus at Villanova for an unofficial visit and he's got a nice bond with Jay Wright and his crew.
"It was fun," said Smith. "They showed me around the campus and showed me the family aspect of it all. They let me hang with the team and we talked about how I would fit in if I came."
Smith has also decided on his first official visits. The date isn't finalized yet, but Smith said that he'll take his first official visit to nearby Maryland sometime in early June.

"My parents decided that would be good since they are the closest," said Smith. "We thought we could get the close one out of the way and they we could go further for the other visits. Coach (Mark) Turgeon wants me bad. He got my teammate Darryl Morsell there with him and they have been hounding me to get there ever since."
Smith still has to sort through his other suitors to decide on his other official visits, but there are two bluebloods that he's heard from who haven't yet offered that he would be very interested in visiting.

"I want to visit Duke or UNC. I want to see how their campuses are and how they treat their players," said Smith. "They have shown some interest, I talked to Duke recently and North Carolina has showed love in the past."
Look for an early signing period decision out of Smith and expect education to play a legitimate role in his choice.

"The education is going to matter," said Smith. "Basketball is the main goal, but I grew up in a family where education is important and if basketball doesn't pan out then I want to be sure to have a backup plan."