Five-star Bamba among standouts in Kansas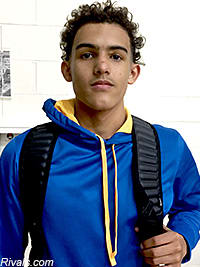 OVERLAND PARK, Kan. -- From the Jayhawk Summer Finale in the morning and afternoon to the KC Hardwood Classic at night, Thursday was filled with hoops, including games that featured several Rivals150 prospects for 2016 and 2017, and ones that attracted coaches from all levels across the country.
Bamba's big half
Following the first half between PSA Cardinal 16's and Kingdom Hoops 16's on Thursday night, one of the top players in the country took off the red t-shirt underneath his jersey, signaling he was ready to get down to business. Yes, 2017 five-star center
Mohamed Bamba
felt a change was needed and it's safe to say it worked.
"I just want to show how much I want to win, how much I like winning, and how much I love winning," said Bamba, the No. 4-ranked prospect, "I have a competitive nature."
Of course, the first half wasn't exactly bad, either. Bamba still blocked several shots off the glass and even threw down a dunk so hard that it shook the goal at Shawnee Mission South High School. Yet, with assistant coaches from
Duke
,
Syracuse
and
Virginia
, among others, present, there was something about the final frame that was different. The 6-foot-11 center was more himself, running the floor, finishing stronger and being a rim protector.
For everything Bamba was set out to show, it seemed to gradually improve as the game went on. And in one of the final contests before he stops taking a number of offers, which has been his plan all along, the Weston School (NY) prospect gave several programs something to think about as he prepares to take it all in.
"All schools are standing at a stalemate right now because it's so early in my recruitment," Bamba said. "It's pretty much like organized chaos because there's so much at once but it's all in one room. It's all organized."
It's an equal playing field at the moment, and the plan is to ride it out with the hope of building strong relationships with several programs over his junior year. Bamba is in a confident state of mind, and if he continues to develop his strength and dominates each game he plays, those schools that have offered him are going to be glad they did.
Young enjoying the process
Trae Young
is trying to live in the moment and have as much fun as possible. In the world of recruiting, especially right now, it's not an easy task, but it doesn't appear the 6-foot-1, 170-pound point guard is having any trouble with it at all judging by the way he played Thursday night.
Whether it was slicing through the defense with crafty handles and finishing at the rim or using his good vision to find open teammates, the four-star and No. 28-ranked prospect for 2017 looked like he was having a great time in Mokan Elite 17's rout of Kingdom Hoops 17's.
Not to mention, with a good number of coaches on his extensive offer list sitting courtside, Young's recruitment is going just as well.
"I'm just looking at everything carefully," the Norman, Okla., native said. "I'm enjoying the process. I know this only happens once. I'm enjoying it and I've been blessed with being able to speak to who I have been speaking to - legendary coaches."
Young's game was far from perfect at the KC Hardwood Classic, but the good certainly outweighed the bad. He was a sound floor general, and made his teammates better because of it.
However, it's not all fun and games for Young. Although he is only entering his junior year next month, some important decisions regarding his recruitment will be made.
"I'm planning on cutting my list down sometime right before basketball season starts," said Young, who plays Norman (Okla.) North High School. "I don't know to how many but I'm going to cut it down a little bit. I still have more schools out there that I haven't received an offer from."
As it stands, Young lists
Oklahoma
,
Oklahoma State
,
UCLA
,
Virginia
and
Texas
as just a few of the many schools that are in constant contact with him. But at the end of the day, he will use the upcoming months to give absolutely every program a fair shake, a list well over 20, before narrowing down his options.
Young will likely have fun doing that, too.
Weathers planning trips
2016 point guard
Michael Weathers
is very matter of fact. He understands what he's good at on the court, knows what he wants, and senses it all might get a little more hectic down the road. The Shawnee Mission North (Kan.) and JC Hoops prospect is aware of everything.
Right now, though, nothing is too crazy. The skinny 6-foot-3 athlete has offers from Arkansas-Little Rock and Southern Utah, with interest from
Missouri
,
SMU
,
Kansas State
, and Creighton, among others, and more offers could potentially surface in the near future.
"I like Missouri, K-State and Creighton because they are closest," Weathers said," but I also like Arkansas-Little Rock and Southern Utah because they want to develop me as a point guard."
On the court, Weathers is an explosive athlete who might not be done growing. He gets everywhere he wants to be on the court, including the lane despite his 180-pound frame, and can finish above the rim, but he struggled finishing at times on Thursday at the Jayhawk Summer Finale with several of those interested programs in attendance at the Drive5 Sports Center.
"I did not play great at all," he admitted after the loss to the Nebraska Express 17's. "I could have done more things to help the team win, like control the offense better and run the team better overall."
Regardless, there were several instances that Weathers showed why he has garnered more attention as of late with his ability to get to the basket off the bounce.
Weathers will visit Creighton on August 3 and plans to take officials to Missouri and K-State in September. He wants to play at a program close to home so his family can travel to games and attend a school where he can get his teaching degree.







Click
Here
to view this Link.