Five-star Armando Bacot nearing next step in recruitment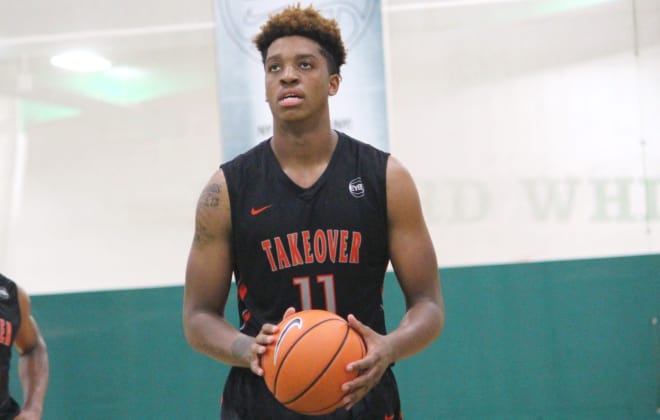 ATLANTA -- Five-star big man Armando Bacot has been a household name in recruiting circles for quite some time now. As the No. 21 overall prospect in the 2019 class, he has schools from all over the country recruiting him for his ability to dominate the game in the paint.
As he gets ready to start his senior year, though, it's getting closer to the time for him settle on just one school. He released a top 10 earlier this year, but a couple new schools have come into the picture and could be in play when he narrows his list.
"I have my top 10, but Kentucky has been reaching out and Georgia is another school that has been talking to me a lot," Bacot told Rivals.com. "I plan on releasing my top five sometime in August, probably in the middle of August. I'll probably make my decision after my official visits unless I just get that feeling before I'm done with them all. I plan on signing early."
Duke, Georgetown, Kansas, North Carolina, Oklahoma State, UCLA, VCU, Villanova, Virginia and Virginia Tech were the schools listed in his previous top ten. Head coaches Roy Williams, Mike Boynton, Tony Bennett, Tom Crean and Buzz Williams were among those seen watching him this weekend in Atlanta as were assistants from the other schools recruiting him.
IN HIS OWN WORDS
Bacot talked about his decision to transfer to IMG Academy, Kentucky and Georgia becoming involved in his recruitment, and his thoughts on some of the other programs already recruiting him.
On transferring to IMG: "I'll be getting a chance to work out in their nice facilities and become an even better player. I'll be playing with Jeremiah Robinson-Earl and Josh Green, two great players, so it will be a lot of fun. I want to be better prepared for college. I'm going to be playing at a high level in college, and whether I'm there for one or two years, I just want to be ready for college."
North Carolina: "Of course it fits my playing style. Coach Roy Williams is always at my games. I actually FaceTimed with him the other day and I talk to him a lot. They are definitely recruiting me hard. They said I'm a top priority. I was the first big man they offered in this class. Coach has been real strict about his message for me. He wants me to come in and produce."
Kentucky: "I've been talking to Joel Justus a lot, the assistant coach. I'm pretty sure Coach (John) Calipari will be reaching out soon. They just want to see me play hard and they like what I'm doing."
Georgia: "Coach Crean was my coach at Adidas Nations last year and he just kept it touch with me while he wasn't coaching. We already had a relationship. Him going to Georgia was huge. It's a big time school and I think he's a good coach and has a good plan for me."
VCU: "They are the hometown school. They've been recruiting me since like the 8th grade and they always come to watch me play. Coach (Mike) Rhoades and his whole staff, I have a good relationship with all of them."
Oklahoma State: "They've been recruiting me really hard. Out of all the schools, they've been to see me the most. They've been recruiting me this hard since last year. I like the coaches. They have a nice plan for me. They have a good program. I like what they are doing."
RIVALS REACTION
Bacot said he doesn't plan to drag out his recruitment too long. Once he gets back from Las Vegas after this week, he said he'll start working towards getting his list down to five schools and setting up official visits. He did mention he would like to take all five, but didn't rule out the possibility of falling in love with one school before completing all of them.

North Carolina looks to be in a good spot and will likely receive one of his visits while Oklahoma State has to be right up there given how much time they have spent with him. To get one of those visits from him, a strong relationship with the head coach is going to be important and that could end up helping others like Virginia, Virginia Tech and VCU who have been recruiting him for some time.