Five standing out early for 2019 four-star Elias King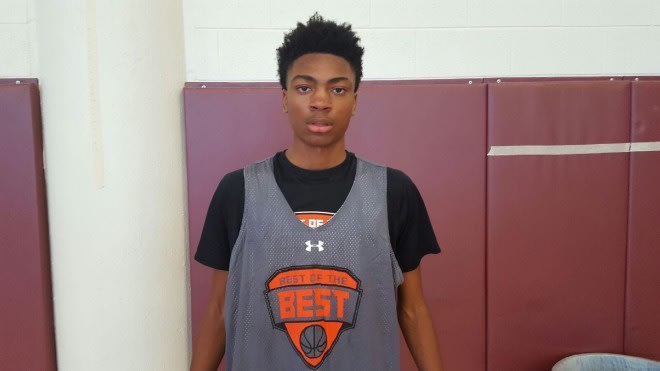 HAMPTON, Va. – Seated among the top 50 of his 2019 class rankings, Elias King showed off a bevy of upside, talent and ball skills during his opening weekend session in Hampton. Blessed with great size and a versatile skillset, it is no wonder why some of the top programs throughout the East Coast have become involved with the high-end four-star recruit.
Standing close to 6-foot-6, King is someone that can break his man down, score at the basket, convert with a hand in his face, but also distribute as a playmaker. Just a sophomore, King's potential is even better than what he currently portrays, exactly why some of the heavy hitters have begun to call.
IN HIS OWN WORDS
Auburn: "I like where they are headed. They are a developing basketball program. They are going to be good in the SEC. I like how Bruce Pearl gives his guys freedom."

Georgia: "They let their guys go, too, but they mainly preach defense which is what I really need to include within my game."
Florida State: "I like them. They will get guys to the league but they will also get you better as a player and get you better as a person. I noticed that when I went on my visit, all the guys shook my hand and greeted me."
Louisville: "I grew up in Louisville. I moved from Atlanta when I was in the third grade. They preach defense. If you are a freshman and you don't play defense, you will not play the whole year."
WHAT'S NEXT?
King will finish out his junior spring and summer campaign on the Nike circuit running with the Southern Stampede 16-under squad. Having already visited Ohio State, UNC, Kentucky and Indiana over the winter months, he hopes that he can get down to Florida State and Louisville in the weeks ahead.
RIVALS' REACTION
A talented four-star prospect that has the makings of a five-star recruit, King has the chance to be among the top players in his 2019 graduating class. It is because of his size, versatility and talent base that the top programs should soon be involved, though it does look as if Louisville, Auburn, Georgia, Georgia Tech and FSU have impressed him early on in the process.