Five prospects on the brink of five-star status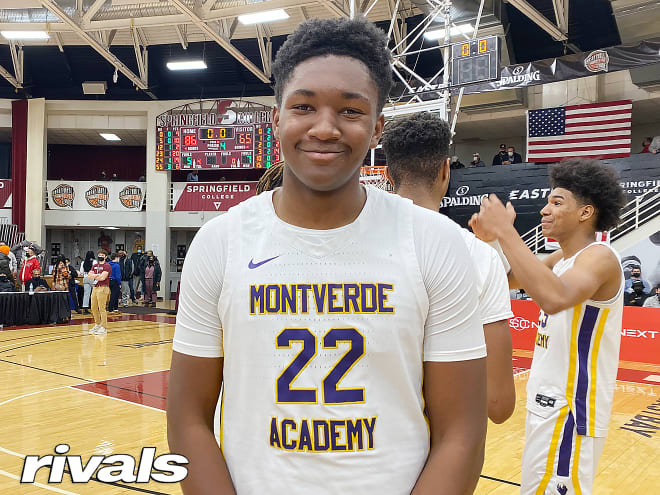 As prospects around the country turn in memorable performances at the various shoe circuit and off-brand sessions in hopes of positioning themselves in striking distance of five-star status in the Rivals150, a handful of players have made strong cases all spring.
Here are five fringe five-star players who have taken what could be the final step toward ascension with a strong start over the last two months.
Ranking: 30
Queen's high school season ended in the quarterfinals at GEICO Nationals, after he drove the lane and missed a heavily contested layup off the front of the rim; that seemed to light a fire under the versatile 6-foot-10 forward that has yet to be quelled. Queen has, arguably, been the most consistent big in the class, emerging as the top player in the Under Armour Association for each of the live periods and leading Team Thrill (Md.) to an undefeated record and the UAA spring title.
Queen embraces his role as a go-to scorer, which is different from his role as a key piece on the juggernaut that is Montverde Academy. He's expanded his capabilities as a playmaker and passer, has improved as a defensive presence in the paint and swallows rebounds on both ends.
*****  
Ranking: 39
Bethea is the leading scorer on the No. 1 team (Team Final) in the No. 1 circuit (Nike EYBL) in the country. That should be enough. Still, it's the ease in which he goes about his dominance that makes the larger impact.
Bethea is a marksman from the perimeter, draining 42.6 percent from the 3-point line, but is also adept at using his quickness and elite ball-handling ability to get into the lane and finish at the rim. He plays passing lanes like a seasoned corner and brings an infectious energy on both ends of the floor.
*****  
Ranking: 27
Wright has been the consummate floor general all spring, controlling tempo, stepping into big moments and making his teammates better every game. Wright is averaging 15.2 points, 5.2 rebounds and 6.2 assists a game for Team Final (Penn.) in the Nike EYBL, which leads the EYBL's active players.
He's won some big duels with other elite point guards and always controls the pace of the game. Most importantly, Wright wins; Team Final sits at 16-1 in the country's toughest circuit.
*****  
Ranking: 32
Pettiford didn't miss a beat playing alongside his longtime teammate Elliot Cadeau, a five-star point guard who recently reclassified to 2023 and will suit up at North Carolina next season. For that reason, Pettiford moved off the ball and flourished, averaging 16.7 points, 3.1 assists and 3.1 rebounds a game for NH Lightning (Conn.) in the Nike EYBL.
His combination of speed, quickness, shiftiness and three-level scoring ability has made him a devastating defensive assignment all spring against the top guards in the class.
*****
Ranking: 49
Edgecombe has staged a hostile takeover for the last seven months that included being named Player of the Year in by far the country's most grueling high school basketball league (NIBC), averaging 17.3 points, 5.3 rebounds, 1.3 steals and 2.5 assists a game for Long Island (N.Y.) Lutheran, and now he's emerging as one of the top players in the adidas 3SSB.
He is a special blend of speed, quickness, length, three-level scoring ability and energy. Good luck finding a more intense competitor on any circuit.