Favorites emerging for Florida five-star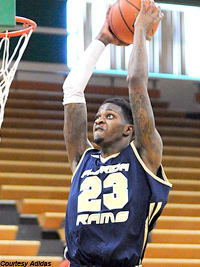 During the spring,
Chris Walker
was a major part of one of the nation's most exciting grassroots teams, the Florida Rams.
He'll be back looking to win tournaments with them in July, but the month of June has been all about personal development for the 6-foot-9 forward from Bonifay (Fla.) Holmes County.
The five-star prospect just returned from taking part in the Amare Stoudemire Skills Academy in Chicago and feels like he learned a lot
"The camp was pretty good," Walker told Rivals.com. "There was a lot of competition out there. There were a lot of big men out there working hard. It was pretty good working out with Amare and the post people.
"I feel like I learned a lot. The big thing is not to take days off and I learned a lot with post moves and my footwork. I think I got better and I'm ready for July."
Already ranked No. 6 nationally with all kinds of scholarship offers, Walker doesn't really need to impress anybody in July. Still, he wants to win more tournaments with the Rams and do his best.
"I really just want to go out there and have fun and play hard," said Walker. "I want to stay focused and win as many tournaments as I can."
On the school front, Walker has all kinds of offers but is starting to narrow his focus a bit.
According to Walker, the approach from each coach is pretty similar. At this point, though, he feels like he knows about most of the programs recruiting him and he likes when coaches can branch out and talk about non-basketball items.
"I like when coaches instead of talking about basketball all the time check on the other things," said Walker. "Like for instance coach
Billy Donovan
, whenever he calls he is always asking about my family and everything else before he even mentions basketball. I'm not going to say names, but with some other schools all they care about is basketball."
Speaking of Donovan's Gators, the consensus has been that they are the team to beat in Walker's recruitment. He wouldn't call them the out and out leader, but did say they are doing very well with him.
"I guess you could say that they are in the driver's seat," said Walker when asked if the Gators lead. "I'm still open of course and maybe a few visits can change mind."
For now, though, Walker is doing his best to focus on his game and having fun. This is his last go round on the summer circuit and he'll worry more about recruiting in August after the grassroots circuit is finished.
As for making a decision, he's still looking at the same factors.
"Playing time is important but I told everybody early that I would pick my school based on the relationship with the coaches and how they approach me," said Walker. "Also, the style of play is important. Do they get up and down? Also, is it a good academic school, all of that is important."