Fastbreak Friday: Huge weekend for visits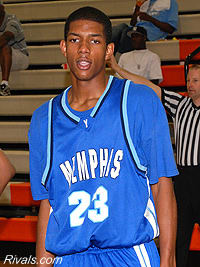 The list of basketball prospects taking official visits this weekend is long – very long.
Our college football game of the week - Virginia Tech at LSU - will have a pair of top 60 prospects on the sidelines.
We break it all down in this week's version of Fastbreak Friday.
Saturday night in Baton Rouge, La. It is a thing of legend in college football circles, and all eyes will be on the game at LSU this weekend. Virginia Tech comes to town for a matchup featuring top-10 programs.
Wake Forest will honor former basketball coach Skip Prosser this weekend when the Demon Deacons take on Nebraska. The trio of class of 2008 recruits that committed to Prosser before his death this summer are expected to be on hand for the ceremonies.
Apparently, there is a party going on in Knoxville, Tenn. The invitation list is long, and the RSVPs are strong for the weekend. The Vols have a number of top prospects on campus.
• Utah native Nick Thompson is seeing the University of Pacific.
[rl]