Fastbreak Friday: First official for No. 1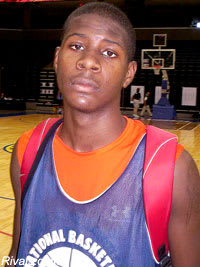 Kansas, Michigan State, Tennessee and others are all gearing up for huge visit weekends from recruits.
In fact, the nation's top player is scheduled to take his first official visit this weekend.
Rivals.com takes a look at the extensive list of official and unofficial visits in this week's version of Fastbreak Friday.
ACC
VISITORS OF THE WEEKEND
The Kansas men's basketball team will receive its National Championship rings this weekend. A pair of prospects talented enough to help the Jayhawks make a run at another title are expected to attend the ceremony.
Never in the history of Rivals.com has the nation's top player ever visited the defending National Champions on an official visit. Wall will be the first.
Sasha Borovnjak, a 6-foot-8 forward from Fletcher (N.C.) Veritas Christian will visit N.C. State.
BIG 12
BIG EAST
BIG TEN
Last weekend it was USC. This weekend it is Michigan State with a number of big time recruits on campus. The Spartans are taking full advantage of the home football game with Notre Dame to hold a reunion weekend. Former standouts like Steve Smith, Mateen Cleaves, Charlie Bell, Shannon Brown, Maurice Ager, Eric Snow, Al Anagonye and others are expected to be on campus. The prospect list for the Spartans is also very impressive.
Ohio State will play host to five-star in-state prospect Jordan Sibert of Cincinnati (Ohio) Princeton. He recently trimmed his list down to seven schools. The Buckeyes made the cut along with Cincinnati, Louisville, Maryland, Miami, West Virginia and Xavier.
PAC-10
SEC
The Tennessee-Florida football game is always one of the most anticipated matchups of the year for SEC fans. The weekend is always a huge recruiting tool for the host program. This year's game is in Knoxville, and the Vols are gearing up for a big weekend.
The Vols won't be the only SEC school making recruiting waves. Ole Miss is bringing in a number of talented youngsters for the football game against Vanderbilt.
MORE FROM AROUND THE NATION
[rl]