Fantastic 40: What Bossi liked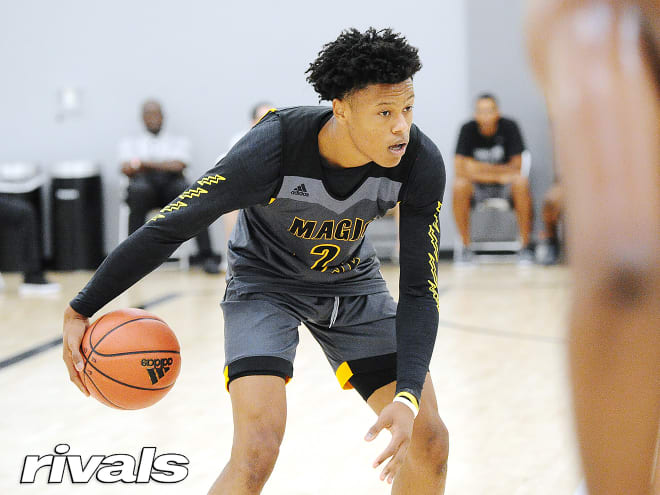 LAS VEGAS -- A first year event, the Fantastic 40 opened up on Thursday night in Las Vegas with an impressive list of talent and teams and four-star wing Jaylen Clark was among the standouts.
Eric Bossi runs back what he liked most from opening night in Vegas.

JAYLEN CLARK'S ABILITY TO IMPACT WINNING
The more I see four-star wing Jaylen Clark, the more I come to appreciate how much he does to impact winning games. On Thursday night, he ramped things up offensively and slashed to the rim late to help the Compton Magic score a come from behind win over Seattle Rotary.
It's no surprise, though, Clark always seems to be in the mix with winning teams. Some talk about doing whatever it takes to win, but Clark shows it every time out by playing defense, doing the little things and then scoring if needed. He told me that the first four visits in the works for him are Colorado, New Mexico, USC and Xavier and I could eventually see him being an All-Conference level player at any of those places.

ZIAIRE WILLIAMS ALL-AROUND GAME
Ziaire Williams wasn't the highest ranked player I saw on Thursday night (2021 No. 1 Jonathan Kuminga is in town as well) but he was the best player of the night.

The 6-foot-8 wing made a return to the BTI Select program that he first built his national reputation a yer or so ago and he looked tremendous. While still lean, Williams is getting stronger and when you start to add more strength to a guy who can shoot, handle, pass, rebound and has an aptitude for making the correct decision, you have one heck of a player.

Whether he lands at Arizona, Duke, North Carolina, Stanford or any number of the other places that are recruiting him, his stay in college is looking more and more like it could be a short one.

THE RETURN OF DAWSON GARCIA
Due to illness, skilled four man Dawson Garcia missed the month of July. He made his return to D1 Minnesota on Thursday night and looked like he hadn't missed a beat.
Despite not participating in games for a month or so, Garcia has been able to do some working out and he's noticeably stronger than he was earlier in the summer. For a guy as lean as he is, any strength helps and he was doing a nice job of shedding contact to score.
Look, he has great size, can handle the ball, is very mobile, was draining threes and had one of the dunks of the night in traffic. He's got a long list of schools and doesn't know when he's going to cut them, but he backed up his status as one of the top five four men in the class of 2020.

THE POTENTIAL OF NICK BLAKE AT UNLV
Earlier this summer, athletic shooting guard Nick Blake announced that he'll return to his hometown of Las Vegas for college at UNLV. What a potentially great addition he could be for new coach T.J. Otzelberger and the Rebels.
Blake is big, he is going to be strong and he is an explosive guy off the dribble. Currently, his biggest strength is getting downhill and to the rim where he can finish off acrobatic drives in traffic. But, he's also started to make jumpers with more consistency and play more solid all-around ball.
I think we need to take a long look at him for the 2020 Rivals150 after the summer ends and more importantly for the Rebels, he could develop into a very valuable player for them sooner than later.

A BETTER THAN EXPECTED VIBE FOR AN AUGUST EVENT
Walking into a first time event, during the month of August where no college coaches could attend, I didn't know what to expect from the Fantastic 40. I was pleasantly surprised that the majority of the players and teams expected to be on hand actually showed up and I was even more surprised by the level of intensity and how hard they played. Plus, 'm always for events that feature teams from the different shoe company circuits playing each other like the are here. Anyway, some quick hitting notes

.... Top three 2021 guard Terrence Clarke certainly looked the part. He came out firing away from deep early and his ability to get to spots off the dribble is as good as it gets in the high school game. He was the bright spot for Expressions in opening night loss.

.... He's tired after a long summer, but it's incredible how much more comfortable Daishen Nix looked with his Simply Fundamental squad than he did a week ago at USA Basketball. Of course, a lot of that has to do with the fact that he was back playing point guard instead of the wing like he did in Colorado Springs. Kansas, Kentucky, Maryland, UCLA, Washington and many others have been involved and look for him to start setting up visits real soon. Duke and Virginia have recently inquired.

.... Thursday night was my first look at Rivals150 wing Kario Oquendo and he backed up what Corey Evans and Dan McDonald have told me about him. He's physical, he's tough, he's an explosive athlete and he plays hard on both ends of the floor for Team Parsons. USF, TCU and Wake Forest are among those in the running.

.... Once the threes started falling for Rivals150 wing Kerwin Walton, they never seemed to stop. I've had the opportunity to watch him a handful of times with D1 Minnesota over the past few weeks and he's shot the ball as well, or better than, anybody I've seen this summer. If he catches with his feet set and a clean look, well then you might as well start running the other way because the ball is going in. There's a reason he racked up double digit high major offers in July alone.

.... Arizona should be happy they locked up versatile guard Dalen Terry early. I can see him playing all three perimeter positions for Sean Miller and once he matures physically, he could turn into a true defensive monster. He has some feel, he's getting more explosive and still only 16 years old, the rising senior has big upside.

.... Finally a couple of notes on two guys that popped up on my radar last night, 2021 point guard Keshon Gilbert and 2020 point guard Jordan Sears. Gilbert is from Vegas and is a good sized point guard who has athleticism but plays under control and makes good decisions. Nevada, Fresno State and Long Beach State have been wise to offer the Las Vegas Knicks guard early. As for Sears, I love the intensity and leadership he showed for Team Parsons. He gets after it on both ends and is a leader. I was surprised to find that he just picked up his first offer from Gardner-Webb a few weeks ago. The dude can play.