Fall Festival: Top freshmen and sophomores

Performance: The breakout performer of the Fall Festival, Weaver is a 6-foot-4
point guard who has size, feel for the game and athleticism. Whenever the ball
was in his hands he appeared to be in total command of the situation and he's a
quick and physically punishing driver who can score himself or set others up for
open shots. Based on his weekend at the Fall Festival he looks like a legitimate
candidate to rank amongst the top 25 or so players in his class.
3
PF
Montverde (Fla.) Academy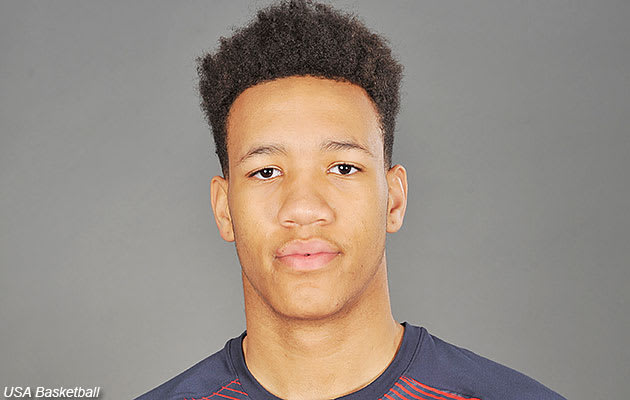 Performance: Currently ranked as the No. 5 player in the class of 2018,
Montgomery is a skilled four man who fancies himself as a potential wing player.
He can shoot with range but his proclivity to hang on the perimeter and eschew
mixing it up around the rim has limited at times. There were no such issues with
his play in Orlando. Montgomery used his 6-foot-10 size to play active on the
glass, he attacked the rim and he played as physically as Rivals has ever seen
him play. He can run the floor and when he's mixing it up like that his ability
to then step out and shoot jumpers makes him beyond dangerous.
4
C
Jacksonville (Fla.) Arlington Country Day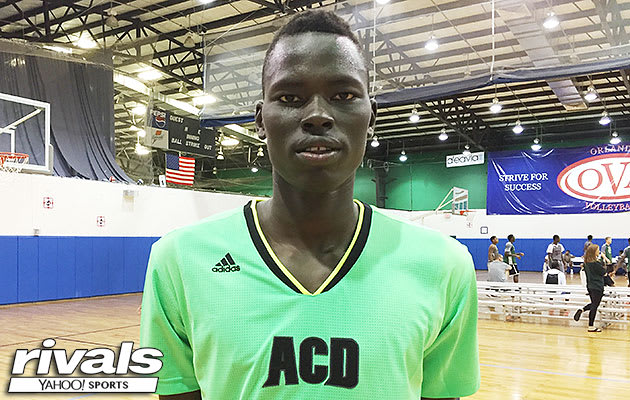 Recruiting wrap: No reported offers.
Performance: Already standing over seven-feet tall, Marial was a pretty big eye
opener at the Fall Festival. All he would have had to do to get notices was run
up and down the floor without getting his feet tangled and block a few shots.
But, he did much more than that. He didn't just make it up and down the floor,
he motored up and down like a much smaller and much older, mature player. He
soared above the rim to catch and finish alley-oops, attacked rebounds at their
highest point with both hands and shut down any action around the rim. With
continued development he has a chance to be a big-time prospect.
5
SF
Montverde (Fla.) Academy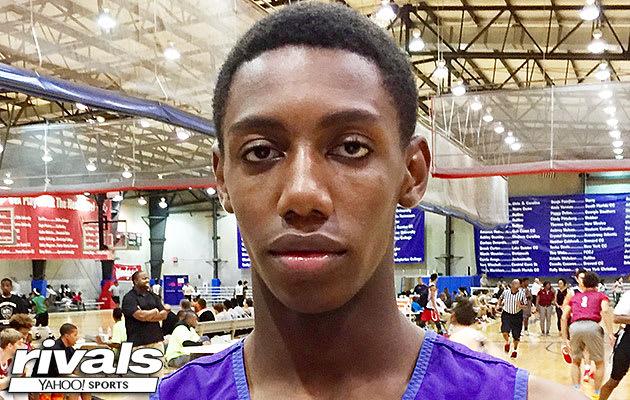 Recruiting wrap: No reported offers.
Performance: The son of Canadian basketball legend Rowan Barrett who played his
college ball at St. John's, the apple didn't fall far from the tree here.
Barrett is an athletic southpaw wing who has shooting range and abundant
athleticism. He handles the ball a bit, looks to have a good feel for the game
and is easy to peg as a high major prospect.
6
PF
Montverde (Fla.) Academy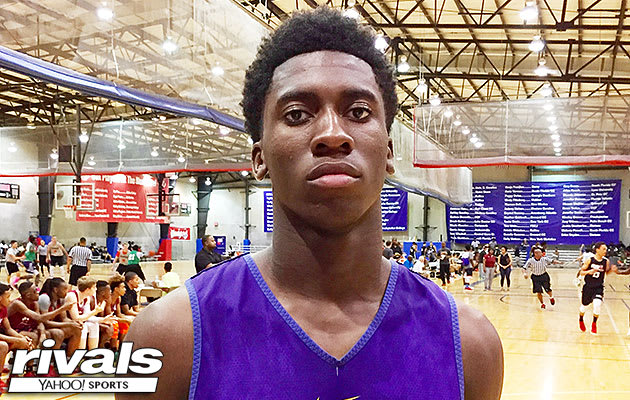 interest.
Performance: A five-star prospect who currently ranks No. 8 in the class of
2018, Shittu is a long armed rebounding machine who loves to play with
physicality. He is already a very good passer, has above average hands and is a
clever finisher around the basket. He currently has a physical advantage over
most of his classmates so he will have to continue to focus on his skill
development to retain his ranking as others catch up to him physically.
7
SF
Orange Park (Fla.) Oak Leaf
Performance: Little has the tools to develop into a pretty dynamic small forward
prospect. He showed above average athleticism, a very good motor and the ability
to step out and knock down a three point jumper. He likes to attack the rim and
looks like a potential big time defender.
8
PF
Orlando (Fla.) Edgewater
Performance: The slender power forward was a nice find. He didn't shy from physical play around the rim, showed good touch and played with spirit on both sides of the floor. As he adds muscle to his frame and expands his offense he looks to have a bright future.
9
SF
Winter Haven (Fla.) High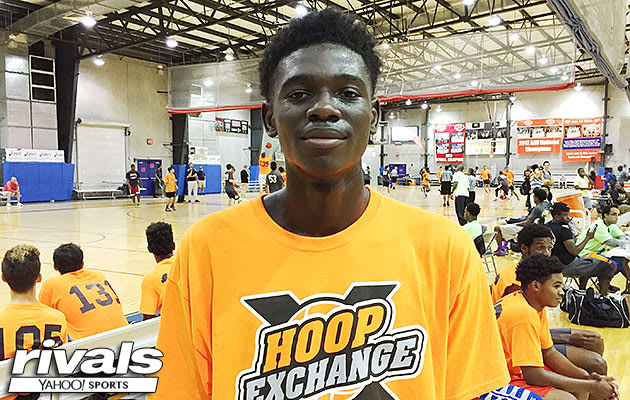 Recruiting wrap: Yet to receive first offer.
Performance: A long armed and live legged wing who loves to attack the rim in
transition, Bryant hasn't yet heard from college programs but that should be
changing in short order. He can already put the ball on the floor a bit, has
good 6-foot-5 size and he plays hard on each end of the floor.
10
SG
Orlando (Fla.) Oak Ridge
Recruiting wrap: Yet to receive first offer.
Performance: Fresh off of a foot injury, Glover opened eyes with his top shelf
athleticism. Glover is a natural leaper who already has a level of explosion
that most high school seniors can only dream about. He showed a nice floater off
the dribble and a jump shot that has pretty good mechanics. If the way he played
at the Fall Festival is any indication of what to expect throughout his career
then he will be one to monitor closely.
Eric Bossi
National Basketball Analyst