Fab 48: Bossis Friday best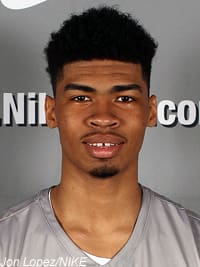 class, didn't get
enough touches from his teammates, but he was still quite impressive at the Fab
48 on Friday. Richards headlined an impressive list of top performers.
proof that you don't have to put up big numbers to impress. The 6-foot-10
center was a beast inside the lane for Expressions Elite even if he wasn't
getting many touches. Richards competed on the glass, ran the floor, got
physical and played with a huge chip on his shoulder. Richards plays with a
serious edge and isn't out there to exchange twitter handles.
cemented his status as the No. 1 point guard in his class. His decision making
and feel for the game are next level and he can dominate as either a scorer or
passer. His defense has likely been undersold.
his spots but really turned it on late and almost helped 1Nation erase a big
deficit against Each 1 Teach 1. As usual, Jackson was most effective in the open
court where he was every bit as impressive as a passer as he was a finisher.
out. He will have to add some weight to his frame in college but he is all
business on the floor and does it on both ends. Huell has great hands, is quick
for USA Basketball's 16U team. While he showed flashes of bigtime ability in the
Nike EYBL during the spring, he's really taken his game to a new level in July.
He's active, quick, can shoot with pretty good range and he is getting better
each time out. He's backed up his status as the No. 21 player in 2017.
Jones will be in the next edition of the 2016 Rivals150. With coaches like
watch, Jones was once again stellar. It was this time last year that fellow
2015, could Jones be doing the same in 2016?
Brown's competitive fire that really catches your attention. The BABC shooting
guard and No. 52 player in 2016, he's one of the best defensive players in the
country. He showed that and a willingness to attack the basket on Friday. There
is some
got ahead of the pack a few times and showed better quickness off the floor than
ever
good month. Stretch four man or athletic small forward is the question? The way
he's been shooting with confidence from deep adds a dimension of versatility to
his game. He's continuing to push for a move up the 2016 rankings.
period, the 6-foot-1 combo guard was good in the 16U division of the Fab 48.
The Canadian guard has a very good looking jump shot and he's pretty crafty off
the dribble. Had he finished better at the rim he would have had a huge game
Friday night, as it was he was pretty impressive.