EYBL: Vanderbilt, Fox hold serve in Houston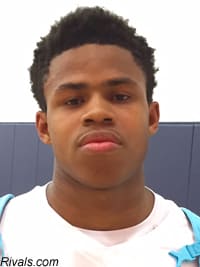 HOUSTON -- Nike kicked off the Houston stop of their Elite
Youth Basketball League Friday night at the MI3 Center. It was only fitting that
the EYBL leading and homestanding Houston Hoops team, led by the five-star
offer as he led the Alabama Challenge to a win.
Hoops hold serve
Entering Friday night's matchup with Nike South Beach, the Houston Hoops were
tied for the best record in the EYBL at 7-1. In front of their hometown fans,
the Hoops used aggressive defense and a number of weapons on offense to move to
8-1 with an impressive 83-65 win.
2016. Neither player disappointed; slashing wing Vanderbilt went for 13 points,
nine rebounds, six steals and two blocks while Fox added 19 points and three
assists from the point guard position.
After the game, Vanderbilt was actually upset. The 6-foot-7 five-star prospect
didn't feel that he had played that well on offense and was disappointed with
his seven turnovers. He may have missed on some finishes he usually converts and
did have some bad passes, but he also thoroughly dominated the game with his
ability to defend multiple positions and control the glass.
Vanderbilt has always been a good athlete, but he's taken his game to a new
level. He explodes to the rim off the bounce, changes directions quickly and,
when you factor in his ability to handle the ball, he's an elite prospect by any
him a priority. Vanderbilt also said that he's started to hear from
"We have been out of town and the people here haven't seen us play, they've just
heard about us doing well," Vanderbilt said. "We are the number one team in the
league and to come home and show the hometown how we've played is a good
feeling."
Through the first two sessions of the EYBL, Fox -- who also excels on the
defensive end of the floor -- has been content to run his team and be more of a
facilitator. Friday, he was looking for his offense. A long and slender floor
general with extreme quickness, Fox has also gotten much more explosive around
the rim and he made it a point to attack the tin.
Though he doesn't yet have the type of reputation that Vanderbilt and Fox do,
himself. A natural scorer who can play the point or the two, Edwards exploded
for 23 point and six rebounds of his own while making an impressive six of his
eight three point attempts.
Petty leads Challenge
The Alabama Challenge suffered a big blow earlier this spring when they lost
A smooth 6-foot-5 wing from Huntsville (Ala.) J.O. Johnson, Petty led the
Challenge to a hard fought win over D.C.-based Team Takeover.
Petty handled the ball, made very good decisions, came up with defensive stops
when he needed to and showed off his versatile offensive game. His jumper wasn't
falling with regularity, but Petty kept firing and mixed in enough clever drives
to finish with a team high 18 points and four rebounds.
Earlier this week, Petty was the recipient of an offer from Kentucky. Petty
noted that the offer caught his attention and that he's paid plenty of attention
to the Wildcats over the past few years. He also mentioned offers from
says that he is only focused on winning this weekend.
"I think that I played pretty well," said Petty. "I was just really trying to
play good defense and play the game hard on both ends. We all have to pick it up
with Austin out."
More Friday notes and news

One
of the most anticipated games of the night was the St. Louis Eagles' matchup
against Memphis-based Team Penny, especially when the nation's best point guard
scored 22 points and logged six rebounds while making all 10 of his free throws
power forward showed athleticism at the rim and nice touch on 15 footers from
the baseline.

Former
dishing out five assists for the Spiece Indy Heat in a win over Expressions
Elite. Walker doesn't have ideal size at 5-foot-11, but he is a very heady floor
general and can really shoot from deep. His No. 148 ranking in the 2016
Rivals150 is probably a little too low.

It wasn't a
one man show for the Alabama Challenge and John Petty had plenty of help.
only scored eight points but grabbed 14 rebounds. He's a hard working and smart
big and part of what looks to be a very good class of 2017 in the state of
Alabama.

Team Takeover
scoring 20 points, grabbing seven rebounds and handing out a pair of assists.
King's bread and butter move is the two dribble pull-up from between 12 and 17
feet and with him pushing 6-foot-7 it's awfully tough to guard on the high
school level.

The Boo
Williams Summer Leauge team earned a hard fought win over the Mac Irvin Fire
who had 24 points and six rebounds. Corprew hit on jumpers and made some tough
buckets near the rim but down the stretch it was class of 2017 shooting guard
Playing his first game in the EYBL after being out with a wrist injury, the
tough 6-foot-3 guard did most of his damage late to finish with 10 points, seven
rebounds and four assists. The three-star guard listed offers from Kansas
and Hofstra. Another 2017 prospect to keep an eye on for Boo Williams is thin
on the 17U level, but he has shooting touch, good hands, gets on the glass and

Playing his

Through
the first two sessions, Seattle Rotary Select had been struggling for offense.
the glass, Nowell scored 21 points and grabbed six rebounds while going 9-of-12
on the Adidas Gauntlet circuit with Team Fast -- went for 24 points and four
rebounds of his own while moonlighting for Rotary. One of the nation's premier
shooters, Pritchard made 9-of-13 field goal attempts overall and six of his
eight three point attempts.

Finally, we
want to make sure that we mention the defensive effort of California Supreme in
their 87-62 thrashing of the Las Vegas Prospects. Supreme's aggressive pressure
defense produced one turnover after another and we could easily mention six of
seven of their players. As good as the defense was, it was hard not to noticed
good for 18 points and they all came on three pointers. Also impressive was
Encino (Calif.) Crespi, Melton contributed across the board with 11 points, 10
rebounds, five steals and three assists. Plain and simple, Melton is a nasty on
the ball defender who can also go to work in transition.