EYBL Session 3: Saturday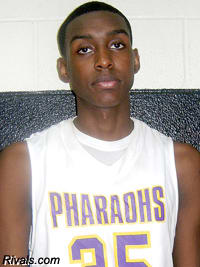 HAWTHORNE, Calif.- For years, Nike has run their Memorial Day Classic in places like Louisville, Bloomington, Nashville and Atlanta. This year, the swoosh abandoned their traditional tourneys in favor of the Elite Youth Basketball League a series of three regular season style events designed to determine participants in the crown jewel of Nike's team events, the Peach Jam. Saturday, EYBL session #3 kicked off at the HAX facility and it was pretty obvious that spots in the July event were on the line. Also on the line was personal pride and reputation and nobody stood out more than power forward Quincy Miller of D-One Sports.
Miller lives the high life at HAX
Saturday night,
Quincy Miller
demonstrated exactly why there's a strong chance that fans will eventually have to pay good money to see him play in person. Looking more focused than ever, the lengthy 6-foot-9 forward hit the floor with purpose on Saturday.
He got things going in the lane by exploiting his quickness against the Metro Hawks and then he stepped out onto the perimeter to hit some threes or beat defenders with drive. Even more importantly, the skinny Miller fought for tough rebounds and straight up dominated the lane as a shot blocker.
After spending much of his spring hunting jumpers, it was really nice to see Miller going to work on the interior first before stepping out. When he gets a few easy buckets early, his confidence brims and he becomes a nearly unstoppable force on the offensive end who doesn't need a lot of touches because the basket becomes so big for him.
By the time he'd finished playing in Saturday's final game, Miller had racked up an impressive triple double of 26 points, 13 rebounds and 10 blocks.
Oakland Soldiers on
There may not be a more impressive backcourt on the grassroots circuit than the Drew Gooden Soldiers trio of
Nick Johnson
,
Jabari Brown
and
Josiah Turner
. Mix in mighty might point guard
Kiwi Gardner
and the group from Oakland rolls out a pretty impressive group of perimeter players.
On Saturday, Johnson was an absolute terror. As usual he got loose for big dunks in transition. But, more importantly, he was dialed in with his jumper and showed off the ability to create for others when needed.
As usual, the sturdy Brown was a sniper from deep. But, everybody knows he can shoot by now so he's had to diversify his game. That he did by mixing in several drives to the rim and pull-up jumpers.
Finally, Turner -- who listed Kansas, Wake Forest, Georgia Tech, Kentucky and Syracus -- can play a variety of roles. Need him to distribute? No problem, he can get others involved and create off the dribble. Need him to score? He can do that to whether it's off the bounce or via the jumper.
Finally, the diminutive Gardner is a tough kid and perhaps the heart and soul of the Soldiers bunch.
Other Saturday EYBL Notables
Dorian Finney-Smith
, SF, Boo Williams- Should he replicate what he did on Saturday for the rest of the summer, Finney-Smith is poised to make a climb up the 2011 rankings. A skinny wing with quickness, athleticism and a surprising floor game, he's looking confident right now and is playing in attack mode. He is a slasher by nature who makes just enough shots to keep defenders honest. Saturday, he even ran some point and showed surprising feel for the position. He listed Kansas, Kansas State, Tennessee, Virginia, Virginia Tech, Maryland, Florida, Xavier and Cincinnati as his current suitors.
Nick Faust
, SF/SG, Baltimore Elite- He doesn't exactly let loose with a traditional jump shot, but Faust is proving to be one of the premier perimeter marksmen in the class of 2011. Deadly from either wing, the skinny wing is also able to mix in a few dribble drives and has sneaky athleticism.
Craig Sword
, SG/PG, Alabama Challenge- A relative unknown from the class of 2012 (at least nationally), Sword is a force to be reckoned with. An athletic 6-foot-1 combo guard, he's a guy that makes plays all over the floor. He's quick laterally, never stops moving and gets to the rim in a hurry. His jumper looks pretty good and he shows loads of potential on the defensive end. Depending on the development of his point guard skills over the next year, his recruitment could end up anywhere from the mid to high major level.
Tyler Harris
, SF/PF, Albany City Rocks- It's tough to figure out whether Harris projects more as a tall wing or as a mismatch four man with quickness. Either way, he's been a productive guy this spring and his game has progressed quite rapidly. Underrated as an athlete, he utilizes a quick first step and general offensive cleverness to do his damage. He does need to add strength, but he proved that his four star status has much more to do with his game than who his older brother (Tennesse bound McDonald's All-American Tobias Harris) is.
Tommy McCune, PF, All-Ohio Red- A slender 6-foot-7 power forward who can run the floor, McCune carried All-Ohio for a long stretch during a key victory over Team Texas. He finished a big dunk through contact, got on the glass and stroked a couple of smooth looking three pointers from the wing. Ideally, he'd be a little taller and be a bit more mature physically, but it's obvious that he has a future somewhere on the high major level.
Ky Madden
, PG, Arkansas Wings- His lack of strength can be problematic at times, but Madden is improving rapidly. More and more confident as a primary ball handler, he's a slithery guard who can get into the lane and is an impressive shot maker off of the dribble. He sees the floor well, but he has got to cut down on his tendency to leave his feet before looking to bail himself out of trouble with a pass.
Kevin Johnson
, C, California Supreme- There aren't a lot of true space eating five men in the class of 2011 and because of that, Johnson finds himself in good position. He was a bruising force on Saturday who controlled the lane, rebounded and ran the floor. He's worked to get his body in better shape and as a result he's playing better than ever and has a chance to factor into end of summer rankings.
Quddus Bello
, SF/SG, D-One Sports- Fully healed from a wrist injury, the Deuce got loose on Saturday night. While everyone knows him for his antics above the rim and in transition, it's pretty clear that Bello has put in some significant time on his ball handling and passing skills. He rebounded, attacked off the bounce and was a disruptive force in passing lanes.
Ben McLemore
,SF/SG, St. Louis Eagles- All spring long, the 6-foot-5 McLemore has shown glimpses of his vast potential. Saturday afternoon, he put it all together and displayed a more aggressive approach. An elite finisher at and above the rim, McLemore is also a very good pull-up jump shooter from between 12 and 17 feet. After getting toasted by pretty much anybody he tried to defend during previous events, he has buckled down and turned into a pretty good defender as well. Maybe the most underrated aspect of his game is his ability to pass the ball.
Final Saturday EYBL Observations
Alabama fans are going to grow to love the duo of
Levi Randolph
and
Rodney Cooper
. Standing nearly 6-foot-5 inches tall, Randolph is a rangy two guard who handles well enough to create space for his own offense or slide over and play the two. While his jumper is a bit unorthodox, it is true out to the three point line. A smooth 6-foot-5 lefty, Cooper has one of the most buttery shooting strokes in the class of 2011. He doesn't need much time or space to let jumpers fly and he's an underrated athlete. … Mid majors need to keep a real close eye on Albany City Rocks point guard
Derek Millinghaus
this summer. The 5-foot-10 floor general isn't huge in stature, but he plays with big heart and has tremendous quickness. … The more we watch
David Rivers
the more he looks like a high major wing. A long 6-foot-6, he's grown more comfortable on the offensive end and could explode once he matures physically. He mentioned offers from Wichita State, South Florida, Colorado, Nebraska and UTEP to go along with interest from Missouri, Providence, Baylor and Clemson. … The inside tandem of
Greg Lewis
and
James Milton
of Baltimore Elite is a lot of fun to watch. A work in progress, the near 6-foot-9 Lewis runs well, is quick around the rim and is playing more aggressively. As for the high jumping 6-foot-6 Milton, well aggression is the name of the 2012 lefty power forward's game. He tries to dunk everything and never seems to run out of energy. …
Boo Williams swingman
Justin Anderson
is an intriguing guy on several levels. Most of all, the 2012 lefty is a freakish athlete with speed, quickness, strength and incredible leaping ability. The 6-foot-6 lefty's physical gifts allow him to be a disruptive force, but some of the emotion and playing to the crowd (or video cameras) that comes along with his game is worrisome. If the young man will focus as much on improving his skill level as he does playing to the crowd, his ceiling is quite high. … If he keeps shooting the ball as well as he has, shooting guard
Hikeem Stewart
of Friends of Hoop Seattle is going to blow right past mid majors and start attracting high major offers. A lean 6-foot-3 off guard, he's got quickness, deep range and creativity off the bounce. … It's hard not to like the intensity and toughness of
Branden Dawson
, however the more we watch the more it seems fair to ask if he's not just as much a power forward as he is a small forward. He put up big numbers playing outside of the lane during his junior season, but this spring all of his production has come from 12 feet and in. A big time athlete with a non-stop motor, he's got strong hands and is among the premier rebounders in the country regardless of class or position. … High majors on the Eastern seaboard might want to keep track of Playaz Basketball Club wing
Vaughn Gray
. He doesn't get a ton of touches, but he's pretty productive and has the size and game of a Big East wing.
[rl]