EYBL: Harvey finishes strong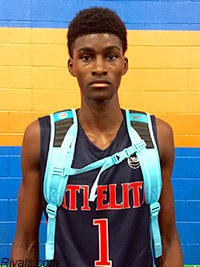 Less than 90 minutes down Interstate 64 from Louisville, Ky., and the Under
Armour Association event, Nike was holding Session II of the EYBL regular season
in Lexington. Rivals.com was on hand to take in as much of the action as we

battled for nine rebounds to go along with his 29 points, five steals and two
assists. There was no quit in his game or slowdown in his motor, Vaughn played
all 32 minutes as if there was a battery in his back providing energy. Vaughn
can score at the basket and knock down shots with either hand. As a result, he
is quite difficult to defend.

Sophomore
session but, when he was on the floor, the No. 26 ranked prospect in the 2017
class showed off his skill set. Tucker has good size, can shoot it with range
and put it on the deck to create his own shot which has a quick release and good
extension. As Tucker improves his ability to get to the rim to score and

Team Texas and the five-star sophomore finished with 13 points for the game.

his first game of the day but the No. 4 ranked player in the 2017 class
absolutely did work on the glass. An explosive jumper, Vanderbilt grabs some
rebounds by simply jumping higher than opponents, but he also showed his boxing
out skills and has a go-get-it mentality when shots go up. For the day, the
6-foot-8, 195-pound prospect had 31 points and 28 boards.

In the days
before EYBL teams arrived in Lexington, there was a report that Each One Teach
class to his original 2015 class. He told us that he's been considering because
he'll have all of his school work done this year but he has not reached a
decision yet. The Alabama native received a school visit last week from Crimson
Turner on Saturday. Turner finished with a double-double of 11 points, 11
assists, seven rebounds and three steals.

E1T1 teammate
playing through the pain of a strained Achilles tendon. Showing his mental
toughness, as well as elite shooting ability, Isaac connected on half of his
shots (including 4-of-9 beyond the arc) against The Family. The No. 45 ranked
player in the 2016 class added three rebounds, two assists and two steals in the
game.

Two weekends
Boo Williams and on this day the 6-foot-5 junior continued to play at a high
level. Huerter is a deadly marksman off the catch but he is not just a shooter
that runs off screens to get open. He can score off the bounce, is a good
decision maker and made plays for teammates. Huerter is also active defensively
his high school to meet with him.

Anchored by
the Georgia Stars has one of the biggest front lines in the EYBL. But in a match
playing time. The 6-foot-10, 250 pound Carter runs and catches very well. He
showed an advanced skill set, including creating his own jump shot off the
bounce. On occasion he doesn't do a great job of sealing off his man in the low
post but, generally speaking, he does present a good target for entry passes. In
a game that was quite physical and chippy, Carter didn't allow that to get him
out of his game -- including one instance where he was hit in the face -- he
just went about his business while getting 21 points, seven rebounds, blocking
interest from Duke.

For his part,
Azubuike had a pedestrian game but showed his power on one dunk when the basket
support started to collapse. The five-star center told us that he has been

keep his teammates happy by setting them up for easy scores. Gist has a quick
first step, which allows him to get into the paint anytime. His shot wasn't
falling against Las Vegas Prospects but he scored at the rim, dished six assists

Nike South
the EYBL. Listed at 6-foot-1, 165 pounds, Frye shows more toughness than some
players 20 pounds bigger. He is a reliable jump shooter, good ball handler and
passer and showed good anticipation and quickness on the defensive end. Frye
told us he has offers from High Point and is receiving interest from
Pennsylvania.

In a game
that probably should have been scheduled for the main court to accommodate more
attracted quite a few local fans of the Big Blue Nation. Neither had very
efficient games, scoring most of their points at the free throw line, but they
each impacted the game without scoring as you would expect from elite talent.