EYBL: Fridays observations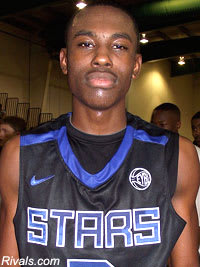 HAMPTON, Va.- The spring circuit is a time for prospects to emerge, solidify their stock or raise their stock in front of the eyes of the scouts. Montay Brandon took full advantage of this opportunity Friday night at Session 01 of the Nike Elite Youth Basketball League.
Montay Brandon
(2012, Georgia Stars)- The Georgia Stars might just have more height across its line up than any travel team. And it is at the point guard position where the stars have the greatest height advantage with 6-foot-6 Brandon leading the charge. A smooth and skilled ball handler, Brandon controlled the tempo for his squad and repeatedly made plays by getting into the lane.
Grossly under recruited at this point, Brandon has offers from Appalachian State and Gardner Webb. Pac-10 schools Arizona State and Washington are showing serious interest, and Clemson and the former staffs at North Carolina State, Georgia Tech and Miami out of the ACC have been involved. Look for Brandon's recruitment to take off this spring.
Nerlens Noel
(2013, BABC)- Noel might just be the top prospect at this event. The near 7-footer has always been a force as a shot blocker and rebounder, but on Friday night he displayed an array of offensive skills. On several occasions he ignited fastbreaks by breaking out on the dribble after offensive rebounds. He passed the ball effectively out of the high post and attacked the basket from the perimeter. And was fluid around the basket with his post moves. Playing with a high motor throughout his game, Noel flirted with a quadruple double.
On the recruiting front, John Calipari paid Noel a visit at his school on Thursday and offered a scholarship. Noel, who is far from having a formulated school list, also mentioned offers from Connecticut, Syracuse, Pittsburgh and Providence.
Darrick Wood
(2012, Playaz)- Point man
Kyle Anderson
has a couple high level wing scorers at his disposal and one of those is Wood. A bouncy, thin 6-foot-4 wing, Wood scored from all three levels for the Playaz. He gets great elevation on his jumper and has a scoring game that will easily translate to the next level.
Offers are in from Rutgers, Seton Hall, Georgetown, UCF, Miami and UNLV. Wood is also expecting an offer from Connecticut soon.
Terry Rozier
(2012, All Ohio Red)- A 6-foot-1 point guard, Rozier is the point man for another quality All Ohio Red team. With a wicked left to right crossover, Rozier scored bucket after bucket against the New York Gauchos.
A high major level talent, Rozier has offers from Kent State, Akron and Cleveland State. Serious recruiting interest is coming in from Wisconsin. Rozier has his eyes on Louisville and Michigan State as well.
Shaquille Goodwin
(2012, Memphis YOMCA)- One of the most promising big men in the class, Goodwin has a terrific blend of athletic upside and a developing all around skill set. He had an impressive outing last night scoring 25 points along with passing the ball well and being active on the boards.
Goodwin is hearing the most from Georgia and UCLA. He plans to check out UCLA in June along with
Jordan Adams
.
Kyle Anderson
(2012, Playaz)- You don't see many 6-foot-8 prospects like Anderson. Offensively he is a high level point guard with a sublime feel for quarterbacking a team. Defensively, he is a four man who although slow of foot makes plays with his length and anticipation.
Anderson is presently listing St. John's, Seton Hall, UCLA, Villanova, Arizona, Xavier and Georgetown. He has visited all but Arizona and plans to make it there this spring. He mentioned Seton Hall as the school that is recruiting him the hardest and said they are doing a great job recruiting him.
MORE SCOUTING OBSERVATIONS
Myles Davis
(2012, Playaz)- The reclassified shooting guard has limitations athletically and size wise, but he is a high level shooter and his scoring will translate to the next level.
Kenny Kaminski
(2012, All Ohio Red)- Speaking of high level shooters, Kaminski can fill it up with the best of them. Due to a lack of quickness he projects as a stretch four man who also should be physical around the basket. Look for him to bulk up and develop a more physical side to his game at Michigan State.
Omar Calhoun
(2012, New York Gauchos)- He doesn't blow you away with any one aspect of his game, but Calhoun is a physical wing scorer who will get buckets at the next level. He flirted with the 40 point mark on Friday.
Jarnell Stokes
(2012, Memphis YOMCA)- Stokes and Goodwin are a dominant inside duo together. They are both active and physical, have a feel for the game and have a knack for feeding each other the basketball. Friday night Stokes was outstanding around the basket as a shot blocker and rebounder and he also excelled in the transition game.
Aaron Gordon
(2013, Oakland Soldiers) and
Brandon Ashley
(2012, Oakland Soldiers)- Speaking of talented inside duos, Gordon and Ashley were impressive Friday night. With his ability to slash to the basket and find open teammates, Gordon is a high level prospect with the potential to be an ultra-athletic hybrid forward.
Ashley has improved his physical strength since last summer and was a tough presence around the basket.
Jodan Price
(2012, The Family)- At 6-foot-6, Price opened some eyes with his sweet shooting stroke from the wing. That skill alone makes him an intriguing prospect.
Alex Poythress
(2012, Georgia Stars)- Poythress isn't a primary scoring option, but he is an active athlete of the highest order. Friday night, he was constantly above the rim impacting the game and cleaned up a lot of plays on the offensive glass.