Evans' Takeaways: Saturday action at Adidas Nations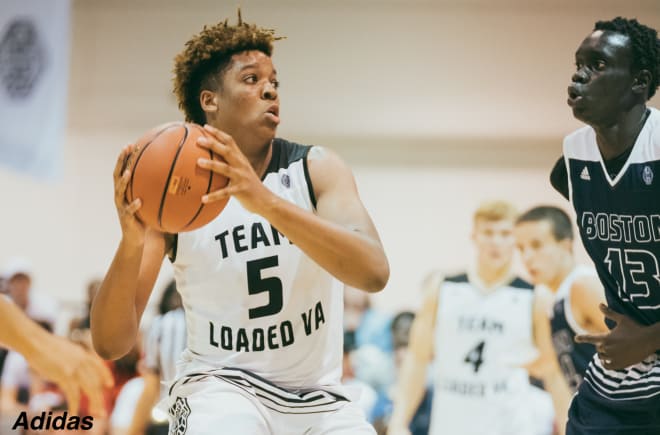 HOUSTON – The first full day of action of the Adidas Nations Global hit center stage on Saturday as the best from the high school, college and international realm took to the floor at the MI3 Center in Houston. Armando Bacot, who recently picked up a North Carolina offer, impressed, as did Oscar Tshiebwe, the Maker cousins, and Ashton Hagans.
ARMANDO BACOT IS A THROWBACK
It should come as no surprise that North Carolina extended an offer to Armando Bacot this week. In an era where coaches would much rather throw out smaller ball lineups onto the playing floor, Roy Williams has stuck to what has gotten him this far. Bacot will be nicked for his below the rim game but one must note just how productive he remains against the elite.
Playing against a talented Asia Pacific frontline on Saturday morning, Bacot more than held his own against others a year or two older than him. For most Tar Heel fans, they will immediately think of Kennedy Meeks when they see Bacot. Each own a set of unbelievable mitts as they snatch everything within their grasp, are tremendous passers from the low post setting, and can really rebound the ball.
North Carolina is not a clear leader with Bacot as Oklahoma State, Duke, Virginia, Virginia Tech and several others have jumped into the mix for the standout center. While he is more of a throwback post, his recruitment will still be very heated.
DOUBLE TROUBLE WITH THE MAKERS
Milwaukee Bucks standout Thon Maker was in the house at the MI3 Center on Saturday, watching his younger brother and cousin put on a show. Matur Maker, a member of the 2018 class, and Makur Makur, a member of the 2020 class, are each multi-positional and hard playing prospects that can do a litany of things.
Matur Maker, the younger brother of the Bucks' forward, kicked off the day with a monster 31 point performance off of just 13 shots from the floor. While he remains rather skinny on his lower-half, he has gotten stronger up top and was consistently involved on every play where his shot making, finishing and defensive versatility was all on full display.
Alongside him is super promising 2020 prospect Makur Maker, a multi-dimensional face-up forward that kicked in his own 23 points off of just 11 shots, while also corralling 12 rebounds. Capable of stepping out and hitting the perimeter jumper while also defending multiple spots, Makur Maker has the chance to be one of the better sophomores on this continent.
The duo will return back to Canada this fall and while the recruiting picture of each remains rather blurry, it wouldn't be a surprise to see one or two quality high-major programs jump into the mix.
OSCAR TSHIEBWE IS ULTRA-EFFICIENT
Playing for a super talented Team Loaded Virginia 17-under team this summer, Oscar Tshiebwe entered the summer as one of the more unheralded guys on his squad. While he is still not being recruited as much as some of his fellow Rivals150 teammates, he has improved his recruitment immensely with his hard-nosed play.
On Saturday, the Congo native was fantastic as he raced up and down the floor with a purpose, defended all three spots in the frontcourt and was nearly unstoppable as a finisher on the fastbreak. The best college programs have Tshiebwe-types, that is guys that are more about doing what is best for the team before they worry about getting their own. The rising junior finished with 16 points and 13 rebounds in just 22 minutes of action and it's easy to see why Virginia, Pitt, Clemson, Oklahoma State, Virginia Tech and West Virginia have already offered.
Tshiebwe has already visited Virginia Tech and West Virginia, and he would also like to get a trip in to Pitt and Virginia within the coming weeks.
ASHTON HAGANS IS ELFRID PAYTON
Ashton Hagans has continued his ascension up the rankings and while his jump shot remains a work in progress, it was nice to see him nail the perimeter jumper whenever the defense decided to go under the ball screen on Saturday evening. While his shot remains the primary hold-up with his game, the other portions of it remain peerless.
Comparable to Elfrid Payton, Hagans brings ideal size, toughness and playmaking to the floor. He is so shifty and explosive with his first step that it can get him into trouble as he gets into the teeth of the defense before his teammates have the chance to get open. Because of it, his turnover numbers can be mediocre but, just like Payton, it is his unlimited reservoirs of toughness, energy and defensive prowess that make him someone that you cannot have on the bench.
North Carolina is the most recent offer for Hagans. The Tar Heels will be a heavy favorite for Hagans, though Auburn remains the program to beat as its head coach, Bruce Pearl, made it a point to be at nearly all of Hagans' Game Elite 2019 games last month. Along with the Tigers, Florida State, Georgia, and many others throughout the Southeast have already made Hagans a priority.