Evans' Takeaways: Class of 2020 impresses in Las Vegas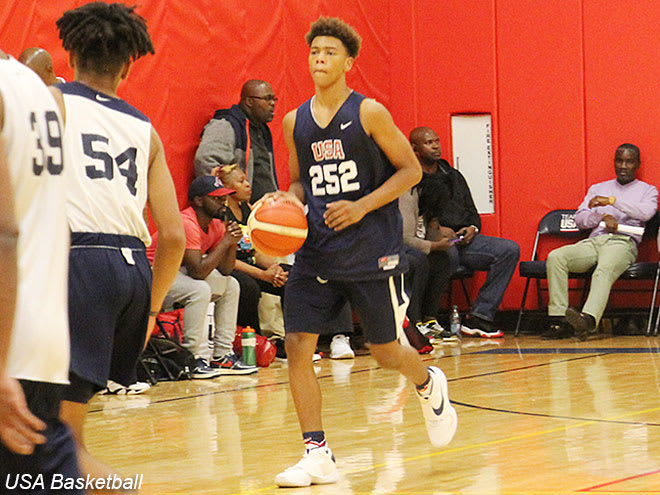 MORE: Five-star Quentin Grimes cutting his list soon
LAS VEGAS - The travel basketball season is now complete and bouncing around the various events throughout Las Vegas, several members of the 2020 class made big impressions. In fact, the 2020 class could be the best collection of talent since the 2016 group.
JADEN SPRINGER SHOWS MAJOR PROGRESS
His team lost to a loaded Team Takeover 16-under squad in the Fab 48 finals, but Jaden Springer had me reminiscing. A 6-foot-4 guard with unbelievable feel and pace for the game, Springer does so many things that many others couldn't even dream of doing. Most recently, it was Markelle Fultz that had this fluidness to him that made you question whether he was playing hard or not, but at the end of the game, your head would have to shake at just how dominant he was. That is exactly what Springer does.
Capable of playing various spots in the backcourt, Springer is already a better athlete than where Fultz was at the same stage. The fact that Springer has the gusto to throw down a 360-dunk in the middle of a game gives insight into just how talented and supremely gifted the B-Maze Elite product is.
Wake Forest, Georgia Tech and Old Dominion are just a few of his offers but, with this type of talent, it is only a matter of time before his recruitment hits the national level.
JALEN GREEN IS A BALLERINA
When we talk about footwork and basketball, the majority of the time, we think of big men in the post. Things are a bit different with Jalen Green. The soon-to-be five-star guard has footwork on the perimeter and following his jump stop in the lane that would make ballerinas jealous.
One of the best prospects in the 2020 class, Green is already an elite athlete. However, he does not rely on his athleticism to defeat his opposition. His ability to get separation off his defender on the perimeter and on turnaround jumpers from 15 feet is special.
Green does have to get stronger and he can settle for the perimeter jumper a bit too much but the talent level is off the charts with The Truth star. You might not see him in a leotard but you should see him on the biggest of basketball stages in the coming years.
CASEY MORSELL IS NO LONGER A SIDEKICK
Playing with one of the best 16-under teams within the past five years, Casey Morsell has been the perfect complementary piece for his Team Takeover brigade. The younger brother of Towson star guard Mike Morsell, the thought was that the rising junior would lead a quality, high-major recruitment in finishing out his final two years of high school play. Think again.
Late Wednesday night, Morsell hit a game-winning three-point jumper, which then created the momentum to win the rest of the way for the Fab 48 16-under crown.
Morsell may be an undersized scoring guard, but he is a complete gamer that can contribute on both sides of the floor. Virginia, Villanova and a handful of others kept close tabs on him this past week and while he already holds a cupboard of offers, it is only a matter of time before top programs on the East Coast are in on the improving guard.
XAVIER FOSTER SHOWING GROWTH
Xavier Foster has grown more than two inches over the last year and started to incorporate back-to-the-basket moves that will soon make the Iowa native a lethal weapon in the frontcourt.
Running two years up with Pure Prep Elite on the 17-under level, Foster reminds me a younger Rudy Gobert. Comparing someone to an all-league NBA defender may be a bit dramatic but one needs to appreciate how well Foster rebounds and blocks shots. His defense is way ahead of his offense but it is only a matter of time before his body and the work that he puts in begins to catch up to itself, which would then make Foster a capable blueblood recruit.
Iowa and Iowa State have already jumped aboard with offers but expect for many others to do the same before his sophomore high school season rolls around.
COACHES CORNER
The majority of coaches made their trek back home on Saturday evening but there were a few that stuck around to provide support for some of their top targets.
Assistants from Butler, UT-Arlington, Colorado, Tulane and Illinois were on hand for RWA Elite big man George Conditt.
Head coaches from UNLV, Bucknell, Santa Clara and Lehigh, along with assistants from Gonzaga, Rice, Columbia and Washington were present for class of 2018 Vegas Elite products Tyler Bey, Maka Ellis and Trey Woodbury.
Potential five-star 2020 B-Maze Elite guard Jaden Springer was watched by Virginia head coach Tony Bennett, along with assistants from Old Dominion, Georgetown, Villanova and Richmond.
Taking in the championship-winning Team Takeover 16-under unit of the Fab 48, a team featuring Jeremy Roach, Terrance Williams, Earl Timberlake and Casey Morsell, assistants from DePaul, Cincinnati, ODU, USC, USF, Maryland, UConn, UMBC, Villanova, Xavier, along with Virginia's Bennett, were courtside.