Eric Bossi's Peach Jam Blog: Wednesday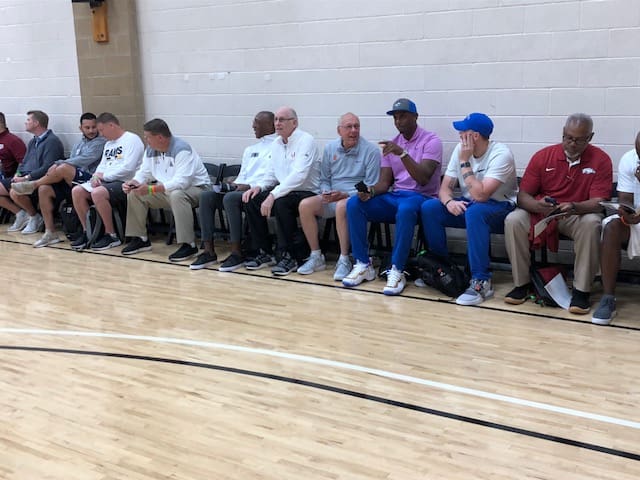 NORTH AUGUSTA, S.C. --- The first of July's three live evaluation periods is here. National Basketball Analyst Eric Bossi is live at Nike's Peach Jam and is keeping up with the nearly 125 Rivals.com ranked players from the classes of 2019 and 2020 via a blog. Stay tuned for news and updates from Wednesday night action.

OAKLAND SOLDIERS AND INDY HEAT DRAW A CROWD
My final game of the evening was the Oakland Soldiers and Indy Heat and man did they pack a crowd. Before I get to a list of who watched, I want to go over some of the perfomances and I want to start with Soldiers point guard Boogie Ellis.
The slender 6-foot-2 floor general from San Diego has steadily been working his way up the rankings and positioned himself as one of the top point guards on the West Coast. He should now be considered one of the top point guards in the country and it will be interesting to see if his recruitment begins to expand more off the West Coast. He came out shooting flames from deep early -- daggers the Indy Heat could never quite recover from -- and that jump shooting on top of a skilled floor game makes him a weapon who can play at the one or the two. Cal, Arizona, Nevada, USC, San Diego State and more are involved and they should be getting more and more company
Ellis wasn't without help, though. Rivals150 forward K.J. Martin and Scotty Pippen both had nice outings as well. Some see Martin as a smallish four man and others a hard playing wing but he's one of those guys whose position we don't need to worry about. Just put him on the floor and let him use his athleticism and toughness to make an impact. Late, the ball was in Pippen's hands and he did a great job of getting to the free throw line, making good decisions with the ball and helping to hold onto the lead.
On the other side, neither of the Indy Heat's five-star players Trayce Jackson-Davis or Keion Brooks had vintage games. Jackson-Davis made some tough finishes down the stretch to help keep his team in the game while Brooks looked to be getting more athletic to go along with his overall polish and skill. The guy who really caught my eye, though, was shooting guard Jalen Windham. He's got good size at around 6-foot-4 (maybe even a little bigger) and he can really shoot the ball. He looks like he should be a Midwestern mid major priority and it's no surprise that programs like Western Michigan, Ball State, Ohio, Miami (Ohio), IUPUI, Toledo and others have offered.
Now about the coaching crowd. There were a lot of them. From my vantage point -- and I'm sure i missed a few -- I saw head coaches from North Carolina, Kentucky, Colorado State, Grand Canyon, Purdue, UCSB, USC, Santa Clara, UCF, UAB, Oregon State, Memphis, Western Michigan, Long Beach State, San Diego State and Indiana. Among the assistants I saw were Creighton, UNLV, Colorado, Wake Forest, Washington State, Nevada, Boise State, West Virginia, Fresno State and Michigan State.

WISEMAN DELIVERS BIG, NO SHORTAGE OF STANDOUTS
James Wiseman delivered. I mean he delivered in every way possible. The seven-footer fought off foul trouble and played a spectacular second half to help lead the Bluff City Legends to a one point win over Vernon Carey and Nike Team Florida.
I'll get more specific on Wiseman in a column Thursday morning, but just understand it was one of the more special big man performances I've ever seen at the Peach Jam. I had Wiseman for 25 points and nine rebounds (19 and seven in the 2nd half) and he did any and everything one could possibly want an elite big man prospect to do.
For his part, Carey finished with 21 points, nine rebounds and six blocks and looks to have lost at least 15-20 pounds since I last saw him during May.
But, I don't want it to be just about Carey and Wiseman because Scottie Barnes and D.J. Jeffries were great too. Playing for NTF, Barnes showed why he is strongly in the mix for the No. 1 spot in 2020. He was all over the glass, defended multiple positions, made one highlight play in transition after another and took over as a scorer when his team was down. As for the Kentucky bound Jeffries, he seemed to come up with one big hoop after another for Bluff City. He stepped up whenever Wiseman sat with fouls and kept the energy up with big dunks, key jumpers and very timely offensive rebounding.
I've still got a few more days left at the Peach Jam, but it will be hard for me to see a better game.
FOUR-STAR AUSTIN CROWLEY WILL SET VISITS AFTER JULY
Four-star combo guard Austin Crowley told me that he hasn't set any of his official visits just yet, but the time to do so is coming soon.
Crowley said that the current plan is for he and his father to sit down after the month of July and start setting up visits.
Crowley also pointed out that he's still open and hasn't decided on anybody that he will for sure be taking a visit to. He said that Alabama, Mississippi State, Ole Miss, Memphis, Wichita State, Michigan, Minnesota, Louisiana Tech, Maryland and Stephen F. Austin are among those currently in the mix.
Capable of playing as a long and rangy playmaker or sliding off the ball as a scorer, Crowley said some coaches are recruiting him as a point while others see him as a combo. Does he have a preference?
"No," said Crowley. "I will play wherever they want me to."

GARY CONFIRMS DECISION IS ON THE WAY
Four-star small forward Juwan Gary confirmed to me that he's still planning to announce his college choice at some point in the week. However, he has not yet set an exact time or method of how he will release his decision.
For the past week most of the talk has centered around Alabama and South Carolina with the Crimson Tide gaining steam according to some behind the scenes sources. So far, Gary has yet to tip his hand but we should all get the answer on where he's headed within the next few days.

UPDATING CAREY AND WISEMAN AT THE HALF
It's halftime of Nike Team Florida and the Bluff City Legends and Bluff City holds a 30-29 lead in what has been a very intense, sometimes sloppy but purely entertaining game. But, everybody wants to know about how Vernon Carey and James Wiseman are doing.
Wiseman got off to a quick start with a dunk and a pretty stepback jumper in Carey's face. However, he also drew his second foul with 12:58 remaining in the half. He did come back for a few minutes near the end of the half to make a pretty corner jumper to finish the half with six points (3-4 FG) and a pair of rebounds.
Carey has looked like he's pressing at times and has been a bit strong with his jump shot. But his overall game has been outstanding. He highlighted things with a block, rebound and coast to coast drive for a finger roll finish. He's got 13 points (4-9 FG, 5-7 FT) to go with five rebounds and four blocks.
HEAVYWEIGHT BATTLE SET TO TIP OFF
Maybe the most anticipated individual matchup of the first live period is about to tip. No. 1 ranked Vernon Carey and Nike Team Florida are all set to tip with No. 3 overall James Wiseman and the Bluff City Legends. Needless to say, there is a lot more on the line than just a win in this one. On an individual level, this game could go a long way towards determining who the top ranked player in 2019 is after the summer.
Surprisingly, the only one of Carey's final five of Duke, Kentucky, Miami Michigan State, North Carolina with a head coach on hand is Miami. I've spotted assistants from all the other schools but Michigan State so far. As for Wiseman, he's basically a Kentucky and Memphis race and the Wildcats have two assistants here while Penny Hardaway is representing Memphis with a pair of assistants on hand with him.
A few minutes from tipoff I've also spotted head coaches from Florida, Tennessee, Virginia, Long Beach State and Ole Miss to go with assistants from Arkansas State, Providence, Indiana, Georgia, Georgia Tech, Maryland, Grand Canyon, LSU, Nevada, Illinois, USC, Murray State and more.
**Update** Kentucky's John Calipari showed up just as the tip-off happened. I've also now seen head coaches from USC, Grand Canyon, Notre Dame and Wichita State. Michigan State was also indeed in the house for Vernon Carey.

VERSATILITY OF CJ WALKER SHINES THROUGH, TAKEOVER GUARDS PUTTING ON A SHOW
Top 45 combo forward C.J. Walker isn't necessarily the highest ranked player in this game between his Each One Teach One squad and Team Takeover. But, man oh man, he may have as much long term potential as anybody in the gym. He's currently putting on a thorough display of his extreme versatility.
Walker is a big time athlete, has hit a catch and shoot three in transition, is all over the glass and doing everything he can on the interior to protect the rim against a much bigger and deeper Team Takeover squad.
Takeover is something else too. Their guard group of Jeremy Roach, Anthony Harris, Justin Moore and Casey Morsell is relentless on both ends of the floor. The job that Tre Mann is doing of managing the pressure and getting others involved for E1T1 has been impressive.
With just under four minutes to go, it's Takeover up 57-47 in a highly competitive and entertaining game.
EACH ONE TEACH ONE AND TEAM TAKEOVER PACK THEM IN
A huge crowd is on hand for the opening game between Each One Teach One and Team Takeover. Perhaps the Peach Jam favorites, Team Takeover features five-star big man Armando Bacot, five-star point guard Jeremy Roach and five other nationally ranked players on their stacked roster. E1T1 counters with top 30 point guard Tre Mann and to 50 combo forward C.J. Walker.
Down to a final three of Florida, Kansas and Tennessee, Mann has drawn Mike White, Rick Barnes and a Kansas assistant for his first game.
They are just a few of the coaches I've seen, So far the other head coaches I've spotted are from Villanova, Memphis, Boston College, UCF, Miami, Syracuse, Florida, Arkansas, VCU, La Salle, Purdue and Florida Atlantic. I've seen assistants from Wake Forest, North Carolina, Nebraska, Clemson, Davidson, Iowa, Providence, Oregon, Louisville, Old Dominion, Charlotte, UMass, South Alabama, NC State, Loyola (Md.) and Notre Dame.