Eric Bossi's Peach Jam Blog: Thursday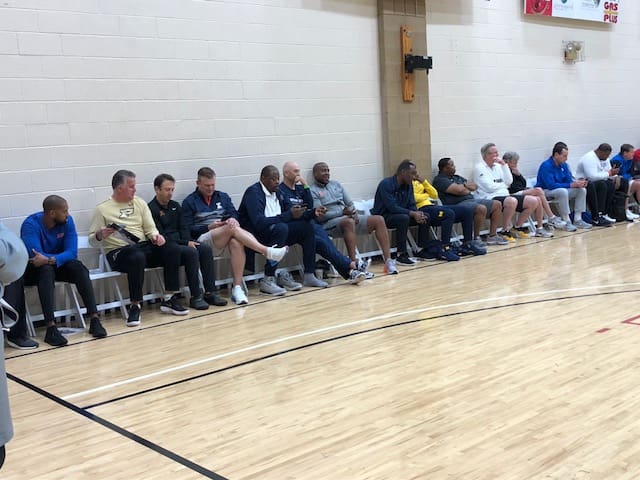 NORTH AUGUSTA, S.C. --- It's day two of Nike's Peach Jam and national basketball analyst Eric Bossi is on hand for all the action. Follow along live for news and updates from the days action.

TYRESE MAXEY LIVES UP TO TOP 10 REP
Things were starting to look bad for the Houston Hoops in their Texas rivalry game with Drive Nation. Down 15 with seven minutes or so left in the game, it looked like they might get blown out. That's when Tyrese Maxey came to play and showed why he's a top 10 player and headed to Kentucky.
Maxey hit the first in a series of Hoops threes to quickly cut the lead. He scored going to the rim, he converted at the line and he ignited a furious comeback while scoring 14 of his game high 24 down the stretch. He can be a punishing driver but that just sets up his dangerous jump shot and along with Oklahoma bound point guard De'Vion Harmon -- who had his share of tremendous plays including a nails drive to cut the deficit to one with under 30 seconds to play while finishing with 19 -- losing just doesn't seem to be in his DNA. Put it this way, he's not going down without fully emptying the clip.
For Drive Nation, Drew Timme was tremendous. Started the break after rebounds, scored in the post and got to the line. He's very worthy of his top 40 national ranking. Also backing up his top 40 national ranking for Drive Nation was super tough point guard Jahmius Ramsey.
Others who were really impressive down the stretch for the Hoops were high upside four-star wing Donovan Williams and coming into his own Rivals150 big man Dylan Disu who scored all eight of his points when it mattered most.

MASSIVE AMOUNT OF TEXAS TALENT ON THE FLOOR FOR DRIVE NATION AND HOUSTON HOOPS
It's halftime between the Houston Hoops and Drive Nation as Drive leads five-star Tyrese Maxey and the Hoops by ten. The real story, though, is the insane amount of homegrown talent these two have put on the floor.
Between the two programs, a total of nine members of the 2019 Rivals150 -- Maxey, De'Vion Harmon, Samuell Williamson, Jahmius Ramsey, Drew Timme, Chris Harris, Donovan Williams, Avery Anderson and Dylan Disu --- are on the floor and they are all Texas bred.
Not surprisingly, there's a HUGE crowd of coaches watching and most of them are in or close to Texas. So far I've spotted head coaches from North Texas, Alabama, Oregon State, Louisville, Texas A&M, Texas Tech, Oklahoma State, Oklahoma, Oral Roberts, TCU, San Diego, San Diego State, Utah State, Texas, Cal, Georgia Tech, DePaul, UT-Arlington, Wichita State and SMU. Represented by assistants are Arizona, Princeton, UNLV, Northwestern, Purdue, Creighton, Stanford, LSU, Michigan, Baylor, Arkansas, Missouri, Georgia, Kansas, Kansas State, NC State, Georgia, Indiana, Houston, Iowa State, Louisiana Tech and Valpo just to name a few.

WHO IS REALLY IN THE MIX FOR COLE ANTHONY?
Not surprisingly, 2019's top point guard Cole Anthony turned things on and blew his PSA Cardinals game with Team United with an electric second half stretch of playmaking and scoring. He's never not productive.
But, I don't need to remind everybody how good Anthony is. We all know it and nobody is disputing it. What we all want to know, is who has a legitimate shot at landing him? I wish I could do better than this, but it's still a pretty big mystery.
Kentucky and Duke get thrown around as possible teams to beat, Oregon, North Carolina, Kansas, Wake Forest, Michigan, Pittsburgh, Georgetown, Louisville and pretty much anybody else that you can think of is also thrown out there. Just my speculation here, but I think that Oregon and North Carolina may be quietly in there and it's no coincidence that Dana Altman and Roy Williams are everywhere he goes.
But, the best myself or anybody else can do right now is speculate and that's all it is for now because the Anthony group is running a tight ship with no leaks. Don't look for a decision anytime soon either and look for his recruitment to last into the spring of 2019.

MALIK HALL IS AN IDEAL COLLEGE FORWARD
In today's college game, Malik Hall is the ideal forward recruit. First and foremost, the MoKan Elite prospect is talented.
Hall is skilled, he has a high level feel for the game and he does all of the little things. He gets rebounds, he plays team ball and he makes open shots and attacks in transition. Most of all, he can be trusted to do exactly what is asked of him and he has the versatility and toughness to play as a big three man and as a floor spacing four man that you can run some offense through.
He's done some serious work in the weight room and has been fantastic at the Peach Jam. Memphis, Texas, Iowa State, TCU, Notre Dame, Villanova, Missouri, Louisville, Florida and many others have thrown down offers. However, if I were a betting I would bet on Oklahoma, Oregon and Purdue being the schools that are in the best shape because each of them has been there for a while and each has had their head coach heavily involved for some time.

MOKAN AND SEATTLE ROTARY ARE PACKING THEM IN
The evening session of 17U play at the Peach Jam has kicked off and I'm starting with MoKan Elite and Seattle Rotary Select.
MoKan's star attraction is 2020 five-star big man N'Faly Dante is playing like a man possessed to start things off. He's hit a 15 footer, is dominating the glass and the 6-foot-10 center is handing out some intimidation.
Rotary counters with their own top five player in Jaden McDaniels who has hit some early threes.
Others on the floor now include MoKan's four-star forward Malik Hall who is drawing rave reviews this week, Rivals150 guard Isiaih Mosely of MoKan and potential 2021 star Paolo Banchero and Rivals150 shooting guard Raequan Battle of Rotary.
Among the schools with head coaches here at the moment are Washington, Rutgers, Texas, Michigan, Iowa, St. Mary's, Oral Roberts, Iowa, Iowa State, Oregon State, SMU, Texas A&M, UT-Arlington, Texas Tech, Michigan State and Missouri. I've also spotted assistants from Washington State, Kansas State, Louisville, Purdue, Oklahoma, LSU, Kentucky, Duke, Kansas, Saint Louis, Oregon, St,. John's and San Diego State among others.

JALEN GRAHAM MAKING MOST OF OPPORTUNITY
Each summer one of my favorite things is seeing the kids who go from obscurity to having more scholarships than they can count. I've got a feeling that 6-foot-8 four man Jalen Graham of Team Whynot could be that guy. At least for the first period.
Long armed, athletic and active on both ends of the floor, Graham entered July without a single scholarship offer. Earlier today he picked up his first one from Grand Canyon University and there are going to be more coming. Schools from the Mountain West, West Coast Conference, Pac 12 and Big 12 are all expressing interest. If he keeps blocking shots, defending in space, grabbing key rebounds and showing signs of scoring ability, he'll have double digit scholarship offers by the end of the weekend.

GET TO KNOW THESE YOUNG PROSPECTS
I had the opportunity to watch We All Can Go's 15U team back in May and thought they were loaded. Another look at them here at the Peach Jam confirmed that belief. They've got lots of good young prospects but the two who stood out to me today were 2021 shooting guard Randy Brady and 2022 shooting guard Chris Livingston.
Brady is a skinny and long armed two with explosive athleticism around the rim. You don't see it coming and he is on your head for a dunk. His shot mechanics look workable and he looks like he could be a high major target in the Southeast.
As for Livingston, he looks like as much as a potential star as a ninth grader to be could possibly look. He's already got very good size for a two guard, he can score at all three levels and he's got that it factor about him. Remember his name, you are going to hear and read it a lot over the next four years.

SAMUELL WILLIAMSON WAS BUSY DURING JUNE
There can't be many in the class of 2019 who did a better job of taking their recruitment into their own hands over the last month or so than Samuell Williamson.
The rangy 6-foot-7 wing with a smooth jump shot went on an unofficial visit spree making visits to Oklahoma, Texas, Louisville, Marquette, Ohio State, Texas A&M and Baylor. A hectic time to be sure but he said that it made a difference.
"It really helped a lot," said Williamson. "I was able to better see places I could be a fit and others that might not be such a good match."
Ever the poker player, Williamson politely dodged a follow up about which programs were helped or hurt by the visits. He also talked some about a school he has ties to because his mother and older brother went there, Kansas. Talk had been circulating that the Jayhawks hadn't made Williamson a priority but he said that Bill Self called to handle it.
"Coach Self called me a couple of weeks ago to tell me that a tall shooter like me is what they want," said Williamson. "I saw him and coach (Jerrance) Howard at my game today."
Williamson made it clear that he's still open, though, and labeled himself a Texan so his recruitment is no layup for Kansas or any other program.
Though he's not yet saying which places he would like to for sure visit, Williamson says he'll look to set up visits for September and that he wants to decide before his senior season.

IVERSON MOLINAR IS ON THE RISE
Iverson Molinar of Los Angeles based Team WhyNot doesn't have a big national reputation just yet, but the native of Panama should be developing more of one.
I watched him in the spring and thought to myself that he was flying under the radar and at least at the start of the first July live period that still seems to be the case. However, I can see that changing if he continues to play like he did while scoring 13 points in WhyNot's win over the New York Lightning.
Physical and tough, he picked his spots to get to the rim or hit jumpers and he can play some at the point in a pinch. Molinar told me that San Diego State, Pacific, Fresno State and Mississippi State (who all watched on Thursday) were the most active in his recruitment and that Kansas State has recently jumped in.
What is going to be interesting is that Molinar said he's open to waiting until the spring to make a decision because he wants to give schools more time to show interest. If he does that, it's hard to see a recruitment where more high end mid majors and some Pac 12 types don't end up getting involved.

POINT GUARD NOAH WILLIAMS HAS A VISIT IN MIND
Seattle Rotary is having one of their best grassroots runs in a while and an underrated part of their success has been the play of Noah Williams. A big point guard with some versatility, he quietly does a lot.
Hometown Washington offered early and Williams says that they are the one school that he knows he will for sure take an official visit to. Washington State, Boise State, Gonzaga, Santa Clara and San Diego are among the others in the mix.
Recently, Williams was at Gonzaga for a team camp and said that the staff also gave him a tour of campus.
In making a decision, the opportunity to play point guard is going to be very important but Williams is open to playing whatever backcourt spot a coach may need from him.

TRAY JACKSON SHINES FOR MEANSTREETS, UPDATES RECRUITMENT
Brad Beal Elite and Meanstreets turned into an absolute war that came down the final shot. Meanstreets walked away with a one point victory and for that Tray Jackson deserves a lot of thanks. The 6-foot-8 combo forward was at times sensational but most of all he was steady and versatile.
Jackson defended in the post, he defended on the wing. He hit jump shots, he attacked off the dribble and he played all over the floor. Basically, he looked like that new age positionless basketball player that everybody wants.
Recently, Jackson took an official visit to Oklahoma and he also took unofficial visits to Missouri and Xavier. At Oklahoma he said he felt welcomed and needed, he said Missouri felt like family and he feels he fits Xavier's style. Head coaches from Mizzou and Xavier watched while OU had an assistant on hand.
After the summer finishes and he enrolls at Sunrise Christian in Kansas, he says that Minnesota -- Richard Pitino watched -- will be a place he sees.
Virginia Tech is another in the mix.
Jackson has four official visits left and Xavier and Missouri look very likely to get trips. Otherwise, Jackson is just working on continuing to be more diverse.
"I've been in the weight room working on my body to bang with the big guys," said Jackson. "I also want to be able to hang with the wing guys too."

HUGE CROWD OF COACHES FOR BRAD BEAL ELITE AND MEANSTREETS
The biggest crowd of coaches I've seen so far has shown up for Brad Beal Elite and Meanstreets. Why not? There's a massive amount of talent on the floor.
Headlined by top 40 rising senior E.J. Liddell, BBE also features Oregon bound Francis Okoro, Rivals150 guard Mario McKinney, 2020 top 30 guard Moses Moody and several others being recruited on the mid to high major level.
Meanstreets counters with Rivals150 ranked guards Brandon Newman and Armaan Franklin along with Rivals150 combo forward Tray Jackson and very intriguing three-star forward Chris Payton among others.
So, just who is watching you ask?
I've seen head coaches from Florida, Loyola (Chi.), Oregon, UIC, Purdue, Georgetown, Minnesota, Illinois, Kansas State, Iowa, Duke, Saint Louis, Ohio State, Virginia Tech, Missouri, SIU-Edwardsville, Florida Atlantic, Wisconsin, Boston College, North Carolina, Xavier, Indiana, Drake and Auburn. Among those with assistants I've seen on hand are Oklahoma, Texas Tech, Cincinnati, SMU, Nebraska, Michigan, UMKC, NC State, LIU Brooklyn, Valparaiso, Bradley, VCU and Central Michigan.

SHARIFE COOPER NOT WORRYING ABOUT RECRUITMENT YET
The AOT Running Rebels put a convincing win on the board on against the New Jersey Playaz and their point guard Sharife Cooper was a huge part of it.
He led the relentless attack with 25 points while getting his teammates involved and leading on both ends of the floor.
There's not any question that he'll be a big time target down the road, but when it comes to recruiting, he's not paying much attention. He has been on campus at Auburn but that's it so far and it will be a while before he gets too serious.
For now, he's letting his father handle things.
"I'm just focused on the here and now and finishing up with summer ball before I start to think about that stuff," said Cooper. "I'll like to get up and down in college and get my teammates involved. I'll be looking for a coach that believes in me and them."
Cooper did mention that he's getting to know Tom Crean and the staff at Georgia and that Alabama, Rutgers, Nebraska, UConn, Tennessee, Florida and many others are involved.

ZACH FREEMANTLE IS BEING UNDER RECRUITED
The New Jersey Playaz got beaten pretty soundly by the AOT Rebels, but three-star power forward Zach Freemantle was a standout.
At 6-foot-9 he is skilled, has toughness, scores over either shoulder and he can step out to shoot the ball with some range. He's a good athlete and he competes the entire game and could be a stretch five or a big four depending on system.
The likes of Bucknell, Monmouth, Lehigh, St. Bonaventure, Brown, St. Joseph's and others have offered and he would be a great pickup for any of them. However, given his size and production it's hard to believe he's not worth some exploration from high majors looking for skill on the interior.

AOT REBELS AND NEW JERSEY PLAYAZ START THINGS OFF
Today I'm starting off with the New Jersey Playaz and AOT Running Rebels. Headlined by the backcourt trio of newly minted 2020 five-star shooting guard B.J. Boston, top 30 2020 point guard Sharife Cooper and 2019 five-star wing Isaac Okoro, AOT brings the starpower.
Meanwhile, the Playaz are a tough and all-around solid bunch led by guard Al-Amir Dawes and underrated and skilled four man Zach Freemantle.
During the early parts of the game I've spotted head coaches from Drake, Northwestern, La Salle, Boston College, Georgia Tech, Georgia and Butler to go along with assistants from Valparaiso, Monmouth, LIU Brooklyn, Arkansas State, Tennessee State, Rutgers, Arkansas, Memphis, UMass, Alabama, Florida, Minnesota, N.C. State and UConn among many others.