Elite 14 Showcase: Young shows out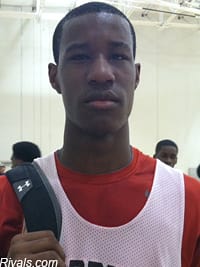 WICHITA FALLS, Texas -- Hosted at Wichita Falls (Texas) Hirschi, the Elite 14 Showcase has become an important stop. Filled with talent from Texas, Oklahoma and Kansas, it is a place for teams to see where they are headed into the season and for college coaches and scouts to see an abundance of talent in one day. On Saturday, class of 2017 point guard
Young shows off all around game
A year ago, Rivals.com got a first look at Norman (Oklahoma) North point guard
Nobody had a better day in Wichita Falls and Young easily backed up his status as a four-star prospect in the class of 2017.
Known for his ability to shoot the ball from deep, Young is a confident jump shooter who has a high skill level when it comes to scoring the ball. He has runners, pull-ups and hesitation moves to go along with his deep jump shooting. What surprised though, was how much Young has developed as a playmaker.
"My shooting ability helps to keep defenders guessing," Young said. "I've been working on really being more of a point guard and being as much of a leader as I can."
One of those point guards who is able to play at full speed while remaining under control, he was constantly running the ball right down the defense's throat. He found teammates with crisp passes, initiated the offense and showed that even though he can score, he can run a team and be a playmaker.
Whether it's a case of him not being in a position to show the dynamic all-around game or him developing his game
-- it's likely some of both -- the bottom line is that Young has serious game and he will be one that we hear from much more down the road.
McGriff brings the energy
McGriff, a high flying combo forward at Grand Prairie (Texas) South Grand
Prairie, showed a highend motor and improving skills on Saturday.
The 6-foot-7 prospect spent most of his day playing above the rim and crashing the glass, those things he has done in the past. But it was his usage of shot fakes, ability to hit short to medium jumpers and showing that he is an improved threat off the dribble that proved to be most notable.
McGriff has always passed the eye test with ease, and that is the case more than ever thanks to added muscle. It's the added game, though, that is going to benefit him more in the long run.
Patterson puts himself on the map
Because after watching him make one play after another, Patterson may have left the biggest impression on anybody scouting the event.
Patterson's two biggest assets at this point are big time athleticism and an even more big time motor. He was flying all over the court grabbing rebounds, stealing possessions, defending and trying to dunk everything in site.
His ball handling and overall skill level are a bit raw, but he's certainly not deficient and his shot looked promising from mid range.
Rivals.com spoke briefly with Patterson who said that he is unaware of any schools that may have been recruiting him. It is a safe bet that won't be the story from here on out. If he can replicate Saturday's performance down the road, Patterson has the look of a potential high major prospect.



A pair of

the 6-foot-10 prospect is a sleeper that should be evaluated closely. He moves well, has terrific hands and the three-star prospect shows soft touch. At the least, upper end mid major programs in need of a big man should take a long look.

Shooting guard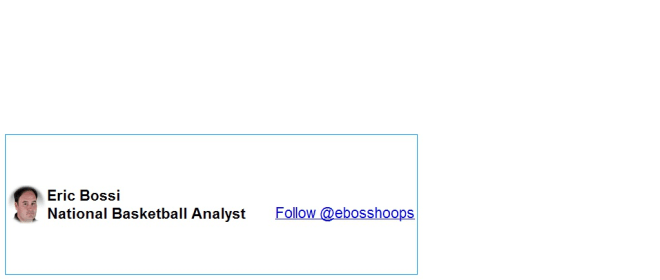 [rl]