Early signing period recap: Ranking the Big East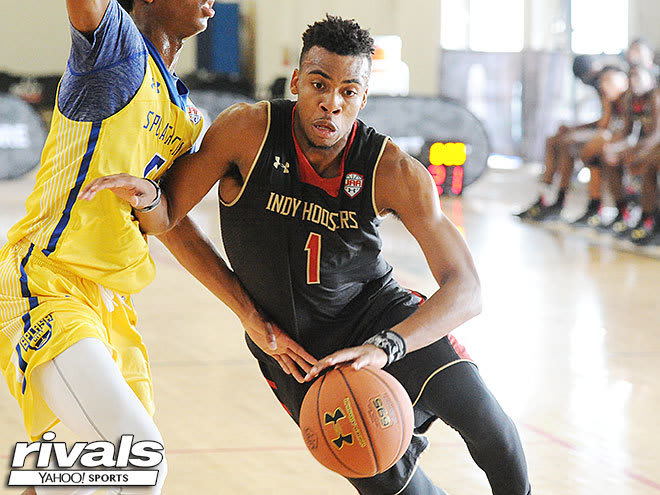 The early signing period is over and half of the programs in the Big East made their way into the Top 35 recruiting classes in the country. Xavier leads the way at eighth overall with the biggest class in the conference, but a few of its biggest rivals aren't too far behind.
1. Xavier (8)
The class: PG Paul Scruggs (No. 31), SF Naji Marshall (No. 47), SF Jared Ridder (No. 133), SG Elias Harden (No. 136), C Kentravious Jones (NR 3-star)

Analysis: Chris Mack had a lot of spots to fill in his 2017 recruiting class, and he did a terrific job filling them. Scruggs is a rugged, athletic lead guard that will help right away, while Marshall is a big, strong, athletic wing that is as good of a slasher as there is in the 2017 class. Ridder and Harden add perimeter shooting to the roster, and Jones is a mountain of a human being that can be tough to handle in the paint.
2. Villanova (19)
The class: SF Jermaine Samuels (No. 46), C Dhamir Cosby-Roundtree (No. 85)

Analysis: The reigning national champions hauled in two four-star prospects during the early signing period. Samuels is an athletic 6-foot-6 wing with a much-improved jump shot. Cosby-Roundtree gives Jay Wright another talented post player.
MORE VILLANOVA: NovaIllustrated.com
3. Butler (26)
The class: SF Christian David (No. 88), SF Kyle Young (No. 109), SG Cooper Neese, SF Jerald Butler

Analysis: Chris Holtman and his staff focused hard on adding perimeter talent to their roster with this class, and they did just that. David and Young give the Bulldogs two talented forwards capable of stretching defenses and should make an impact early.
4. Creighton (27)
The class: SG Mitchell Ballock (No. 58), SG Ty-Shon Alexander (No. 80)

Analysis: Creighton did its work in the 2017 recruiting cycle as both of its four-star shooting guard signees were committed during their junior seasons. Both give the Bluejays the ability to stretch defenses and can light up scoreboards in a hurry.
5. Providence (28)
The class: PF Nate Watson (No. 78), C Dajour Dickens (No. 108)

Analysis: Size was the need for Ed Cooley and his staff, and they landed two good ones so far in the 2017 class. Watson is a big, strong post player who they can dump the ball into for buckets on the block. Dickens is raw, but oozes with upside at 7-foot with great athleticism.
6. Georgetown
The class: PG Tremont Waters (No. 36), SF Antwan Walker (NR 3-star)

Analysis: Waters surprised many when he decided to sign with the Hoyas, but John Thompson III will be happy he did. Waters will be the steady, productive four-year lead guard that will run the team. A D.C. native who is taking a prep school year, Walker is an athletic and gritty combo forward who will contribute.

MORE GEORGETOWN: HoyaReport.com
7. Marquette
The class: SF Jamal Cain (No. 78), PF Ike Eke (NR 3-star), C Theo John (NR 3-star)

Analysis: The Golden Eagles continue to stockpile talent in Milwaukee. Their class is headlined by Cain, a four-star Detroit native with great upside. John and Eke should be able to develop into quality post players as well.
MORE MARQUETTE: MarquetteWatch.com
8. Seton Hall
The class: SG Myles Cale (No. 65)

Analysis: Isaiah Whitehead is no longer in the program to carry the scoring load, but it won't be long before Kevin Willard has his next talented scorer. Cale should be able to contribute in a big way from the time he steps on campus, and should be one of the better scorers in the Big East before long.
MORE SETON HALL: PirateCrew.com
9. St. John's
The class: C Zach Brown (NR 4-star)

Analysis: Chris Mullin's lone 2017 signee is a big one in the 7-foot-1 Brown. It shouldn't take long before he becomes the Johnnies' anchor inside defensively, but he's more than capable of scoring on the block as well.
MORE ST. JOHN'S: RedStormReport.com
10. DePaul
The class: PG Justin Roberts (NR 3-star), PF Jaylen Butz (NR 3-star)

Analysis: Dave Leitao added two three-star prospects during the early signing period. Roberts is a speedy point guard and a better scorer than the perception is of him, while Butz is an under-the-radar guy with big upside once he fills out.
MORE DEPAUL: BlueDemonZone.com