E1T1 Premier Exposure: Knox shines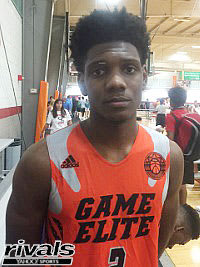 TAMPA, Fla.-- The Each One Teach One Elite Premier Exposure Event jumped off in a hot gymnasium on Saturday at Tampa Elite Sports Center with more than 80 attendees. There was no air conditioning but there was plenty of enthusiasm from a group of players that was headlined by 2017 five-star Kevin Knox
Tampa Catholic's five-star junior forward
Kevin Knox
ranks No. 16 overall nationally in the class of 2017 and he showed why. Knox showed off his three-point range with a couple of makes off the catch and made a nice baseline turnaround jump shot. The 6-foot-7, 195-pounder is a long and lanky athlete who crashed the boards at both ends of the floor, made good passes and was active on defense.
Four-star shooting guard
Chaundee Brown
was solid from start to finish despite the sweatbox conditions. The No. 73 ranked prospect in the 2017 class scored at all three levels and made good decisions with the ball. Solidly built at 6-foot-5 and 195 pounds, Brown's size and strength allows him to defend multiple positions on the floor.
When sophomore guard
Antwann Jones
plays with effort and motor he is fun to watch. Unfortunately on Saturday the defensive effort came and went while his passing and shot selection was sometimes questionable. Since we know that Jones has talent and we have seen him on better days, the hope is that he was just having a little bit of an off day.
Athletic sophomore forward
Emmitt Williams
has no problems when it comes to consistent effort or motor. Right now the 6-foot-7 member of the class of 2018 is mainly a run-jump-and-dunk player who also brings it on defense. He is also a good area rebounder on the defensive glass. Williams also had the best haircut at the event -- an orange mohawk that he described as "Cheetos twists."
It's pretty clear that Rivals150 small forward
Wyatt Wilkes
has put in some time and work in the weight room. His arms are bigger, his shoulders are broader and as a result of added strength his game is looking more versatile. Primarily known for his three-point shooting entering the event, Wilkes attacked the rim in transition, knocked down mid-range jumpers and successfully posted up smaller defenders while showing off a much more well rounded game.
Point guard
Anfernee Simons
recently reclassified to the class of 2018 and while it looks like he grew an inch taller he isn't much thicker than his listed 160 pounds. Simons plays with a quiet confidence and makes good decisions with the ball, even in at full speed. He has long range and a quick release on his jump shot and has added a floater to his scoring repertoire making him difficult to defend.
One of a handful of players from Georgia at the event, the progress Rivals150 point guard
Darius Perry
is making has become noticeable. In a showcase setting many players are trying to get theirs and playing selfishly, but Perry was equal parts facilitator and bucket hunter. He gets good elevation on his jump shot and also has a quick first step that allows him to get past most defenders and explode to the rim.
High-flying sophomore
Keyshawn Bryant
from Winter Haven (Fla.) High caught everyone's attention with a thunderous dunk in transition. Bryant certainly looks the part of a wing prospect with his long arms and lean body. Standing 6-foot-6 and weighing in at around 165 pounds, he's just scratching the surface of his potential. If his jump shooting and ball handling skills catch up to his high level athleticism he has a chance to be special.
Sometimes young big men struggle in showcase settings because they don't get the ball that often, but that was not the case for class of 2020 power forward
Gervon Dexter
. Only an eighth grader, the 6-foot-7, 215-pounder more than held his own on the defensive end blocking shots and gobbling up rebounds. Dexter has a thick frame and a motor that is stuck on high. He lacks post moves and his court awareness was lacking at times but he's young and that's to be expected. He did show that he can finish through contact and above the rim which is quite encouraging given his youth. File the name away for the future - Dexter appears to be a name to keep an eye on.

Click
Here
to view this Link.