Dozier: UNC offer an important one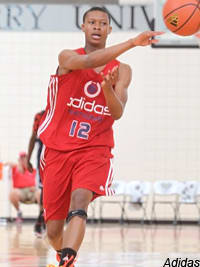 "That's fair, but I'm definitely taking it slow," Dozier told Rivals.com when asked about North Carolina being a favorite school. "I'm looking at every school, and I'm wide open to every school. That offer didn't necessarily change my recruiting process, but that was an important offer for me."
While he's listed as a shooting guard by Rivals.com because of his ability to score in bunches, some see Dozier as either a point guard or a combo guard. Dozier is being recruited by schools to play any of those roles, and at this point he's not too particular about schools telling him that he'll play one position or another.
"Most of them say point guard, and some say combo guard," Dozier said. "I'm comfortable with both. I'm fine with playing any position out there. I just want to play."
With no shortage of attractive offers, Dozier next has to trim his list and line up campus visits. He doesn't have a timetable for making his final decision, but he will be slicing his list sooner than later and he hopes to have visits set up soon.
"I'll be trimming it down pretty soon," Dozier said. "It will be no later than the middle of my basketball season, if not earlier than that. I'm just trying to see who all may roll in at the last minute.
"I don't have any visits on the schedule or dates set yet. But I will definitely be trying to fit in some visits during the fall and school year."

[rl]