Where's five-star Hamidou Diallo headed: Kentucky or UConn?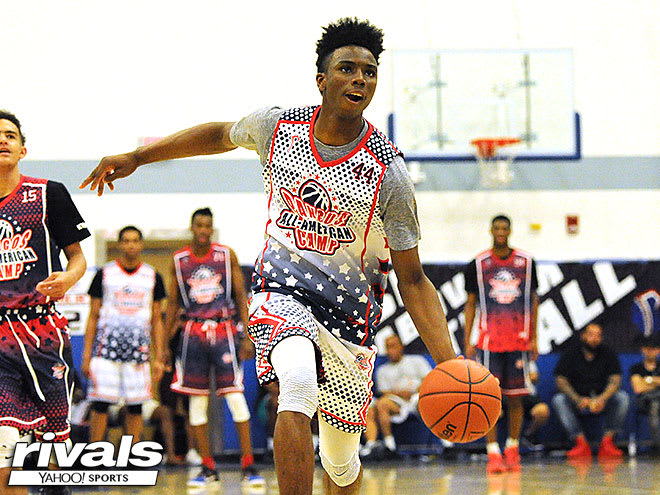 Shooting guard Hamidou Diallo, the No. 10 player in the 2017 class, will be announcing his college decision Saturday evening in his hometown of New York City.
The explosive leaper, who has prepped at Putnam (Conn.) Science Academy, won't just be committing. He'll be leaving to enroll at the school he picks so that he can essentially redshirt the second half of the season to jump-start his college career.
Officially, Diallo is down to Arizona, Connecticut, Indiana, Kansas, Kentucky and Syracuse. However, only UConn and Kentucky received official visits and it looks very likely that Diallo picks between those two.
Rivals.com's Eric Bossi and Corey Evans take a look at both Kentucky and UConn's chances.

MORE: Four tied for five-star Knox | College basketball freshman tracker
THE CASE FOR KENTUCKY
Diallo wants to be a one-and-done player. In fact, he flirted with entering the 2017 NBA Draft before getting feedback that a year in college would be to his benefit. What better place to spend his NBA training season than at Kentucky, the cradle of one-and-done?
The Wildcats already have the top-ranked recruiting class in 2017, but they are missing a big-time scorer in the backcourt. Freshman Malik Monk is almost assuredly leaving for the NBA, and his departure will open up 16 shots and 29 minutes per game. There's no certainty that Diallo takes all of those minutes and shots, but knowing that they will be available has to be appealing.
Most of all, John Calipari has cultivated a culture built around one-and-done players like no other college coach. Since arriving at Kentucky in 2009, Calipari has had 18 one-and-done players get drafted in the first round and he figures to add at least three more (Monk, De'Aaron Fox and Bam Adebayo) in the 2017 draft.
Enough about the one and dones, though, Kentucky is a blueblood program and competes on the biggest stage each time it takes the floor. Calipari is also a tough coach who will force Diallo to work on his weaknesses – ball handling and consistency of his jump shot. For all of those reasons and more, it's going to be hard for Diallo to turn down the Wildcats.
– Eric Bossi


THE CASE FOR UCONN
Of the six programs on the final list for Diallo, UConn has been recruiting the five-star guard the longest. Attending a prep school that is located less than 25 miles from the Storrs campus, proximity also helps the cause for the AAC member, as getting down to see Diallo on a game night is not much of an issue for Kevin Ollie and his staff.
The location is great, but the fit at UConn might be even better. The Huskies have had some struggles this season while dealing with injuries. With Rodney Purvis on his way out due to graduation, a minimum of 13 shots and 37 minutes of playing time will be open. Big-time talents like Diallo want opportunity out of the gates and it is clearly there.
Though the Huskies have struggled this season, Ollie has proven himself as a college coach. A longtime NBA player, Ollie won the NCAA championship in only his second year at UConn when the Huskies beat Calipari and Kentucky.

Additionally, Diallo has taken countless visits to UConn for games and knows the coaching staff and team very well. There's a comfort level with the Huskies that would be tough for any other program to match. Saying no to Ollie, who also spent three weeks coaching Diallo on USA Basketball's 18U team in the summer of 2016, and his staff after developing such a great relationship isn't going to be easy.

– Corey Evans

PREDICTIONS
Bossi: Kentucky
Diallo has established a tremendous relationship with Ollie and UConn, but at the end of the day the situation at Kentucky appears to be a perfect fit for him.
Evans: Kentucky
While it has seemed that UConn and Ollie have had the upper hand at various times in the process, it looks like the CEO of Kentucky basketball, John Calipari, will have the last laugh in this one.