DC Hoopfest Saturday: Jalen Johnson shoots for number one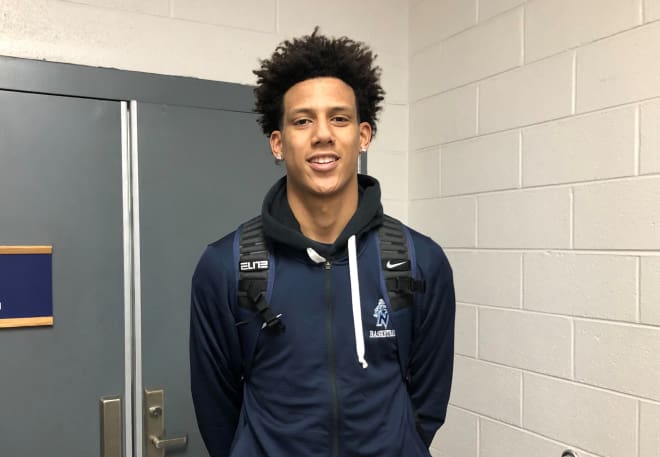 WASHINGTON, DC – A full day of hoops at the ARS Rescue Rooter DC National Hoopfest brought tremendous play from those found within the Rivals150. Jalen Johnson was the star of the day in his continued fight for the number one ranking, as Casey Morsell, Lynn Greer and Anthony Edwards were just a few others that didn't fail to impress.
JALEN JOHNSON MAKES A STATEMENT
The talk of who the number one player in the 2020 class is has centered around a top-four for the past year now but with Anthony Edwards reclassifying into the 2019 class, it remains a group of four in the race for the top spot thanks to the ascension of Jalen Johnson.
"There is pressure, I guess, but I am the best player in the nation," he said. "That is my opinion and I am going to play like it."
Standing at 6-foot-9 and best with the ball in his hands, Johnson put on a complete show on Saturday as he finished with 28 points, 15 rebounds and eight assists. Sure, there were some issues in taking care of the basketball but in the end, his Nicolet High bunch pulled out the win, reflecting further just how great of an impact Johnson has on the game. "I am a winner and I am going to do whatever it takes to make sure that my team wins," he said. "A lot of these guys, all they care is about is their stat lines but I just want to win. That is all I care about."
Passing has always been his calling card but Johnson's number one argument has been strengthened further with his shot making abilities. Whether it was an impressive turnaround mid-range jumper or the hesitation perimeter pull-up, guarding the Milwaukee native is becoming an even more difficult task by the passing day.
Ohio State's Chris Holtmann was on hand for him as he has already taken official visits to Arizona, Duke and UCLA this fall. He sits as a national priority that the best of the best covet and it seems that the next step is supporting all that he accomplished on Saturday with more outings just like it in his continued fight for the number one ranking.
FOUR STAND OUT FOR LYNN GREER
Making his return to Roman Catholic High this winter, Lynn Greer kicked off his junior season on a high note finishing with 16 points and eight rebounds, all while making over two-thirds of his shots attempted. It was a step in the right direction for the four-star guard as he slides more into a playmaking role that is so coveted by the more successful programs.
The son of one of Temple's all-time greats, the Owls remain a factor within his recruitment but so do four others. Following his team's win, Greer stated that a visit to Louisville was expected to happen earlier this fall but had to be cancelled thanks to the flu. However, another is in the works to the ACC program that he is hoping to make sometime during the early portion of the 2019 calendar year.
Along with the Cards, Indiana, Miami and Wake Forest seem to have made a strong impression with him. All four programs could be line for official visits which might only speed up the recruitment of the talented Philly native.
EDWARDS DRAWS A CROWD
Things didn't go as he might have planned but that didn't affect the coaching crowd that came out for five-star guard Anthony Edwards. Having already taken an official visit to Georgia, first year coach Tom Crean made the trip to see Edwards on Saturday, as did UNC's Roy Williams and an assistant from Kentucky.
While he only mustered a mere 27 points, a shadow of his 41-point outburst on Friday, Edward's scoring prowess is difficult to touch. Where he impressed further was in his passing as he, instead of forcing what might not have been given, decided to defer in making the right pass to the open teammate, finishing with four assists.
What we know is that Edwards is a premium at the 2-guard spot and arguably the best scorer in America. His desire and capabilities of playmaking added onto it just heightens his ceiling as a prospect for the next level and beyond. Where he ends up for his likely lone year in college is not known but from the looks of it on Saturday, the attention that he receives will only increase until he puts his recruitment to bed sometime in the early spring.
OTHER NOTABLES
Gotta' love the buy-in out of Casey Morsell. The dude competes. What else do you want in a prospect? Giving up close to a half of a foot to Jalen Johnson, Morsell bought into shutting down the five-star junior and making his life a living hell within the half-court. He did just that on a number of possessions and in keeping in mind that Morsell is headed to Virginia, could Tony Bennett be ready to enroll arguably his best defensive prospect ever during his time in Charlottesville? Strong statement it is but Morsell is definitely making a case for such a stance.
Scott Drew has become one of the better coaches for finding under-the-radar talent and turning it into production within his Baylor program and he could be ready to do just the same with Jordan Turner. Tossing in 17 first half points before finishing with 30 in all, Turner's shot might be a bit unconventional from a mechanical standpoint but the confidence and consistency that he has on it remains precise. He should be a good one for the Bears due to his ability to make shots, defend different positions and finish.
For a prospect leading a rather minimal recruitment, expect for the name of Josiah Freeman to pick up steam these next few months in completing his junior season. A strong bodied wing that can really, really make shots, Freeman threw in 20 points by the time halftime came, equaling what the entire Montverde Academy bunch was able to accomplish. He ended the game with 28 in all and in a day and age where shot makers with size are of the utmost importance, Freeman's stock is only due to soar. He told Rivals.com that Bryant, Loyola (MD), Mount St. Mary's, and Old Dominion are among his early offers.
Speaking of stock exploding, Dug McDaniel is one tough cookie in the backcourt. He doesn't present the ideal size at the lead guard position, it is his unafraid demeanor and talent level which makes for an entertaining watch. In his first primetime game of his high school career, McDaniel changed the entire complexion of things with his passing, defense and slick set of handles. He is the next special one out of the Paul VI program and will be a much talked about name throughout his time in high school ball.