Day 2 early signing period updates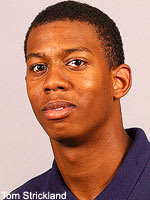 National letters-of-intent continue to pour in to NCAA Division I college basketball programs as the fall signing period continues. Incredibly, fourteen, count 'em, 14 players at Laurinburg Institute have now signed with Division I institutions; as have seven players at Hargrave Military Academy, as top prospects from around the globe are taking advantage of this November 10-17 basketball early signing week.
In what could be a Guinness Book record for the most Division I signees from one school, Laurinburg, N.C., Institute post-graduate head coach Chris Chaney told Rivals.com that fourteen of his team members had sent signed documents to their respective future colleges. And, Chaney said that the other four players on his eighteen-man squad will likely sign in April. In my 30+ years in this business, I have never known of anything close to that many players from one school receiving collegiate scholarships.
Following is a list of the signed prospects from
recruiting USA,
Laurinburg Institute: 6-8 guard/forward
Shawne Williams
, 6-9 power forward
Robert Dozier
, 6-10 center
Kareem Cooper
, and 6-5 one/two guard
Antonio Anderson
, all to Memphis; 6-11 center/forward
Magnum Rolle
, and 6-10 forward
Chris Johnson
, both to L.S.U.; 6-3 point guard
Jamel White
to Nebraska; rugged 6-7 power forward
Mike Smith
to Mississippi; versatile 6-7 power/wing forward
Mitch Mullis
to Charlotte; 6-4 second guard
Roburt Sallie
to Washington; 6-10 center/forward
Kellen Lee
to Iowa State; gifted Bronx, N.Y., point guard, 5-11
Elvis Lora
to Florida International; Serbian native, 6-7 power/wing forward
Nikola Stevenovic
to Rhode Island; and 6-6 wing forward
Gregory Grimes
to North Carolina A&T.
In addition, the four still unsigned Laurinburg players, 6-6 wing forward Qua Marbury (from Lannett, Ala.), who may decide between Auburn and Charlotte; 6-8, 240-pound center/forward Ismaila Njie, now considering Utah and Rice, among others; 6-0 point guard David Marek from the Czech Republic; and 6-4 guard/forward Quantez Robertson, according to Coach Chaney are all receiving Division I recruitment.
Coach
Kevin Keatts
at Chatham, Va., Hargrave Military Academy told Rivals.com that seven of his players had now signed. His top prospect, 6-7 wing forward
Shane Clark
went to Maryland; rugged power forward 6-7
Sam Young
signed with Pittsburgh; versatile 6-5 guard
Tommie Liddell
signed with St. Louis U.; deadly marksman, 6-6 guard forward
A. D. Vassallo
went to Richmond; 6-7 guard/forward
Joe Alexander
signed with West Virginia; 6-3 second guard
Matt Estep
signed with Wofford; and 6-10 center
Luke Devine
went to Fordham.
Coach Keatts said that two of his remaining unsigned players were receiving much Division I attention. They are 6-8 center Jerome Johnson, who has recently been contacted by Tennessee, Kentucky, UNLV, St. John's, Auburn, and others; and 6-5 one/two guard Bilal Benn, who committed last year to Siena, but is now considering offers from Penn State, Villanova, and LaSalle.
Coach Lon Kruger's fall recruiting class at UNLV, currently rated No. 13 nationally by Rivals.com, got even stronger with the signing Wednesday by junior college standout, 6-foot-6, 215-pound wing forward Wendell White of Antelope Valley College in Lancaster, Calif. White chose the Runnin' Rebels over Pittsburgh, Syracuse, and Utah State.
And, UNLV's recruiting class could vault into the Top Six if they land multi-talented 6-foot-8, 210-pound forward
Leo Criswell
, now at Virgina Beach, Va., Coastal Christian Academy. Reportedly, Criswell may now be close to signing with UNLV.
Steve Smith, the legendary coach at Mouth of Wilson, Va., Oak Hill Academy, has been seriously ill with a viral blood disorder, and was hospitalized for over a week. Smith is now home recuperating, but is still unable to coach his team. We wish him the best, and he is in our thoughts and prayers.
Steve's wife, Lisa Smith, told Rivals.com that Oak Hill Academy now has three seniors still unsigned. The
big story
is that Illinois did not send a national letter to 6-9 center
David Palmer
, who had committed early to The Illini. Reportedly, Palmer did not meet the academic requirements to be accepted as an fall signee at Illinois. According to Lisa Smith, "David was very disappointed, and in all likelihood will re-open his recruiting, and visit other schools." One of those schools probably is Tennessee. According to our sources, Palmer could sign during this fall period with The Vols if they offer him a scholarship.
According to sources close to the Illinois program, Coach Bruce Weber told Palmer that he could not sign him now, but would hold a scholarship for him, and the school would continue to review his academic situation. However, Weber, reportedly, felt that Palmer would likely drop Illinois, and chose another college.
Other unsigned Oak Hill players include 6-4 second guard
Jamont Gordon
, rated No. 15 nationally by Rivals.com, and a player that Tennessee wants to sign. Gordon made an official visit to Tennessee. However, according to Lisa Smith, Jamont plans to delay his decision until spring, and will make visits to other schools.
6-foot-6, 235-pound power forward Alex Smith, from Greenville, S.C., is the third Oak Hill Academy senior that will not sign early.
Coach Houston Fancher's Appalachian State Mountaineers have two talented signees: 6-5, 210-pound wing forward Jarvis Jackson, Winston-Salem, N.C., North Forsyth High School; and 6-9, 225-pound center/forward Tyler Webb, Nickelsville, Va., Twin Springs High School.
Jackson averaged 19 points and 10 rebounds for Coach Mike Muse's North Forsyth High program last season; and he chose The Mountaineers over Marshall. Webb played for Coach Charlie Benson's Tennessee Travelers summer team, and as a junior, averaged 19.4 points, 14 rebounds, and 3 blocks at Twins Springs High.
Two gifted seniors from the state of Virginia signed national letters with Coach Byron Samuels' Radford University Highlanders. 6-4, 175-pound guard Kenny Thomas, who averaged 18 points last season for Coach George Lancaster at Highland Springs, Va., High School; and 5-11, 170-pound point guard Stanley Pringle, Virginia Beach, Va., Landstown High School, are future Highlanders.
Stay tuned to Rivals.com's Ultimate Ticket for the latest recruiting updates.