David Duke narrows it to five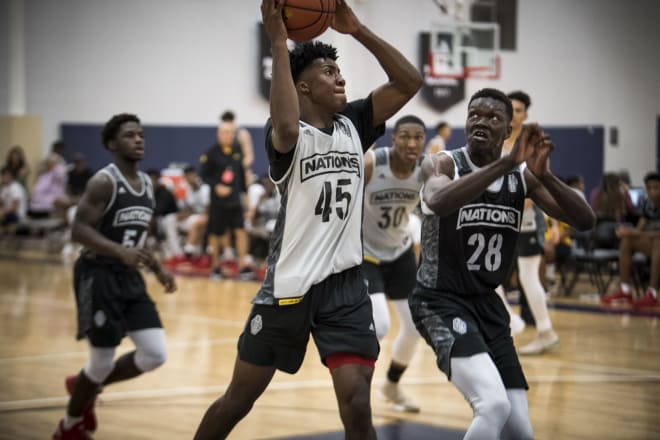 David Duke, a Rivals top-50 prospect within the 2018 class and one of the very best point guards still available, has narrowed his college visit to a group of five.
A tremendous playmaker with excellent size and athleticism, the 6-foot-4 point guard has established his final list consisting of Florida, Indiana, Providence, Villanova and Virginia Tech.
Someone that didn't make his presence known as a national recruit until this spring, the Mass Rivals product has risen up the rankings thanks to his blend of passing, athleticism and premium on-ball defense, all of which was on display at the adidas Nations Global last week. Averaging over nine points, three rebounds and two assists in less than 21 minutes of action in Houston, Duke broke down his finalists.
Florida: "Coach Mike White and coach (Darris) Nichols are both good dudes. They keep in contact a lot and show me what they are doing down there. They have always told me that I am a top priority and it is always good to hear that."
Indiana: "Coach (Archie) Miller has been in touch a lot as well as Coach (Bruiser) Flint and they have both told me that I would fit into their system. They are a great school and Coach Miller has a great record of recruiting over last couple of years."
Providence: "They have recruited me very hard ever since they offered and Coach (Ed) Cooley shows a lot of respect for me and my family; he does a good job of showing me how he plans to develop me. He also has a good record of developing his guards and I love what he did with Kris Dunn."
Villanova: "Coach (Jay) Wright said that when I come in, they would have an open point guard spot, so it is a great opportunity there and it is a great school, both academically and athletically."
Virginia Tech: "Coach Buzz Williams has brought that program up significantly within the past few years and he has a tough playing style which I like. He also cares about his players off the court and they have a true family type of culture there."
No visits have been set yet but a commitment is likely to occur this fall before a signing in November.