Dallas live Saturday: Jalen Wilson sees things pick up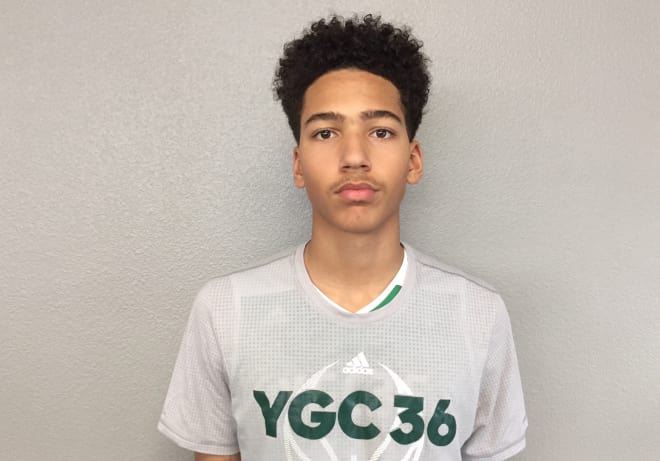 IRVING, Tex. – Most valued for his winning traits, top-40 junior Jalen Wilson did just that when it mattered the most on Saturday morning, stepping up his play down the stretch in securing the W for his squad. Watching him was a slew of name brand programs as his recruitment has begun to evolve into a blue blood affair.
A 6-foot-7 wing that can play three positions on the offensive end of the floor, Wilson hosted UNC's Roy Williams, Michigan's John Beilein, Oklahoma's Lon Kruger, and assistants from Texas, Texas Tech, Baylor, and Texas A&M for his team's win. Afterwards, he discussed what it means to have such respected coaches watching him. "It is great," he said. "It just shows who is really interested in me and what I have been working for. I just want to continue to get better and have everyone recruit me."
Michigan, Marquette, Oklahoma, and Baylor have all completed in-home visits of late North Carolina and Kansas have begun to show further attention.
IN HIS OWN WORDS
UNC: "That was their first time watching me play so really it was just good to see them here and I was just glad I was able to play well. To get that offer, it wouldn't be a validation but it lets you know where you're at. The best basketball player of all time went there so to have an offer from them would be great.
"They visited my school and we have talked on the phone so there is some interest. They just want to see me dominate, play the full game on both ends and be an all-around player by showing them what I can do at this level."
Michigan: "They really want me to come in and be a wolf; that is what they say by being someone that comes in, leads the team, scores, plays on both ends and gets the offense the ball. I love all the coaches and really they just have communicated well with me for what I want to do."
Marquette: "The are telling me a lot about coming in and being a versatile player."
Oklahoma: "They have been on me since my freshman year a lot. One of my teammates (De'Vion Harmon) committed there so they have been on me for a long time and I love all of the coaches there.
"De'Vion has been on me every single day so I am just looking at everything and seeing what happens."
Kansas: "They are supposed to come in next week for an in-home visit. I don't know how many wings have come out of their and been successful with guys like Paul Pierce, Andrew Wiggins, and I could just go down the list. They just said that I could come in and make an immediate impact. That is a great program with a great atmosphere during games, which is the best that I have ever seen, and I like Coach (Bill) Self and it is just a really good school."
WHAT'S NEXT
Expecting to host Kansas in the coming weeks for an in-home visit, there is a scheduled unofficial visit in mind on Wilson's end. "I will be going to Michigan on May 11," he said. "I don't know when Marquette is and I just went to Kansas during the school year but I should be going to Marquette and UNC after the live periods. I don't know when I am going to set my official viists though. I will probably wait until after the travel season for that."
Wilson is in no rush to make his decision as he is some time away from focusing on a specific group of schools. "Things are wide open right now," he said. "I want to wait until after the summer to narrow my list down. Right now, I am just hooping and seeing who comes into play and then I want to narrow things to eight by then."
RIVALS' REACTION
Wilson is the ultimate wing that can score out to 20-feet, is a good athlete at the basket, can pass the ball off of the drive and defend different positions. Toss in his quality intangibles and what you have is a super valued prospect that can do a litany of things out of the 2019 class.
On the recruitment front, things remain fairly wide open as Michigan has begun to express greater interest in recent weeks with John Beilein completing an in-home visit with him last week and he will return the favor with an unofficial visit to Ann Arbor in early May. Oklahoma, Marquette, Baylor, and slew of others remain in the hunt but if an offer was to be received from UNC or Kansas, things could change with Wilson pertaining to who might be the favorite.