Crider adds Big Ten offer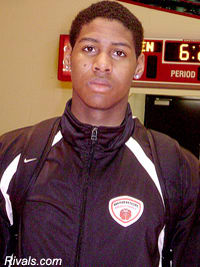 The Warriors of Wayne High School (Ohio) are entering the beginning of the Ohio state tournament as one of the favorites, and a big reason for that is the play of
Markus Crider
. Crider is putting the finishing touches on an impressive junior season, and now coaches from the Big Ten are taking note, and a new offer has come his way.
Averaging 14.1 points and 8.1 rebounds per game this season, Crider has made an impact. The 6-foot-6 wing has had some ups and downs, but recently things have begun to take off for him.
"The season is going good right now," said Crider. "During the middle of the season we were doing our own thing, but now we are clicking on all cylinders. I have been hitting the boards real hard and aggressively. I had a double-double in the first half of our last game, and I think I have just been doing a real good job in that area."
With his strong play, the recruiting has picked up for Crider. Included in that is a new offer from the Michigan Wolverines.
"Recruiting is getting big now," said Crider. "Michigan has offered recently. There are a list of schools still interested in me. Basically all of the Big Ten and some of the Big East are after me. I have offers from Dayton, Wright State, Akron, Ohio, DePaul, Wisconsin, and Michigan."
The offer from Michigan came recently after he visited unofficially. When he sat down with Head Coach
John Beilein
, Crider liked what he heard.
"The first thing I thought about when I went up to Michigan was the Fab Five," said Crider. "Coach Beilein sat me down and said he could picture me being the next Manny Harris, and that I was the first wing he offered."
He continued, "When I heard that it showed me that I am number one on his radar. He wants me to replace a guy who is definitely going in the first round and that means a lot."
While Michigan is the latest Big Ten school to offer, the Wisconsin Badgers joined the party earlier in the season. Crider took an unofficial trip to Madison and came away impressed.
"They brought me up to the Duke game when they won," explained Crider. "The atmosphere was through the roof. The stands were full, and with them beating Duke, it was one of the best recruiting trips I have had."
Another school that has been on Crider for a long time is Dayton. Crider lives on minutes from the Flyers campus, and is very familiar with the surroundings.
"My relationship with Dayton is still good, but I believe after I got the Wisconsin offer they thought I might not be as interested in going to their school, but I still like them," said Crider of Dayton.
As Crider continues to pull in offers and gain interest he says he is in no hurry to make a decision. However he also doesn't want to drag things out longer than necessary.
"I think I will probably wait until after the summer, but I am definitely not going to wait until the last possible minute," Crider explained. "Getting that added stress off your back is always good."