Creighton lands four-star junior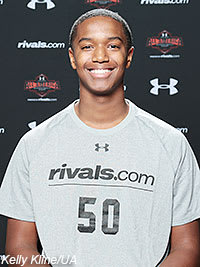 Anybody who has ever been to a
Creighton
basketball game knows that they are the main show in Omaha. Their games are sold out and
Greg McDermott
's squad plays an uptempo and fun style. All of those factors helped them to land four-star combo guard
Ty-Shon Alexander
from the class of 2017 on Saturday.
BREAKING DOWN ALEXANDER: Currently ranked No. 86 in the class of 2017 Rivals150, Alexander is a high scoring combo guard whose strength is his offense. He's a long and lanky guard with 6-foot-3 size who is very slick with the dribble and does a great job of getting to the rim.
Alexander is a willing and capable three point shooter, a sneaky athlete and has a good feel for the game on both ends of the floor. He does need to get stronger and most of all he needs to be more consistent and improve his shot selection.
IN HIS OWN WORDS: Alexander had the chance to visit the Creighton campus about a month ago. While he didn't enter the process looking to make an early decision, what he saw in Omaha won him over.
"The whole environment was great. I went out there and had a lot of fun with the guys. I scrimmaged with them and it was a perfect fit. The whole coaching staff and everything about them. They are fun, funny and I feel like I can learn from them."
"I made this decision because I rally like the school. It just made me want to make the decision because I like them so much and because I really feel like they fit my game. My role is that I'm going to come in and be a scoring type guard. I feel like I can help get everything even more exited and loud. I love it when the fans and everybody get loud, it brings me excitement."
RIVALS REACTION: The early commitment from Alexander kind of came out of the blue but it is one that Creighton fans should be excited about. Alexander, while a bit inconsistent, can really score the ball and to lock him up early is a feather in the Bluejays staff's cap.
WHAT'S NEXT:?
On paper, the 'Jays are done with the class of 2016 and they have gotten themselves off to a very nice start in 2017. They will eventually look to add some size to go along with Alexander but the top early option on their board appears to be Eudora (Kans.) High wing
Mitchell Ballock
. Ranked No. 37 in the 2017 class, Ballock has already been on campus multiple times.