Conference wrap: Six teams who could shoot up in 2017-18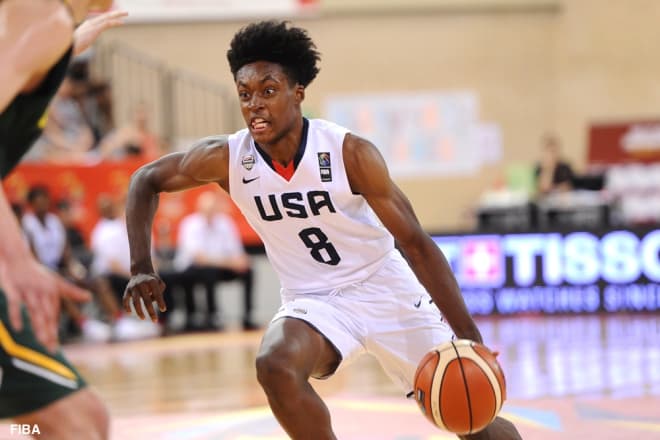 Here is a look at a program from each power conference that should have plenty of optimism about what could be next season due to its 2017 recruiting class.
ACC
Virginia Tech -- Class rank No. 29
Buzz Williams has done a tremendous job of developing some of his under-recruited players into NBA prospects, prime examples being Jimmy Butler, Jae Crowder and Darius Johnson-Odom. However, Williams, during his time as the head coach at Marquette and now at Virginia Tech, has not been one to boast top tier recruiting classes. After putting the Hokies back on the basketball map this winter as they head for an NCAA Tournament appearance, the future looks even brighter thanks to two four-star commitments. Nickeil Alexander-Walker might be the most skilled high school prospect Williams has ever landed while Bede is the tough and gritty guard that can do a variety of things in the backcourt, the type of perimeter asset that has thrived in recent years under Williams' watch. Add in PJ Horne, a versatile and productive forward out of Georgia, and more runs deep into March should not be out of the norm for the ACC gang.

BIG EAST
Butler - Class rank No. 28
It is difficult to list Butler as a program on the uptick as it has reached two national championship games within the past seven years. However, most of the success that the Big East program has achieved is because of the prior and current coaching staffs' ability to find under-the-radar gems that flourished at Butler. While each member of the 2017 recruiting class should fit in seamlessly at BU, they also boast better talent than what Bulldog fans have seen. Sitting with the No. 28 class, David and Young are the primary faces of the group. David is a skilled perimeter weapon that can play all three spots out top while Young is a blue-collared workhorse that can step out and shoot the basketball. Mix-and-match forward Butler and elite sharpshooter Neese round out what looks to be a tremendous group of recruits for Chris Holtmann's program.
BIG TEN
Illinois - Class rank No. 13
Illini fans have be clamoring for a class like this for a while now and while the current college basketball season has been one that has seen its fair share of ups and downs, the 2017 haul brings some light at the end of the tunnel. Sure, it may be a bit of learning curve early on, but the talent of a guy like Tilmon, the top recruit during the John Groce era at Illinois, should be felt from day one. The talent that Groce and his staff have assembled from the 2017 class is needed as Tilmon should be an immediate presence down low, Frazier brings intangibles while Pickett and Williams are two tough-nosed guards that can score the ball from inside and out, all of which make for an excellent four-man group for the Illini.
BIG 12
TCU - Class rank No. 27
TCU, with a top-30 ranked recruiting class…in basketball? Yes, that is the case, and it could become the norm with head coach Jamie Dixon back at his alma mater as he has put together an awesome staff, one chock full of assistants with connections throughout the nation and even internationally. The star of the 2017 class is Nembhard. The Texan will be joined by Samuel and each should be able to contribute early on. Both bring immediate value to the Big 12 program. Pierce is a quality junior college addition, though LMayen is the wildcard of the bunch as the staff at TCU swears by him, comparing him to former Duke star Luol Deng. While much will have to be achieved for Mayen to get to such standards, the four-man group headed to the DFW is a welcome sight for the Horned Frogs.

PAC-12
Colorado - Class rank No. 22
This season hasn't been the best of campaigns for Tad Boyle and his Colorado Buffaloes program, but all is not lost thanks to its recent recruiting haul. Signing three prospects within the top-150 of our 2017 class rankings, each will need to lend a helping hand next year. Losing stars Derrick White, Wesley Gordon and Xavier Johnson to graduation, next year may be another season of difficult hurdles, but the long-term plans for success is in place. Schwartz brings excellent glue-glue qualities as he could become the face of the Buffs program, where Bey exhibits mismatch abilities in the frontcourt. The X-factor is Battey, a thicker bodied but more than capable shot-maker that could take over a game thanks to his three-point shooting skills.

SEC
Alabama - Class rank No. 4
Just like Alabama football saw its name immediately rise in the recruiting rankings upon the hiring of Nick Saban several years back, a smaller but similar renaissance has occurred on the basketball side of things with Avery Johnson. The past few years have not been too shabby, but this year's group is the culmination of all the grunt work the staff has laid down in Tuscaloosa. The gems of the 2017 haul are Sexton and Petty. The former was recently named a McDonald's All-American while Petty might have the best argument for those that just missed the cut. Add in the high ceiling of Jones, the rim-protecting skills of Smith and the versatility and ball skills in the frontcourt with Reese and it looks like Alabama could be the next to jump in line as a threat to Kentucky and Florida for SEC supremacy.