Colleges taking notice of Finley Bizjack's all-around game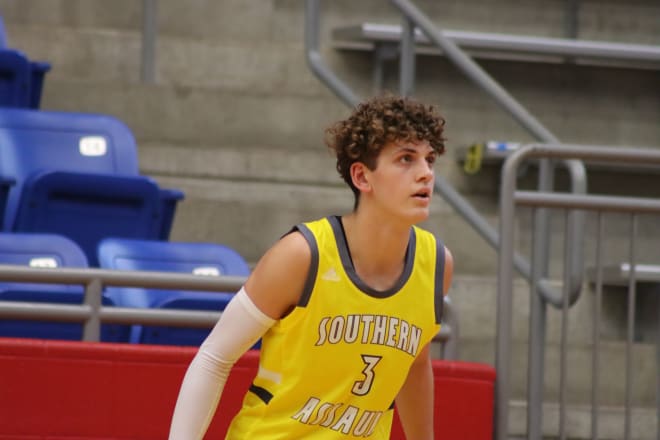 Finley Bizjack emerged this travel season as one of the top prospects in the 2023 class in Texas and one of the nation's top guards in his class. A 6-foot-3 shooting guard, Bizjack has a dangerous perimeter stroke but can also play great defense and excels in the transition game.
High-major college coaches are starting to take notice of his abilities. Scholarship offers have come in from DePaul, SMU, Stanford, TCU, Saint Louis and George Washington. Texas Tech, Utah and Wisconsin have shown serious interest.
Since the dead period ended on June 1, Bizjack has visited George Washington, SMU and Wisconsin. Next up is a visit to Stanford on Aug. 11.
*****
MORE: The five most marketable prospects
2021 Rankings: Rivals150 | Team | Position
2022 Rankings: Rivals150 | Team | Position
2023 Rankings: Top 30
*****
IN HIS OWN WORDS
SMU: "SMU has an incredible campus, incredible school and an incredible team. I love the head coach there. He's really nice and it seems like he really understands my game."
Stanford: "I think Stanford is amazing. I have a friend, Harrison Ingram, who is going there. I've only heard great things about it, and watching their games this season it seems like a good program.
TCU: "It's close, right near home, about 30 minutes away. I know a lot of players that played there. RJ Nembhard is one of the guys I've gotten to know really well, and he loved it there."
Wisconsin: "I love Wisconsin. It's a really good program that I could fit into. I watched a lot of their games this season and it seems like a system I could play in and fit into."
RIVALS' REACTION
Coming off a great weekend in the live period with his high school program, look for Bizjack's recruitment to continue to take off as he goes back to playing with Southern Assault in July on the Adidas 3SSB circuit. Guards with his all-around game and lethal shooting stroke are always in high demand, especially when they come with a strong academic background. SMU, Stanford, Wisconsin and Saint Louis all seem to be in good shape early on, although Bizjack says he has no favorites and is still open to all schools.