Class of 2019 Rankings: Barrett stands on top at No. 1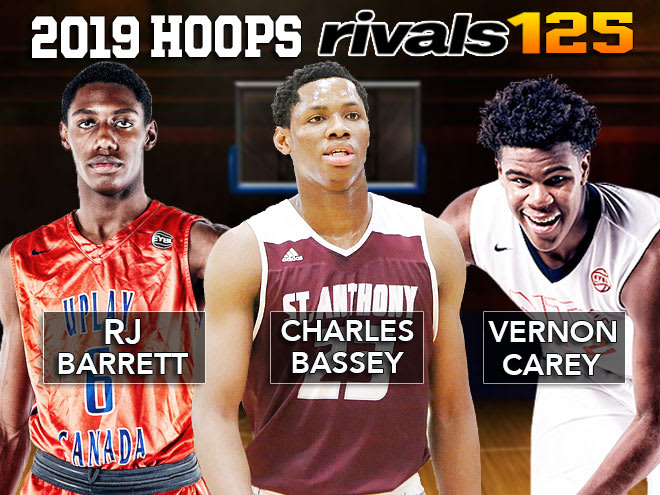 The rankings for the class of 2019 have been updated and expanded to a top 125 with July's three live evaluation periods kicking off this week. One thing that remains a constant is that R.J. Barrett tops the list.
Here are five storylines to watch with the latest rankings.
RELATED: Rivals top 125 for 2019 | Rivals150 for 2018
1. Barrett's lead at No. 1 is significant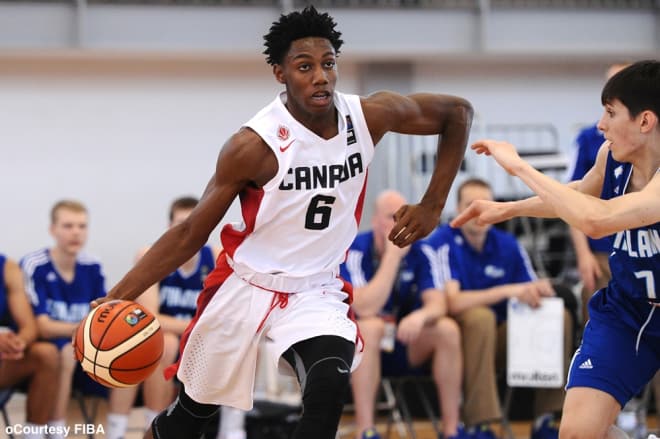 The conversation to decide the top ranked player in 2019 wasn't a very long one. Canada native R.J. Barrett of Montverde (Fla.) Academy – who just led Canada's U19 team to a FIBA World Championship – was an easy call for the top spot.
A 6-foot-7 southpaw with skill, strength and athleticism, Barrett has as complete a game as a rising junior wing can have. Because of that, his hold on the top spot is a strong one and frankly there's a pretty big gap at this time between Barrett and big men Charles Bassey and Vernon Carey, who are jostling for spots two and three.
Barrett doesn't speak a lot about his recruiting, but it's safe to say that he'll be able to pick any school he wants. The more immediate question is whether or not he'll stay in 2019 or move to 2018. If he moves to 2018 and continues to play the way he did in the U19 games, he could give Marvin Bagley III a run for the top spot.
2. Class of 2019 searching for an identity
The class of 2019 still has two years of high school to develop an identity and write their story, but as of now it is hard to point to any one area or position as one of strength. In 2018, we can look to the abundance of high level point guards, in 2017 it was all about the high number of skilled players with size and 2016 was loaded across the board.
Particularly of concern is the lack of depth at the point guard position. The highest ranked floor general in the class is Cole Anthony, who checks in at No. 5 overall. Ashton Hagans, UCLA-bound LaMelo Ball and Andrew Nembhard (another candidate to move to 2018) are other five-star point guards at this juncture and only two other point guards (Tre Mann and De'Vion Harmon) rank among the top 50 prospects in the class.
One trend of interest, though, starts at the top. Top ranked Barrett headlines a strong contingent of International players who have moved to the States and impressed. He's one of seven players who are originally from outside of the United States who rank among the top 32 prospects.
3. Marial the mystery man
Perhaps the biggest mystery in the class of 2019 is center Chol Marial.
Standing over seven-feet tall with long arms, skill and the ability to protect the rim, Marial is an enticing prospect because he can also run the floor. The problem is nobody has really been able to see much of him in a while.
For now, he stays in the top 15 based on potential. However, at some point we'll need to be able to get a good look at him to see how his game is coming along or it is going to get tough to justify the continued high ranking.
4. Talent spread
In total, 31 states and Washington D.C. are represented in this edition of the 2019 rankings.
Leading the way with 11 players is the state of Texas. Bassey (No. 2) and Tyrese Maxey (No. 19) are five-star prospects from the state. Next in line is Florida with 10 ranked players led by Barrett and five-stars Carey (No. 3), Balsa Koprivica (No. 10) and Nembhard (No. 21). Next in line is California with nine total ranked players and a trio of five-star prospects in Cassius Stanley (No. 12), Ball (No. 18) and Onyeka Okongwu (No. 20).
So far Ball is the only five-star to make a commitment and the only ranked player who has committed thus far is Kansas-bound point guard Markese Jacobs (No. 72).
5. Movers and shakers
The most impressive move in the rankings was made by athletic power forward Aidan Igiehon. A native of Ireland, Igiehon leapt all the way up to No. 22 overall from No. 62 and earned five-star status. Also making moves from four to five-star status were point guard Ashton Hagans, combo guard Tyrese Maxey and combo forward Chandler Lawson.
Making the highest debut in the rankings is high-scoring New York combo guard Jalen Lecque who checks in at No. 32 overall. He's one of 16 players to debut in the rankings as a four-star prospect.