Class of 2016 shows its promise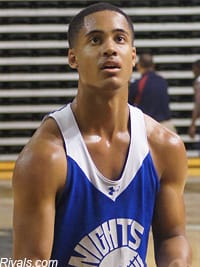 HAMPTON, Va. --
Day two at the Southern Jamfest was a good one. With eight floors underneath the roof of the Boo Williams Sportsplex and a schedule that played out well, there was never a shortage of action. Some under-the-radar guys stepped up, and it was a big day for the class of 2016 as
Thon Maker
and
Edrice Adebayo
were two of many who are generating plenty of early college interest.
Youth is served at the Jamfest
The early word on the class of 2016 has been that it is shaping up to be a good one. During several stops along the grassroots circuit over the past few months, the country's rising sophomore class has looked good. Saturday's action was more of the same as several 2016 kids stood out.
Might as well start at the top with the 7-foot Maker of Boo Williams. The 16-year-old isn't just tall. He can run, he has ball skills, and he plays hard. He lacks strength, and that hurts him at times when he's trying to hold onto position in the post or make difficult catches, but he isn't soft and he fights back.
On Saturday, Maker was a high-volume rebounder, he changed shots, he scored from the rim to the 3-point line, and he often took rebounds coast to coast. When the first round of stars gets handed out to the class of 2016 after the summer, Maker is a lock to start as a five-star.
Arizona
,
Georgetown
and
Virginia
have offered, while
Kansas
,
Ohio State
,
Memphis
,
N.C. State
and
Miami
were mentioned as showing early interest.
As it turns out, Maker isn't the only likely 2016 five-star in the Boo Williams stable of talent. Adebayo, a 6-foot-8 power forward, doesn't have the same skill package that Maker does. However, the 15-year-old is an extremely powerful and explosive athlete, and he plays exactly like you would expect a guy known as Bam Bam to play. Adebayo plays way over the rim, and he uses strong hands to rip rebounds away from opponents. During a 15-and-under game, it looked like he was playing against grade schoolers on an eight-foot rim. Shortly after that, he suited up with Boo's 17-and-under squad and was a big factor around the rim.
Playing for the DC Assault's 16-and-under group, 6-foot-4 shooting guard
Greg Williams
of Lynchburg (Va.) Genesis Academy was another good-looking sophomore to be. The thin wing is a live-wire athlete with a great first step, explosion at the rim and the ability to make things happen off the dribble. Williams told Rivals.com that
Virginia Tech
became the first school to offer just over a week ago and that he's gotten initial contact from George Mason, VMI and Florida Atlantic.
Finally, Team Loaded Gore has two good-looking 2016 guys of its own. Physically tough, very athletic and with a versatile skill set, 6-foot-5 wing
DeShawn Corprew
jumps out at you. He turns the corner and gets to the rim at will, and he looked to be a competent jump shooter on Saturday. According to Corprew,
N.C. State
just offered to join Virginia Tech as his early high-major suitors. Just like Corprew, 6-foot-2 combo guard
Curtis Jones
from Highland Springs sports a Virginia Tech offer. He's a slick passer off of the dribble, and he has an impressive jump shot. VCU,
Virginia
and
Wake Forest
have shown early interest.
Nickens emerging
A prep school year can be helpful to a player. But going prep doesn't magically turn somebody into a player. Hard work is required. Since making the decision to move to the class of 2014,
Jared Nickens
looks like he's been working on his game.
The 6-foot-6 wing from the Westtown (Pa.) School has been a big name this spring, and he is showing why. He's lean, but he has added strength and is getting dangerous with the dribble. Nickens can knock home jumpers, and he showed a nice floater on a drive during an easy win. He says he's happy with his decision to go prep.
"I think it's been really good for me," Nickens told Rivals.com. "It has allowed me to mature mentally and physically and to get some skill work."
Currently a three-star prospect, Nickens has put himself into contention for the 2014 Rivals150. He looks like he could be the best prospect on a good Sports U squad. He just got back from a visit to
Oregon State
, where he says the Beavers put the full-court press on him for a decision. Nickens says he's gotten offers from others, including
Miami
,
Maryland
,
Oklahoma
, Wake Forest,
Dayton
,
Temple
, Providence and
Seton Hall
. He's open, but he could start looking to lock in some of his visits in the relatively near future.
More Saturday notes and notables











Click
Here
to view this Link.
[rl]